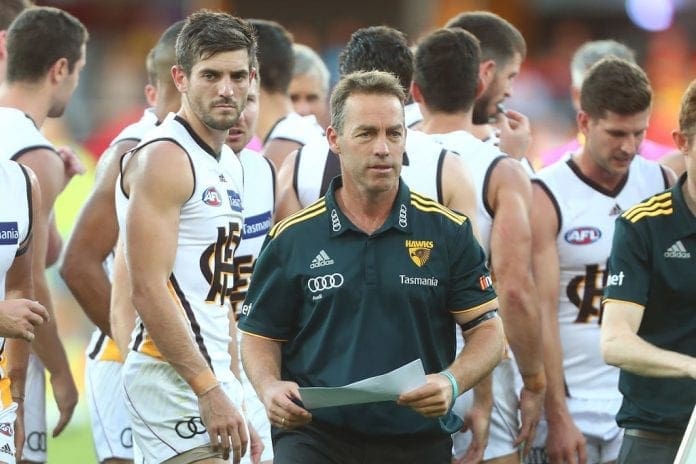 The AFL community was extremely anxious to make it clear that the Hawks had hit rock bottom on Friday night against Port Adelaide.
And fair enough, too. This club has been a constant menace to the rest of the competition since 2008, winning four of the nine available premierships on offer.
But like Sydney, the constant cost of contending every year has come to roost for Hawthorn.
Last off-season saw the 13-time AFL premiers gutted of experience, losing Sam Mitchell and Jordan Lewis, who finished in the top two of their Best and Fairest. They also lost speedster Bradley Hill to the Dockers.
Coming in was Tom Mitchell, who has thus far done his best to replicate the star whose surname he shares, and Jaeger O'Meara, who has failed to impress in his injury interrupted season.
Others inbound included Ricky Henderson and Ty Vickery, the latter of whom almost seems to personify the futility of the Hawks' 2017 campaign.
Almost akin to drawing the go to jail card in Monopoly, it seems as if Vickery's mere presence in the Hawks' locker room has been enough to initiate a full swing from the pointy end of the AFL ladder to the competition's doldrums.
Despite how season 2017 turns out - whether they miss the Finals by 10 wins or one – Hawthorn have a reconstruction on their hands. There's no two ways about that.
But whilst some moot a full knockdown rebuild at Glenferrie Oval, such as AFL broadcaster and champion Essendon Bombers forward Matthew Lloyd, I think it's fair to offer such a successful club the benefit of the doubt.
The football department at Hawthorn have, in the past, shown what is necessary to reinvigorate, restructure and restore a list for a future premiership push a few years down the line.
The club was hit with retirements after their 2008 triumph, notably of Trent Croad, Stewart Dew, and club legend Shane Crawford.
But they quickly retooled, notably with Shaun Burgoyne, Josh Gibson, Brent Guerra, David Hale, Jack Gunston, and Brian Lake, all coming in from different clubs to contribute to their three later successes.
Theoretically, with a constant eye to the future, a club that reached the heights the Hawks did should never go hungry again, at least not for a fair while.
Despite a lean year thus far, Hawthorn have shown they are not willing to do so.
Perhaps it was the loss to the youthful premiers the Western Bulldogs in last year's finals series that signaled to the Hawthorn brass that time was upon them again.
The Tom Mitchell trade was a fantastic one, and the former Sydney youngster has shown he has what it takes to be the leader of a future dominant midfield the club will be attempting to build around him.
Despite an unpromising start to the season, Jaeger O'Meara has every chance to be a part of that bespoke engine room also, provided his body does not continue to fail him.
Coach Alastair Clarkson admitted as much after the depressing loss last week.
"I'm really confident these boys will be able to [be premiership contenders]," Clarkson said.
"When that is, it might take a little bit of time. It doesn't look like it's going to be this year.
"Everything we do, whether it's this year or next year, is all geared towards helping us compete for silverware again."
It's these words that have pundits Garry Lyon and Tim Watson certain that the champion coach is the man to lead his club forward, despite ever-louder rumblings otherwise.
"I get the sense that he's up for the challenge of being part of all this," Watson said.
"He understands where they're at, he understand what it takes to get back where they want to be. There's nothing in his demeanor, nothing in the way that he's going about his job that suggests he's not up for the fight."
Plenty point to the Hawks' lack of draft picks as a reason for future pessimism.
After 20-25 years of a constant crap shot, we're in the golden age of the Draft, and a miss at the top end of the annual talent dispersion is becoming harder to find – although it resonates far further when it does occur.
But this is ignoring the fact that the Hawks' last face-lift was complete without any first round picks. Between the years of 2009 and 2012, their highest selection was number 19 in 2010, when they picked Isaac Smith.
In fact, that year was when the majority of the legwork was done, despite little of it being in the Draft itself.
In 2009, picks 9, 25 and 41 brought in Shaun Burgoyne and Josh Gibson, who are still pillars in the Hawthorn defence to this day (albeit aging pillars).
Whilst they won't have the leverage of a first round pick to dangle this year, having traded that selection to St. Kilda, they still have an opportunity to either trade into the Draft, if they feel the need.
Talking to SEN, Watson mentioned that faltering forward Jack Gunston has gone from crucial to currency for the Hawks.
"Gunston's an interesting conversation because he's one player that I think the Hawks will be looking at saying okay, of the players on our list, who has some real currency?" Watson said.
Although he's been far from his best in 2017, the 25-year-old has years of footy left in him, and would bring in fair return.
As would 29-year-old Paul Puopolo, another seemingly on the borderline of being surplus to requirements at Glenferrie Oval. After all, if Sam Mitchell and Jordan Lewis are tradable, who isn't?
It is this kind of cavalier dealing that Hawthorn needs to prepare themselves for in the upcoming offseason. There is nothing to preserve any more, no chance of a premiership with this current 44.
But in all the excitement of building for you future, there is one thing the Hawks must avoid, and that's handing out a bad contract.
In anticipation of the cap jumping for years ahead, plenty of clubs have made it known that they are not afraid to stretch their financial legs this offseason.
Tiger Dustin Martin and Giant Josh Kelly are two who have already been marked with a massive price tag by the proverbial rumour mill pricing gun.
Some of the numbers suggested are fool's gold of the highest order.
As good as Martin and Kelly have been this season, who has ever won a premiership paying any of their players that much per season?
We have seen this with the Swans in recent years. Lance Franklin's contract, which is worth less per season than is projected for the aforementioned duo, is already beginning to cripple his club.
The severe financials Sydney owe to Franklin, as well as Kurt Tippett, combined with the removal of the cap concessions, are preventing the club from developing the depth to their list that underpinned their premiership years.
A contract of that magnitude for Martin or Kelly would surely prove even harder for a club to deal with, even with the increased salary cap.
This is the easy game to play, and the Hawks would be wise to avoid getting into an arms race with any number of other foolish clubs around the league, despite the fact they are every chance to win.
If Hawthorn is smart – which they are – they will be looking at the next tier of free agents, namely Steven May and Nat Fyfe.
As the Herald Sun's Jay Clark pointed out, with May refusing to sign a contract with the Gold Coast Suns (whom he co-captains) until they show they're on the right track, he'd be the perfect replacement for Gibson in the Hawthorn defence.
Once thought to be a chance for the largest per year AFL contract of all-time, Nat Fyfe has seen himself slip into that second tier this year, caused by a down-tick in production as well as the failure of the Dockers to return to the finals.
Fyfe would be a monster addition for the Hawks. Amongst other things, the 2015 Brownlow medallist is an elite contested possession winner, a statistic that once threatened to, and now cripples the Hawks.
Unfortunately, Fyfe is also a restricted free agent, meaning that Fremantle can match any offer up to about $1.3 million, and potentially force a trade, similar to how the Adelaide Crows handled the Patrick Dangerfield situation.
One underrated name Hawthorn may look to is Brisbane's Josh Schache.
Currently on two weeks leave back home in Victoria, Schache is a premier key forward talent, and is yet to commit to the club past this year.
If Schache were looking for organisational stability, amongst other aspects, then surely he would have to consider the Hawks.
Either way, Hawthorn must consider him.
It's time for them to do what they do best – retool and have another crack.