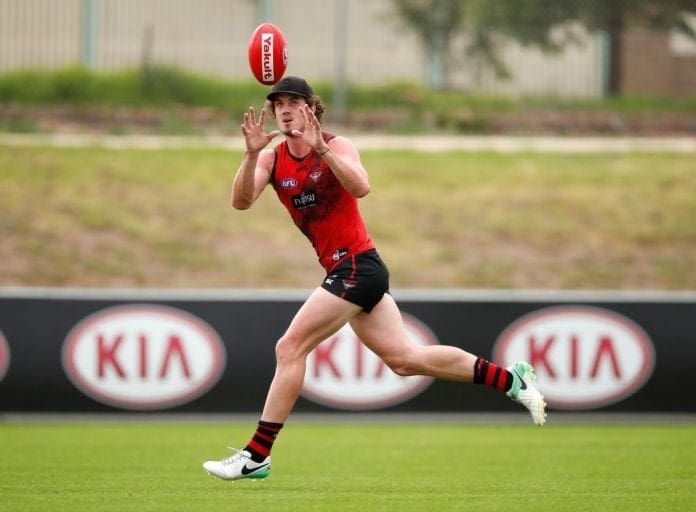 When Michael Hartley was delisted by Collingwood at the end of 2013, he was ready to pack his bags and head home to Penrith in Sydney and forget about AFL altogether.
"I thought I was definitely done," the defender said.
Hartley's father talked him into giving AFL one more go, and he signed with Coburg in the VFL and got a job as a labourer.
In his two seasons at Collingwood, he played just five VFL matches due to a continuous run of shoulder injuries and reconstructions.
By the time he was delisted, he was glad to go.
"It was sort of a blessing to be delisted. I was happy to get out of there, grow up a bit, get the body right and then maybe try again," Hartley told AFL.com.au.
In his second season at Coburg he was "a maintenance man" at a hospital in Melbourne's northern suburbs by day and a VFL footballer by night.
At the end of the season, he took out Coburg's best and fairest, made it into the VFL team of the year and earned himself a second chance at AFL level by being drafted at pick 68 to Essendon.
The 24-year-old says his time at Collingwood gave a big reality check.
"But it was a massive smack in the face to be honest. I was not mature enough, or ready for moving away from home or anything like that," he said.
"It's amazing how much I matured in that two years I was out of a club. With that experience I now know how hard it is to work all day and then go to training. When I was at Collingwood I took being in the AFL for granted, so now that I'm back I want to make sure I keep it."
During his first season at the Bombers, 12 of his senior teammates were handed year-long suspensions. This led to the mature-aged recruit playing more games in his first season then he originally thought, and becoming Essendon's number one full back.
"In 2016 I was just trying to survive. I was playing on some good players and big fellas and it was coming in pretty hot and heavy at times," he said.
With the return of All Australian defenders Michael Hurley and Cale Hooker last season, Hartley found it difficult to hold his spot in the side but still he managed to play 18 games, including an elimination final.
This year, Hartley wants to improve his game even more and cement his spot in Essendon's defence.
"Last year I found it a bit hard, with the guys coming back, I had to play a bit differently and I got dropped a couple of times which wasn't the best," he said.
"But this year I thought, 'I've done my two years as an apprenticeship, and this year I've got to step up a bit and get a bit more of the footy'. I want to use my kicking a bit more and be a bit more attacking."
With injuries to Essendon key backs Martin Gleeson and Patrick Ambrose, Hartley will get his opportunity early in the season to show that he belongs in the Bombers starting 22.
His contract expires at the end of this season, but he says he "loves Essendon" and would "love to stay at Essendon if they'd have (him)".
"Hopefully I can have a good year and see what happens."