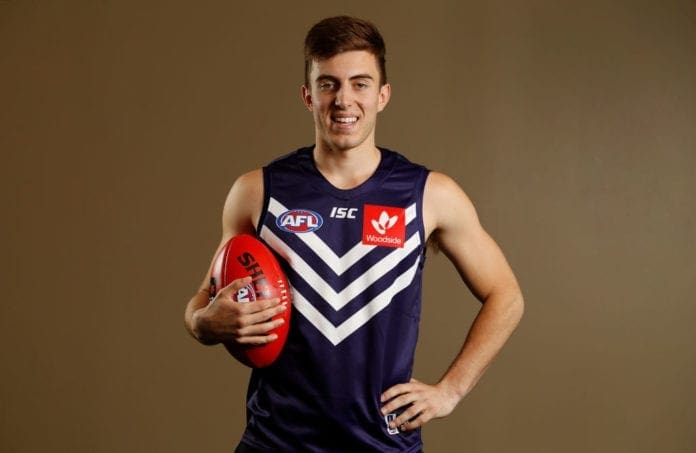 Uncapped Fremantle player Luke Valente has called time on his career after three years with the Dockers.
The 21-year-old was unable to feature for the Dockers at AFL level after battling ongoing setbacks with his fitness, having suffered groin injuries early into his raw career.
The Fremantle midfielder joined the Western Australian club through the 2018 National Draft, being selected with the 32nd overall pick from Walkerville in South Australia.
Valente has stated his decision to retire from the game was one of great difficulty, as his body has continued to struggle to reach the required fitness levels to feature in the league.
"Unfortunately, I have come to the realisation that, physically, I am unable to make the progress required to play at the elite level," Valente said.
"It was an incredibly difficult decision to make but after a long period of reflection, including discussions with the Club, my family, friends and management, I believe that, in terms of my long-term health and well-being, it is the right thing to do.
"So many people at Freo have worked really hard to help me achieve my dream of playing in the AFL.
"Even though that dream will remain unfulfilled, I'm indebted to the Club for the opportunity it provided me and thank all the players, staff and Freo fans for the huge amount of support I received during my time at Fremantle.
"I'm now going to take some time to assess what the future holds for me in the long-term.
"In the short-term, I'm heading back to SA to be with family and friends and continue studying for my uni degree.
"In the meantime, I wish everyone at the Club and all Freo supporters all the very best for what promises to be an exciting time in 2022 and beyond."
Valente signed a new contract with the Dockers in late 2020 that had his services penned to the club until the end of this year.
The Norwood product's decision comes less than two months from the beginning of the 2022 season.