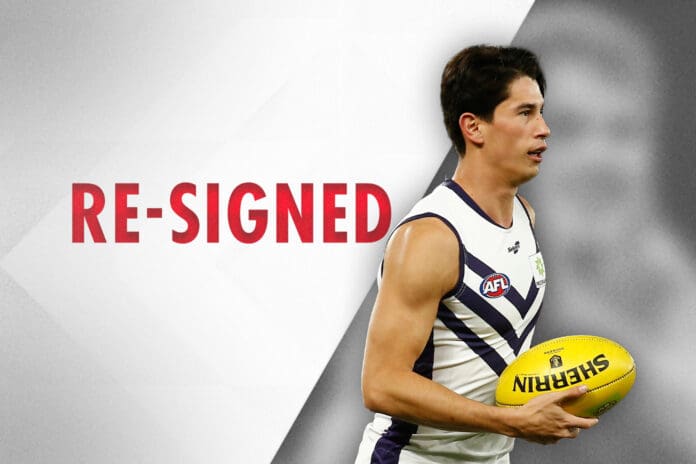 Fremantle Dockers forward Bailey Banfield has re-signed with the club for the next two years.
Out of contract at the end of 2022 originally, Banfield's re-signing with the Dockers will see him remain in Western Australia until at least the end of 2024.
The new deal will give him ample time to continue working into the club's set up.
While he has been involved in 22 games this season, five of those were as an unused medical sub, while another four saw him be activated in the role after being named there.
It means he has only been part of the starting side on 13 occasions this year, and it's something he will be looking for more of in the next two years.
Banfield, who was taken at pick number five in the 2018 draft by the Dockers, made his AFL debut in the same year and has now gone on to play 60 games in his career.
Speaking with club media, he said he has been frustrated at being the medical sub nine times, but is also happy to have signed the new deal.
"It's been simultaneously my best year, but also probably my most frustrating being medi sub nine times," Banfield said.
"I've almost felt every game this year that I'm playing for my spot and playing for my career as well, so to have a bit of security is definitely nice."
Banfield was an unrestricted free agent and could have swapped clubs, but the Broome-born former Claremont WAFL player ultimately made the call to stay at Fremantle.
"As an unrestricted free agent there were period where I wondered what else was out there so I could get more opportunity," Banfield said.
"A big part of my decision to stay was what we've built as a group over the last five years.
"The opportunity to be the first team at Freo to win a premiership is something that I'd certainly would hold to a higher regard and something that I want to be a part of.
"This is a group that has that capability."