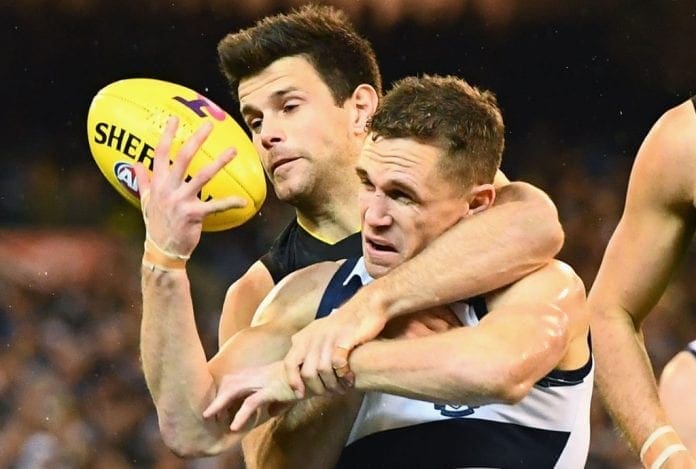 We have been blessed with two heavyweights entering the ring for the main event of the 2020 season.
It's not every year the two best teams face-off in the Grand Final, but there's little doubt that's what we have here. Both Richmond and Geelong's best football has been better then anything we have seen this year.
Both teams are packed with superstars, all over the field. Which means some of the match-ups that will eventuate on Saturday night at the Gabba will be worth the price of admission alone.
We take a look at the 5 best match-ups for the 2020 AFL Grand Final.
1. Dustin Martin vs Tom Stewart
In 2017 Martin dominated a final between these two sides and in the process dominated Stewart. The Geelong defender is a much better player now and is better equipped to deal with Martin.
However, Dusty is the games best big game player and is favourite for a third Norm Smith medal. This battle looms as one that could very much decide the result, if Martin gets off the leash the Tigers will be hard to stop.
2. Dylan Grimes vs Patrick Dangerfield
A match-up that we may not see a lot of but one that will be crucial when it does eventuate. Dangerfield has spent a lot of the finals series playing up forward which has been a masterstroke by Chris Scott.
It'd be fair to assume he will be closer to the contest in the Grand Final but no doubt he will be forward at some point. If Grimes can keep him quiet, it foils the Geelong plan to rest Danger forward and they may be forced to move him into the midfield again to get involved.
Therefore not allowing him to rest and still influence the game, however if Dangerfield can have an impact forward and the Geelong midfield can win the contest as stats assume they will, stopping them becomes near impossible.
3. Tom Lynch vs Harry Taylor
A match-up that may have cost Geelong a Grand Final spot last year, Tom Lynch dominated Harry Taylor in the 2019 preliminary final which turned the game the way of the Tigers.
There's no doubt Taylor will be relying heavily on support from his fellow defenders as is the Geelong way, but if the Tigers can isolate Lynch and Taylor the veteran defender may be in trouble.
4. Noah Balta vs Tom Hawkins
A huge battle, last time these teams met Balta had the number of Hawkins and it played a key role in the Richmond win. Balta's size allows him to stand toe-to-toe with the 2020 Coleman Medallist, this takes away Hawkins' main tool.
But if Geelong can correct their ball use toward the big forward it could put the inexperienced defender under the pump. We have seen Hawkins dominate Grand Finals before and that experience may be crucial when crunch time arrives.
5. Trent Cotchin vs Joel Selwood
The two captains, both play a tough, hard brand of football and lead by example. Selwood is as brave as they come and will do things that not many others would be willing to, while Cotchin's will to win every contest he is in is unparalleled.
Both sides play their best footy when their skippers are on and there's every chance they will be next to each other all night. There's a feeling that whichever captain has the better game will be the captain standing on the podium at the end of the game.
If the game is coming down to the wire you feel both teams will turn to their leaders to come up big and that will be a battle to remember.