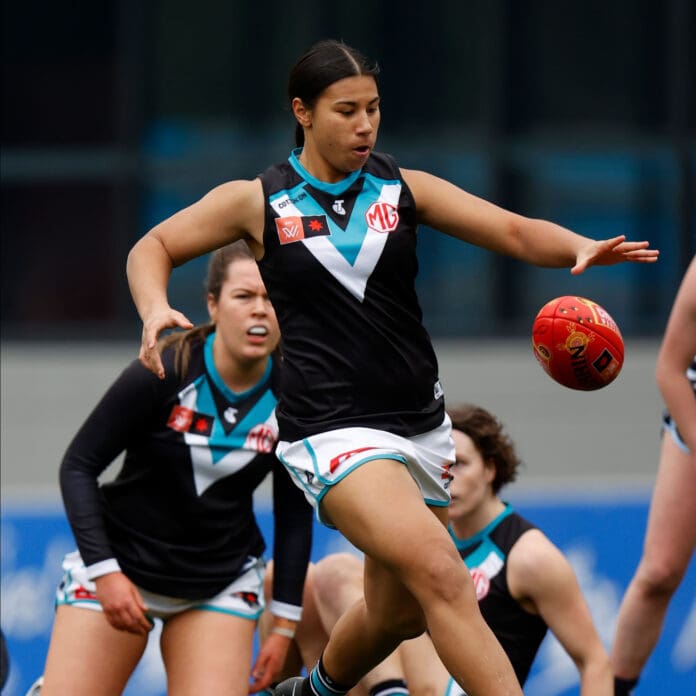 Season seven has come to an end with Melbourne claiming their first premiership win in the competition, concluding an exciting season which saw the competition grow in size.
This season marks the first time the AFLW season features 18 teams, meaning that four clubs will award their maiden best and fairest winners in the coming weeks.
Gold Coast were the first club to hold their awards night, with Charlie Rowbottom taking out the best and fairest award ahead of Alison Drennan.
Check out the full list of winners below, set to be updated as more awards nights are held.
ADELAIDE
Crows midfielder Anne Hatchard has won her third club champion aware after another stellar season at West Lakes.
Hatchard edged out fellow midfielder and 2021 best and fairest winner Ebony Marinoff for the honour, while defender Chelsea Biddell rounded out the podium.
Biddell claimed the Crows' Best Defensive Player and Players' Player Awards following a career-best campaign.
Key forward Ash Woodland tok hoe the club leading goalkicker award after booting 14 goals from her 13 matches in season seven.
Special. Three-time Premiership player and now a three-time Club Champ 🥰#weflyasone pic.twitter.com/4ybmAXkN8g

— Adelaide Crows AFLW (@CrowsAFLW) December 2, 2022
Top five:
343 votes: Anne Hatchard
339 votes: Ebony Marinoff
336 votes: Chelsea Biddell
286 votes: Sarah Allan
274 votes: Stevie-Lee Thompson
BRISBANE
Lions midfielder Emily Bates has edged out teammate and league best and fairest winner Ally Anderson to claim her fourth club champion award in the River City.
As consistent as she is damaging, Bates' fast start to S7 saw her hold off Anderson by three votes in the count held just days after Brisbane's grand final defeat.
The 27-year-old's latest medallion will now sit alongside those claimed in 2017, 2020 and in season six.
MVP for Best Lion Afield: Cathy Svarc
Rising Star Award: Ruby Svarc
All for One Award: Jade Ellenger
Most Relentless Player Award: Kate Lutkins
Most Competitive Player Award: Courtney Hodder
Trademark Player Award: Breanna Koenen
Best Finals Player: Emily Bates
We may aswell name it the Bates & Fairest at this point! 🥇

Emily also becomes just the 8th player in our Club's combined history (Fitzroy and Bears included) to claim four or more Best & Fairest awards 🤯

Congratulations @embatesy 🦁 pic.twitter.com/omqoYe3U3a

— Brisbane Lions AFLW (@lionsaflw) December 3, 2022
CARLTON
Mimi Hill has claimed Carlton's season seven best and fairest title, narrowly beating out Abbie McKay by two votes to claim the title.
Hill starred in her third season in the competition, playing all ten games, averaging 23.2 disposals, 2.8 tackles and four clearances while polling in each game.
Keeley Skepper, who made her debut in Round 2 and played nine games for the season, won the Rookie of the Year award.
Top five:

86 votes: Mimi Hill
84 votes: Abbie McKay
61 votes: Breann Moody
57 votes: Mua Laloifi
52 votes: Lucy McEvoy
"It's crazy how much has happened in a year."

We're all so proud of you, Mim 💙 pic.twitter.com/Vk2P9du6Ra

— Carlton Women's (@carltonfc_w) November 25, 2022
COLLINGWOOD
Blue-chip defender Jordyn Allen claimed her debut club championship award after leading the Pies' rearguard with aplomb in season seven.
Allen, 22, first joined Collingwood with the 5th pick of the 2018 National Draft after skippering Vic Country at under-age level.
The recent All-Australian averaged 3.8 marks per week across the back half of 2022, earning 84 votes on Wednesday night, enough to edge Jaimee Lambert (81) and Chloe Molloy (71) for the gong.
Top five: 
84 votes: Jordyn Allen
81 votes: Jaimee Lambert
71 votes: Chloe Molloy
64 votes: Ruby Schleicher
51 votes: Mikala Cann
Player's Player Award: Lauren Butler
Best First-Year Player: Emily Smith
— Collingwood AFLW (@CollingwoodAFLW) November 30, 2022
ESSENDON
Maddy Prespakis was too good for her Bomber teammates, winning the count with 98 votes to claim Essendon's maiden best and fairest award.
Prespakis made the move from Carlton prior to season seven, going on to play all ten games for Essendon in their inaugural season. The 22-year-old averaged 23.7 disposals, 4.9 tackles and 4.6 clearances per game, rewarded for her stellar season with a fourth consecutive best and fairest award.
Steph Wales, who played all ten games after making her debut in Round 1, claimed the Rising Star award, while Bonnie Toogood was named the Best Club Person.
Top five:
98 votes: Maddy Prespakis
71 votes: Bonnie Toogood
57 votes: Steph Cain
49 votes: Daria Bannister
37 votes: Jacqui Vogt
Leading Goalkicker: Daria Bannister
Rising Star Award: Steph Wales
Staff and Trainers Award: Federica Frew
Player Values Award: Bonnie Toogood
Best Club Person: Bonnie Toogood
Most Courageous Player: Daria Bannister
Unstoppable.

Our inaugural best and fairest winner, @MPrespakis 🏅 pic.twitter.com/EesdtOwSxS

— Essendon FCW (@essendonfcw) November 28, 2022
FREMANTLE
Kiara Bowers has taken out Fremantle's best and fairest award, claiming the prize for the fourth time.
Bowers had another stellar outing in season seven, ending the count with five best on ground performances. Hayley Miller, who claimed the win in season six, finished in second position with 114 votes, with Aine Tighe in third.
Top five:
169 votes: Kiara Bowers
114 votes: Hayley Miller
110 votes: Aine Tighe
103 votes: Emma O'Driscoll
98 votes: Ange Stannett
Player's Award: Kiara Bowers
Best Clubwoman: Ange Stannett
Best First-Year Player: Orlagh Lally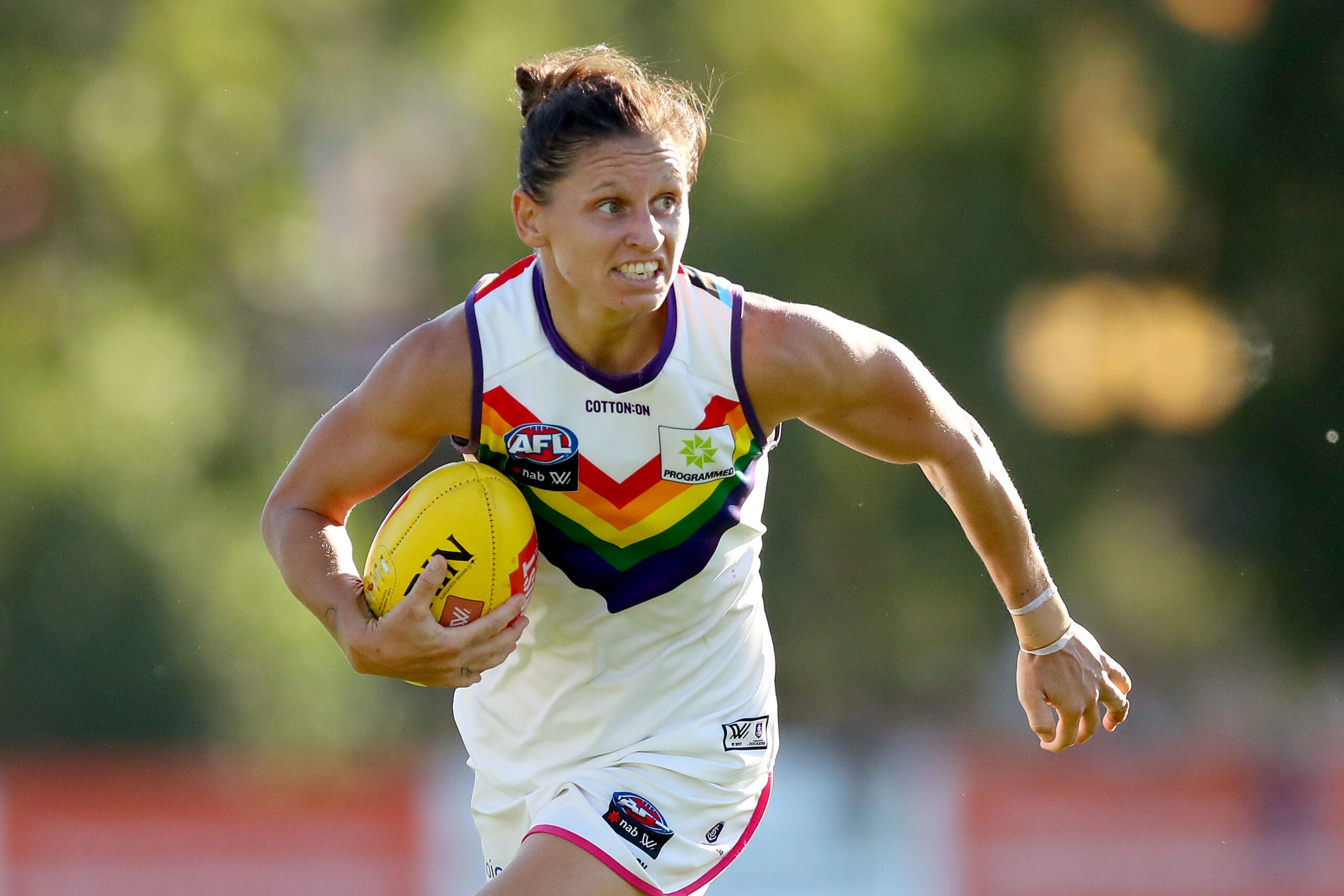 GEELONG
Burgeoning Cat Amy McDonald has continued her run of success in the Pivot City, claiming her second best and fairest award for the calendar year.
McDonald's win on Saturday acted as her third-straight in blue and white hoops, with the 24-year-old edging out household names in Georgie Prespakis and Nina Morrison.
While McDonald's output has routinely been hailed by those at Kardinia Park, season seven saw the midfielder elevate herself into the All-Australian class for the first time.
Top five:
127 votes: Amy McDonald
123 votes: Georgie Prespakis
67 votes: Nina Morrison
46 votes: Chantel Emonson
46 votes: Rebecca Webster
AFLW Fan MVP Award: Georgie Prespakis
Grit Award: Georgie Prespakis
Hoops Award: Mikayla Bowen
Carter Family Community Champion Award: Kate Darby and Georgie Rankin
Rare air 🌟 Amy McDonald went back-to-back-to-back in our Season 7 best and fairest! #SheIsFootball pic.twitter.com/sjyxGPEOpY

— Geelong Cats Womens (@catswomens) December 2, 2022
GOLD COAST
Charlie Rowbottom claimed her first best and fairest award in just her second season, beating out Alison Drennan and Claudia Whitfort, who rounded out the top three.
Rowbottom played all ten games this season, averaging 22.5 disposals, six clearances and seven tackles per game.
Georgia Clayden claimed the Players' Player Award, while Jac Dupuy headed home with the Coaches' Award.
Top five:
279 votes: Charlie Rowbottom
240 votes: Alison Drennan
237 votes: Claudia Whitfort
214 votes: Vivien Saad
212 votes: Lauren Bella
Players' Player: Georgia Clayden
Most Professional: Bess Keaney
Coach's Award: Jac Dupuy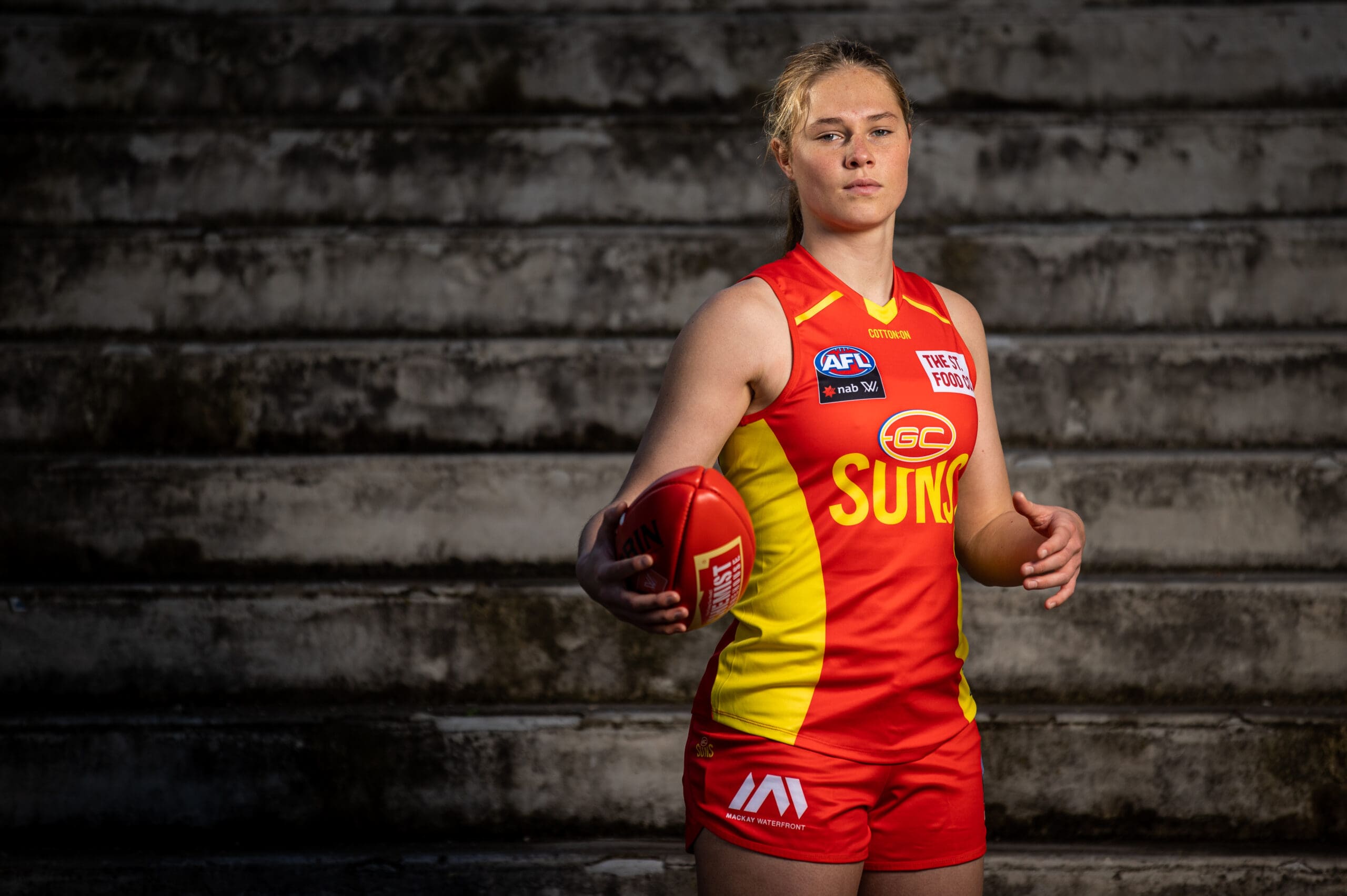 GREATER WESTERN SYDNEY
Alyce Parker has claimed her fourth consecutive best and fairest award, capping off an impressive season.
Parker played all ten games this season, averaging 23.3 disposals and 5.6 clearances, which earned her an inclusion in the All Australian squad.
Elsewhere at the Giants' awards night, Madison Brazendale claimed the Rising Star award, while Katherine Smith was awarded the Coaches Award.
Top five:
99 votes: Alyce Parker
69 votes: Georgia Garnett
68 votes: Tarni Evans
47 votes: Jodie Hicks
43 votes: Katherine Smith
HAWTHORN
Inaugural Hawks captain Tilly Lucas-Rodd has taken out the club's first best and fairest award, claiming the title by nine votes over runner-up Aileen Gilroy.
Lucas-Rodd made the move to Hawthorn after spending time at both Carlton and St Kilda. Season six saw the 26-year-old finish second in St Kilda's best and fairest count, doing one better after her cross-town move.
Jas Fleming claimed the Rising Star award after her strong debut season, playing nine games following her debut in Round 1, while Tamara Luke was awarded with the Best Club Person award.
Top five:
83 votes: Tilly Lucas-Rodd
74 votes: Aileen Gilroy
71 votes: Jasmine Fleming
56 votes: Kaitlyn Ashmore
55 votes: Lucy Wales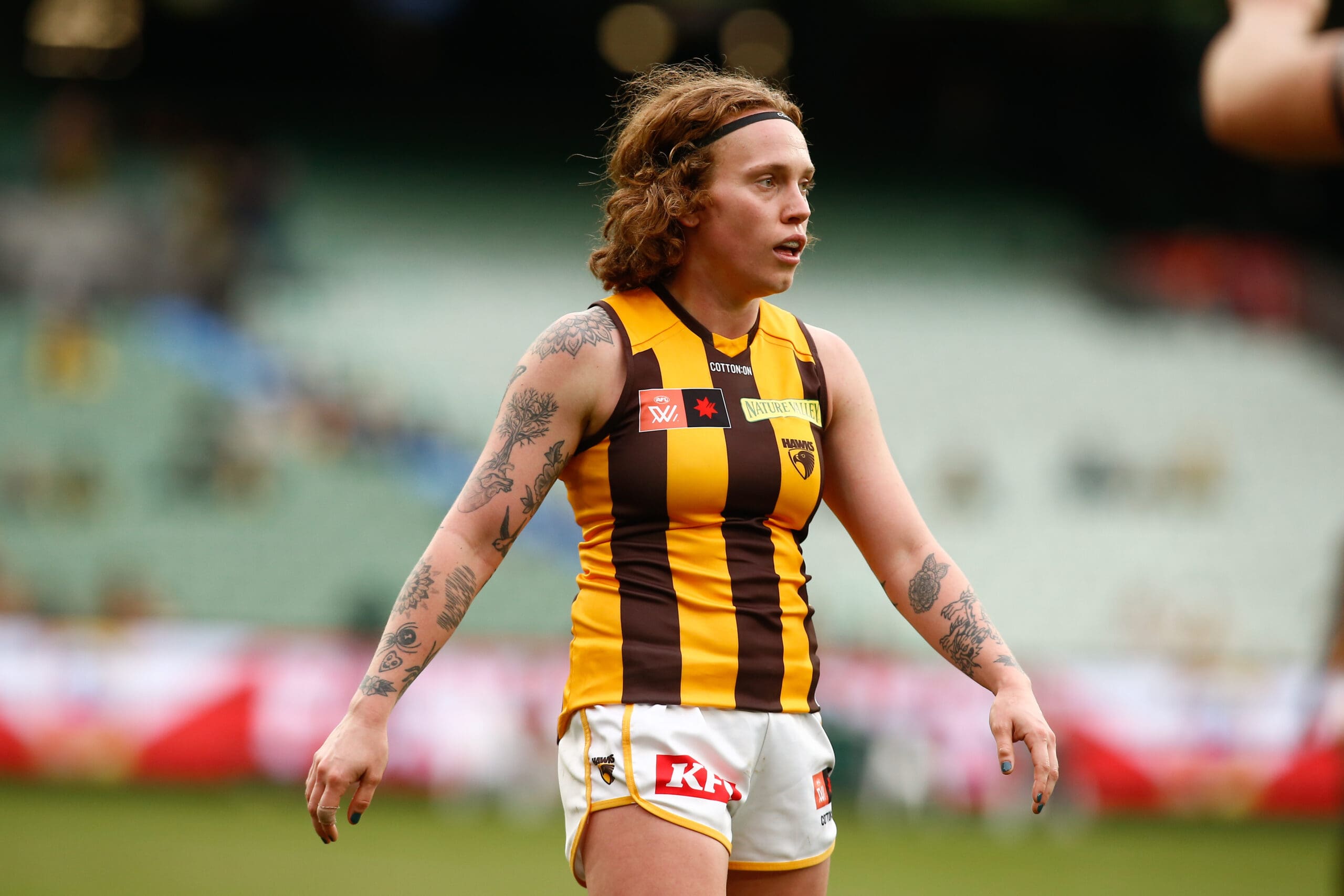 MELBOURNE
Kate Hore has capped a whirlwind week, adding Melbourne's best and fairest award to her premiership medallion.
Hore, 26, edged out premiership teammates Tyla Hanks and Olivia Purcell to claim the honour.
The St Kilda Sharks product averaged 18 disposals and six tackles across the course of S7 - a statline that also saw her claim All-Australian acclaim for the second time in her career.
Top five:
69 votes: Kate Hore
64 votes: Tyla Hanks
61 votes: Olivia Purcell
60 votes: Lily Mithen
56 votes: Karen Paxman
56 votes: Karen Paxman
56 Votes: Shelley Heath
Demon Spirit Award: Rhiannon Watt
Our top three. 🔥#DemonSpirit pic.twitter.com/iZvVw9zrOm

— Melbourne AFLW (@MelbourneAFLW) December 3, 2022
NORTH MELBOURNE
TBA
PORT ADELAIDE
Season Seven Rising Star winner Hannah Ewings has added to her impressive rookie campaign at Port Adelaide, taking out the Power's inaugural best and fairest award.
Ewings polled 86 votes at Monday night's Port Adelaide presentation night, five votes ahead of Erin Phillips and six in front of fellow young gun Abbey Dowrick.
The 18-year-old spoke of her surprise in winning the award after stepping onto the stage.
"I was not expecting that," Ewings said.
"It's been an amazing journey so far. To Port Adelaide thank you for giving me the opportunity to pursue my childhood dream and I'll never take it for granted.
"To all the girls out here, you welcomed me with open arms and made me believe in myself so thank you."
Top five:
86 votes: Hannah Ewings
81 votes: Erin Phillips
80 votes: Abbey Dowrick
79 votes: Angela Foley
77 votes: Maria Moloney
RICHMOND
Tigers superstar Monique Conti has added to her already stacked mantle, claiming Richmond's best and fairest for season seven.
The win saw the midfielder elevated to a place alongside Punt Road royalty, joining Jack Dyer as the only Richmond player to claim four consecutive club championship awards.
Given Conti also attained best and fairest honours during her final season as a Bulldog, Friday night's victory became the 22-year-old's fifth in a row.
Following a season that saw Richmond break through for a finals appearance, the race to finish behind Conti was a close one.
However, by count's end, it was first-year Tiger Eilish Sheerin and ruck Gabby Seymour that rounded out the podium.
Top five: 
30 votes: Monique Conti
26 votes: Eilish Sheerin
24 votes: Gabby Seymour
22 votes: Ellie McKenzie
21 votes: Grace Egan
Best First-Year Player: Eilish Sheerin
Player's Player Award: Courtney Wakefield
Leading Goalkicker: Courtney Wakefield
Four for our No. 4 🥇💫 pic.twitter.com/4siihOVpSa

— RichmondW (@RichmondWomens) December 2, 2022
ST KILDA
Saints spearhead Kate Shierlaw continued adding to her legacy at Linton Street, claiming her maiden best and fairest crown during Wednesday night's count.
The tall forward was at her unerringly accurate best in season seven, slotting 13.4 across the course of St Kilda's most recent campaign. Shierlaw's mean of 3.8 marks per wark also acted as a marker of her dominance in the air.
Despite failing to break through for a debut finals fixture, the presence of several young Saints in the top five will have left head coach Nick Dal Santo enthused for 2023.
Top five: 
37 votes: Kate Shierlaw
34 votes: Bianca Jakobsson
32 votes: Molly McDonald
28 votes: Hannah Stuart
27 votes: Georgia Patrikios
AFLW Crest Award: Nicola Stevens
Sainter of the Year: Hannah Priest
AFLW Personal Excellence Career Award: Hannah Stuart
Best Emerging Player: Molly McDonald
All class 👏 pic.twitter.com/725rWQiI92

— St Kilda FCW (@stkildafcw) November 30, 2022
SYDNEY
Sydney have held their inaugural awards night, with 18-year-old Cynthia Hamilton taking out the title in her debut season.
Hamilton was picked up with pick no.11 in the 2022 AFLW draft, making her debut in Round 1. The young gun went on to play all but one game this season, averaging 10.9 disposals, 2.7 clearances and 3.2 tackles.
Montana Ham and Sofia Hurley rounded out the top three, with Alana Woodward taking home the Best Club Person award.
Top five:
81 votes: Cynthia Hamilton
71 votes: Montana Ham
62 votes: Sofia Hurley
42 votes: Brooke Lochland
38 votes: Ella Heads
WEST COAST
West Coast skipper Emma Swanson has taken out the Eagles best and fairest award for the second year in a row, capping off an excellent season for the 27-year-old.
Swanson played all ten games this season, averaging 21.5 disposals, 5.5 clearances and 5.3 tackles per match, which saw her included in the All Australian squad.
Aisling McCarthy finished in second position, with Isabella Lewis rounding out the podium. Ella Roberts, who made her debut in Round 1 and went on to play all ten games, won the Best First Year Player award.
Top five:
43 votes: Emma Swanson
34 votes: Aisling McCarthy
33 votes: Isabella Lewis
32 votes: Charlie Thomas
31 votes: Ella Roberts
Skip goes back to back 👊 pic.twitter.com/JkgBjhtiW0

— West Coast Eagles AFLW (@eaglesaflw) November 9, 2022
WESTERN BULLDOGS
Bulldogs skipper Ellie Blackburn has won her fourth club best and fairest gong after leading her side to another finals finish.
Blackburn polled 94 votes to claim the honour, 16 votes ahead of ruck Alice Edmonds and a further 8 ahead of Isabelle Pritchard.
Pritchard took out the Best Young Player Award, while Jess Fitzgerald claimed the Bulldogs' Coaches' Award and Community Award for season seven.
Edmonds won the Most Improved Award, while Isabella Grant and Katie Lynch took out the Trainers' Award and Domestique honour respectively.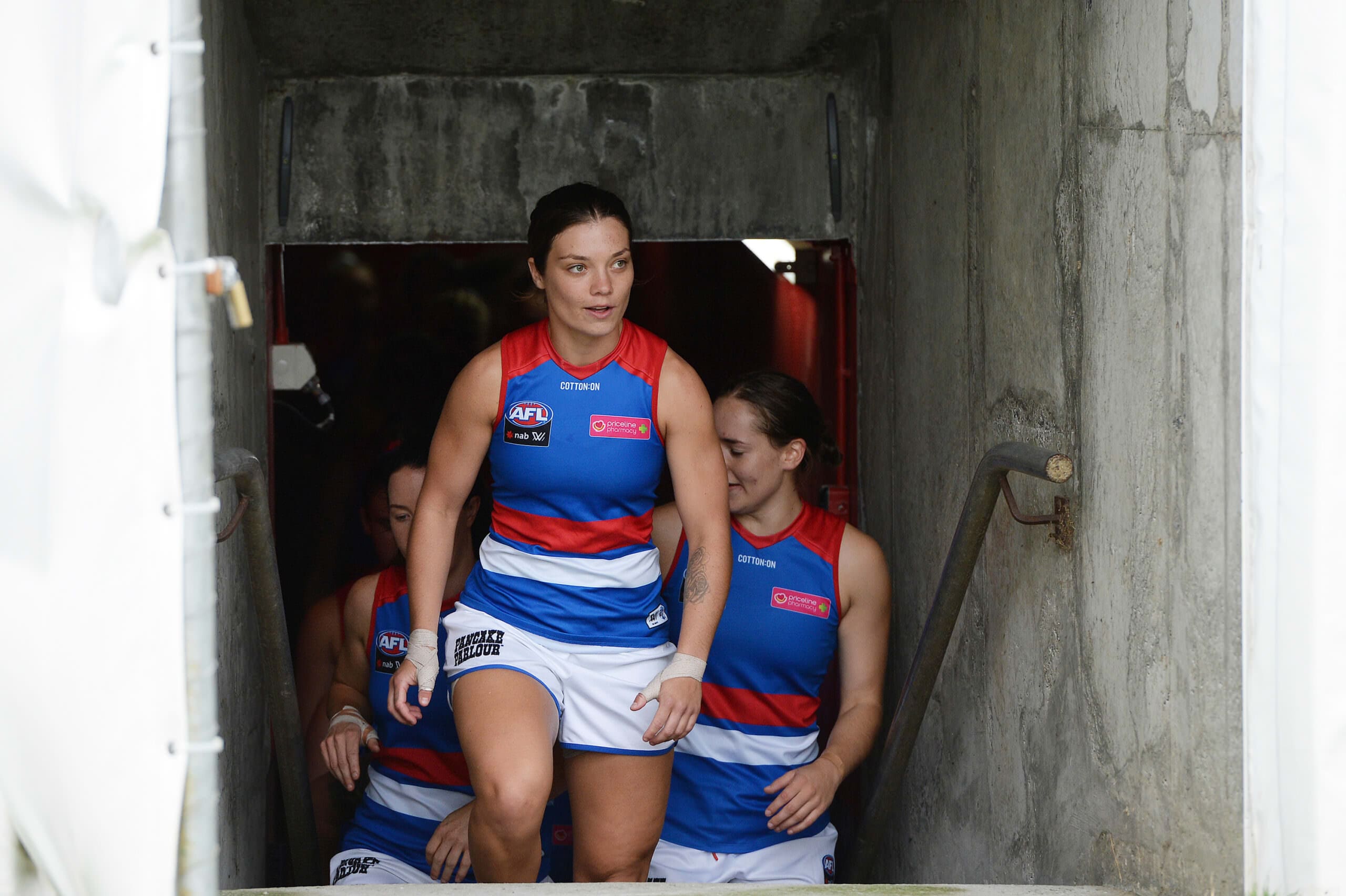 Gabby Newton was recognised as the Dogs' leading goalkicker with her eight goals from 11 matches.
Top five:
94 votes: Ellie Blackburn
78 votes: Alice Edmonds
70 votes: Isabelle Pritchard
61 votes: Kirsty Lamb
49 votes: Jess Fitzgerald