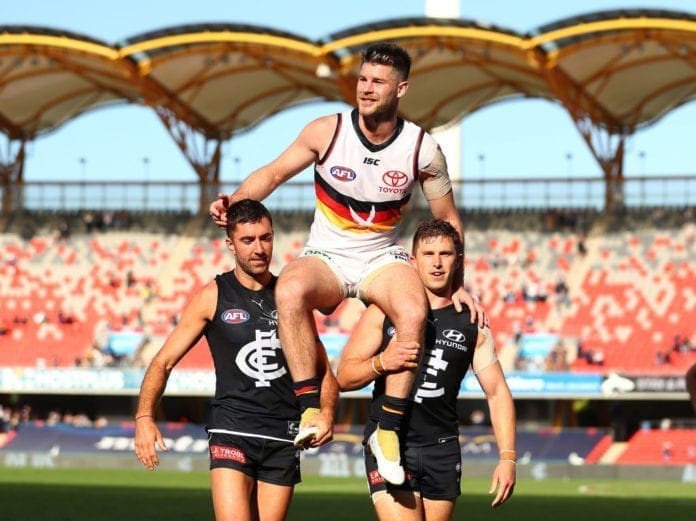 Port Adelaide great Kane Cornes has slammed Carlton coach David Teague, stating he is too friendly to his players and it has negatively affected the team.
Despite being an outside chance for a top eight spot before their game against Adelaide on Sunday, the Blues conceded the first five goals of the game and eventually lost by 16 points which ended their finals hopes.
What really rubbed Cornes the wrong way after the loss however, was the retiring Crow Bryce Gibbs being chaired off after the game by former Blues teammates Kade Simpson and Marc Murphy despite the loss.
"They can stand there like all the other clubs would do and clap him off with a guard of honour," he said on Channel 9's Footy Classified.
"This is a player that wanted to leave. If you've really got killer instinct and you're disappointed about missing the finals and rebuilding for the 20th straight year, you don't stand there and chair off a player who wanted to leave your club to chase a premiership only a two or three years prior.
"Even David Teague's comment, I would have just loved for him to say, 'I didn't like it and I spoke to my players about we won't be doing that again'.
"He is noncommittal with that and I think there's a problem with trying to be friends with the playing group.
"I think he's got terrific attributes, he can be an attacking coach, which we're craving for, but at the moment he is too nice on this playing group and he lacks the killer instinct of a Clarko, Chris Scott or Chris Fagan that we've seen this year."
Teague himself publicly shared his reservations with the gesture by his players, stating it felt "weird" at Sunday's post-game press conference.
"I get it, but there was a little part of me that thought I'm not sure about this to be honest," he said.
"It's a hard moment in terms of we had just lost a game of footy, but you want to respect someone that's been a great player of the game. Next time, I'd like to do it after a win."
Fellow Footy Classified panelist Caroline Wilson also shared similar thoughts to Cornes.
"I'm sorry, call me old fashioned. I found it extraordinary to see two Carlton footballers, albeit two of his closest mates carry Bryce Gibbs off the ground," she said.
"I'm not going to arrest anyone. I thought it looked very odd."
Cornes also strongly criticised footage of Blues players smiling after the loss, saying this was Teague's attitude rubbing off on his players.
"I'm not sure that's the language that Carlton supporters would want. I think his softly, softly trying to be friends with the players approach is rubbing off. These scenes after the game, if I was a Carlton fan, I'd be furious at this," he said.
"You missed an opportunity to play finals and concede the first five goals against the wooden spoon side after seven goals against Sydney last week.
"It is filtering through during the game… the nicely approach I think is filtering through the group and they just lack killer instinct."