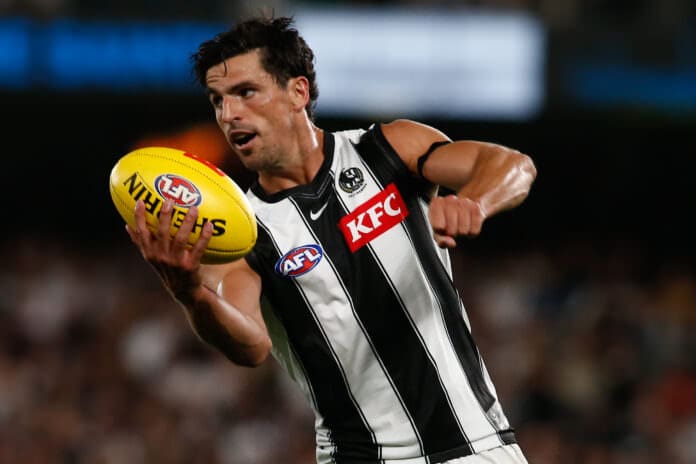 Former Collingwood captain Scott Pendlebury has had his say on the treatment of non-football actions during matches, urging the AFL to make more of intent rather than outcome.
His comments come in response to the three ugly bumps on the weekend; Kysaiah Pickett's late hit on Bailey Smith (two-week suspension), Lance Franklin's head-high bump on Sam Collins (one week), and Shane McAdam's brutal bump on Jacob Wehr (undecided).
Pendlebury highlighted the likelihood that Pickett, escaped a lengthier suspension because Smith continued to play and avoided injury. The Magpie revealed on Triple M that he believes that punishments should be based on action rather than the outcome.
"I think for years there's been the question around 'are we going to punish the outcome or the action and where do we live?' And we still live in the outcome, punishing the outcome. Which rightly or wrongly, I don't agree with that," Pendlebury said
"I think it should be the action that gets punished. They're not football actions.
"(When you launch at someone like Pickett did), your intention's to hurt. It's not a football action.
"I'm talking for everyone in the game here, not about those instances but I think it's something that we need to get rid of out of our game.
"But this chat's been going on for five or six years ... Those non-football actions I think we really need to treat seriously and get it out of our game."
Pendlebury also added his idea for the AFL to follow the path of the NRL by adding a 'sin-bin' for culprits of aggressive, non-football actions similar to Pickett or McAdam.
"Watching the NRL they get sin-binned, and I don't mind that for our players ... So it's a complete disadvantage, and now you play 17 versus 18 for ten minutes," he said.
An alternative option could be for team's to simply be down one player on the bench for 10 or 15 minutes while maintaining 18 versus 18 on the field.
Either way, it would further be in the interest of players to avoid head-high collisions given the risk of being sin-binned on top of further suspensions.
Pendlebury's next match will be this Saturday, March 25, when Collingwood face off against Port Adelaide at the MCG.