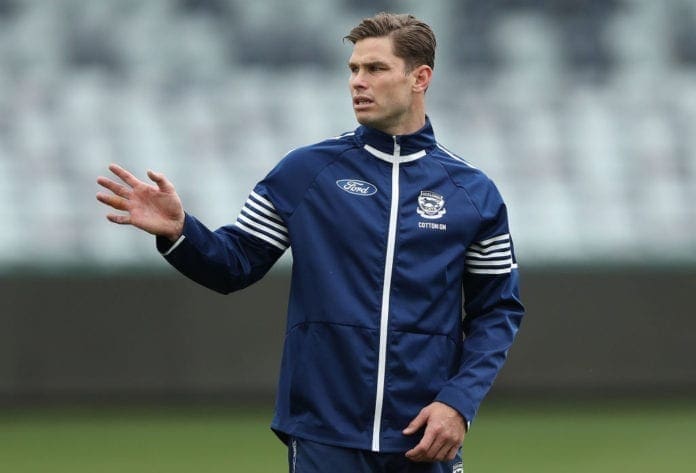 An array of Geelong players entered the club's preliminary final date against Melbourne on Friday under a viral cloud.
So ill were a collective of Cats, that the Kardinia Park side sought consultation with the AFL around the potential necessity to promote players from outside of their match-day selections.
According to Fox Footy's Tom Morris, the group of under the weather mogs included integral names such as Tom Hawkins, Jeremy Cameron, Cameron Guthrie, Bradley Close and Lachie Henderson.
Despite reports that this aforesaid collective had reported symptoms of illness a full two-days prior to the 'do or die' clash at Optus Stadium, the cruelled clowder were all cleared to lace the boots.
Although his side fell short by a handsome margin to the devastating Demons, Cats coach Chris Scott refused to use these ailments as an excuse for the 83-point scoreboard deficit.
"We've fallen short and it's a bitter pill to swallow, but our club has over a long period of time found a way to recover from difficult situations," Scott offered in his post match press conference.
"We're in that situation again where we've got a choice to make: We can roll over or we can take the time we need to regroup.
"We were pretty battered towards the end of the season, not just the last couple of weeks but probably the six weeks leading into the finals series.
"There's a few things that I won't speak about tonight that will become clearer over the next few weeks, but suffice to say, I'm proud of the way our guys endured and we just completely ran out of steam by tonight."
Given the current state of high alert surrounding viral infections, some may be at a loss at why or how these debilitated names were granted access to the bubbled field of play on Friday.
Still, as the nature of the affliction is yet to be have determined publicly as well as the fact that the AFL ticked off on these selections, there appears to be a distinct possibility that the virus in question is not one that is contagious in nature.
Neither Geelong, the AFL or the Melbourne Football Club have made any further comment in the wake of Morris' revelations.