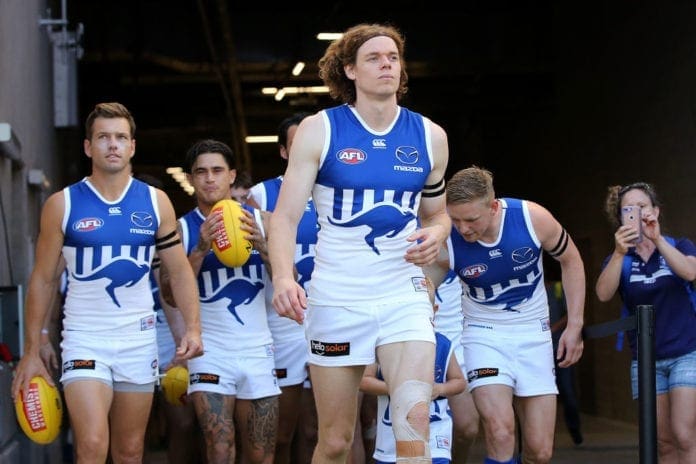 Footy Classified panellist Caroline Wilson has slammed Ben Brown and his manager Adam Ramanauskas for their decision to turn down a three-year deal with North Melbourne earlier this year, potentially leaving $1 million on the table.
Brown had previously delayed signing the deal with North, after stating his desire to seek a guranteed fourth year in the deal. The Kangaroos were said to have offered up to $850,000 a season before the negotiations stalled before the start of the AFL season.
"All managers make mistakes and have bad timing in the decisions they make. But it's Adam Ramanauskas I'd be staggered about if I'm Ben Brown," Wilson stated on Channel 9's Footy Classified.
"If it was his advice that told him to reject the $750,000 a year or minimum $700,000 a year three year deal from the Kangaroos in March this year. (That is) one of the worst decisions this year a manager has made.
"His manager should've convinced him to take it."
The decision for Brown to let his on-field form do the negotiating was originally seen as a smart one, with the 28-year old the only forward in the AFL to kick over 60 goals a year the previous three seasons.
It has been a season from hell for Brown however, only kicking eight goals from nine games with a massive form slump and a season ending knee injury greatly affecting his market value. So much so that North Melbourne and Brown have publicly stated the star forward will depart in the off-season.
Other members of the AFL media have also questioned if Brown has made the right decision, with AFL 360 host Gerard Whateley earlier this month questioning if Brown "could do much better than two years at $500,000 a year, just by comparison of the commodity he was to the commodity that he now is, shunted into the open market."
Footy Classified panellists Matthew Lloyd and Kane Cornes also debated if Brown made the correct decision, with Lloyd using the extra deals given to Dustin Martin and Brodie Grundy as reasons why Brown was correct.
Cornes also shared a similar mindset: "He was 26 years of age at the time and he'd kicked 60 goals for the three previous years as well and it was probably his last big contract.
"I don't begrudge him and maybe he wasn't fully confident in the way North Melbourne are going. New coaching coming in, record poor, maybe he wanted to do a Tom Lynch and explore the option of playing in a premiership."
Despite his poor form, Brown is recieving strong intrest from rival clubs with St Kilda, Essendon, Brisbane and Collingwood all rumored to be targeting the former Kangaroo.
Cornes also backed Brown's ability to cash in on a market lacking in key forwards: "He will get a good deal. There's not too many key forwards on the market, there's three or four clubs that desperately need a key forward. He's not going to be struggling next year, he will get a three year deal on good money."