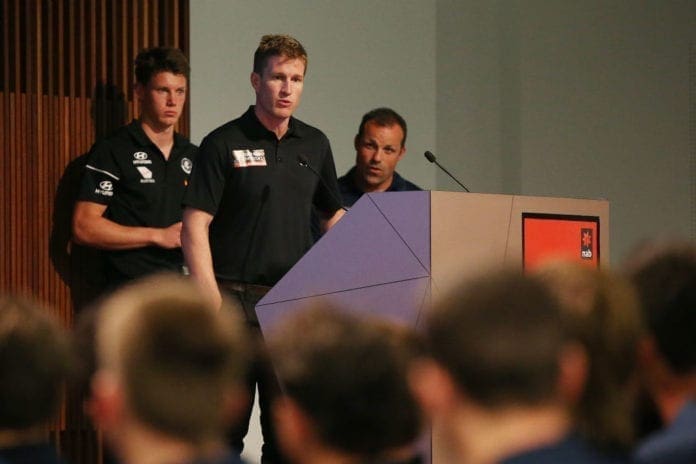 Carlton have appointed AFL Head of Development Luke Power as their new VFL coach for season 2023.
Power takes over from Daniel O'Keefe, who told the club of his decision to depart citing lifestyle reasons for his family.
Power has been instrumental since crossing over to Ikon Park in 2019 in developing the young talent on Carlton's senior list, along with building Carlton's standalone VFL side for the first time in 19 years.
The triple-Premiership Lion has a vast array of experience including being an assistant coach with Greater Western Sydney for five years, and last year being named the AFL Coaches Association's Assistant Coach of the Year.
The Blues' reserves team made excellent progress this season, reaching an elimination final win over the arch-enemy Collingwood.
Speaking to Carlton Media about the opportunity, Power says he is looking forward to helping the players achieve their true potential.
"The talent we have on our list are hungry and determined to achieve success, whether that be at VFL or AFL level, and it's our job to give them the tools to be able to go out there and maximise their opportunities," Power said.
"It has been a pleasure working alongside Dan O'Keefe for the past two years, and I look forward to further building on the successful culture and connection that he and others have created as we move forward into a new chapter for our VFL side.
"Our focus for the VFL side remains the same as AFL level: establishing a strong high-performance culture that translates into winning consistent games of football, to give us the best chance of making an impact at the end of the year."
Carlton Head of Football Brad Lloyd believes Power is more than ready to take charge acknowledging his in-depth experience.
"Luke has been heavily involved with the VFL side since we were granted a standalone licence ahead of the 2021 season and has led the way in building our development pathway since he arrived at the Club at the end of 2019," Lloyd said.
"When you consider his intimate knowledge of our program, along with the fact that Luke is considered among the elite coaches of young players in the country, the decision to appoint him as VFL Coach is a clear one and well-deserving for the dedication and passion he has shown to helping our players maximise their careers.
"Our VFL and AFL sides share the same world-class facilities and the programs work hand-in-hand with each other, so having Luke continuing to work closely with both sides will be a huge benefit for all involved.
"We will now get to work to put the right support around Luke to ensure our VFL and development program continues to go from strength to strength."