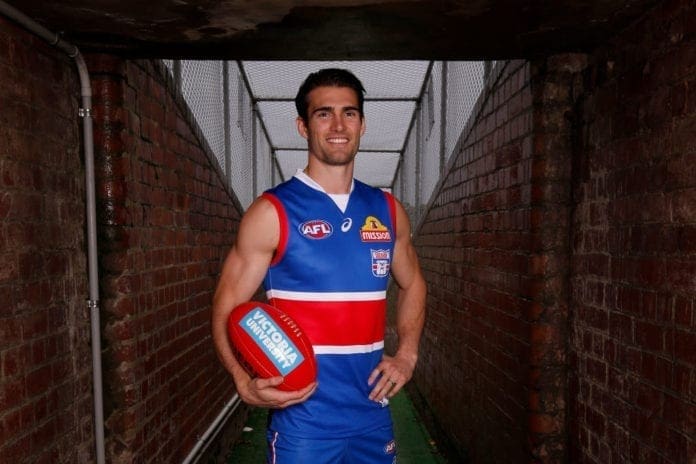 Western Bulldogs captain Easton Wood said he'd welcome taking a pay cut in his contract if it meant the league would take less sponsorship money from betting companies. He has previously been outspoken on the issue of gambling in the AFL.
Wood noted that declining advertising from betting agencies would decrease the amount of money in the league and thus, how much they could pay their players. However, Wood said he would be happy to take a pay cut if it meant moving away from these adverts.
"Philosophically if that's what it's going to take to do the right thing and do what's best for the code and kids coming through, then yes," Wood said speaking to Fox Footy's On the Mark.
"But whether or not the AFL playing cohort, whether that's their opinion, I'm not sure if it is.
"That would be a difficult one and it's a conversation to have and definitely something I'll be raising."
Bulldogs head coach Luke Beveridge supported his skipper's decision.
"That's a strong message," the Western Bulldogs coach said.
"It's a real issue in our game. It's a real issue in society.
"If Easton feels that strongly, then I support him in his opinion and the club supports him in his opinion.
"But there's a lot of discussion that continues and will need to continue to take place."
This news comes following the AFL dropping its largest individual gambling ban and suspension on Collingwood young star Jaidyn Stephenson.
The AFL just recently announced a $10 million deal with Beteasy that is sparking discussion from people inside and outside the league.
Geelong coach Chris Scott also spoke on the issue. His club prioritized the issue of sports gambling to its players.
"I think that's a much bigger problem as it relates to the next generation of gamblers," he said.
"I don't think it's a good thing at all that 10 and 12-year-old kids can quote the odds of games. But again, it's a very complex issue and it's a big issue."
The next collective bargaining agreement will come into effect in 2021 and negotiations will likely include the issue of sponsorship from gambling agencies.