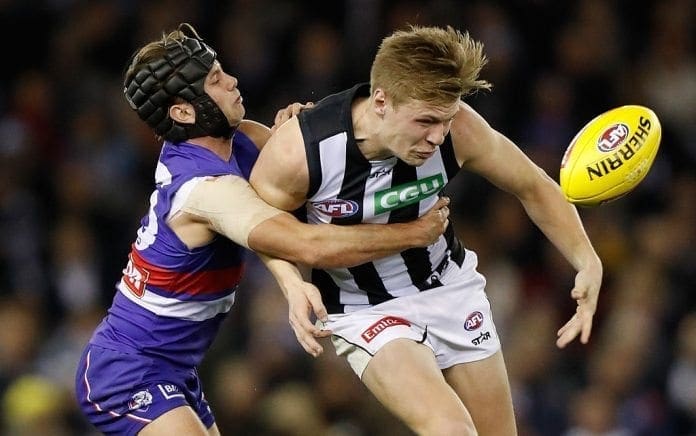 UPDATE: Collingwood has fined Jordan De Goey $5,000 and suspended the midfielder for three weeks, which will be served following his recovery from a broken hand.
He will also undergo 10 weeks of community service.
He can still play VFL during his three week suspension, but will not be eligible for AFL selection.
De Goey, who was yesterday ruled out for four to six weeks with a broken hand, initially told the club he suffered the injury while playing with his dog.
However, it emerged on Tuesday that De Goey, who turned 21 last week, lied to the club and in fact broke his hand after becoming involved in a fight while out at a bar in St Kilda on Friday night.
De Goey came clean about the incident following coach Nathan Buckley's press conference on Monday.
"Jordan is a young man who made a mistake," Collingwood football manager Geoff Walsh said in a statement.
"That is one thing. The issue we have had to deal with over the last 24 hours is how he compounded that by misleading his teammates, coaches and all of the other people at Collingwood who are here to help him be the best player and person he can be.
"He now has the challenge in front of him to win back the confidence and trust he has lost.
"We hope that Jordan will turn this moment in his career to his advantage by committing to being an outstanding footballer, team-mate and ambassador for the club."