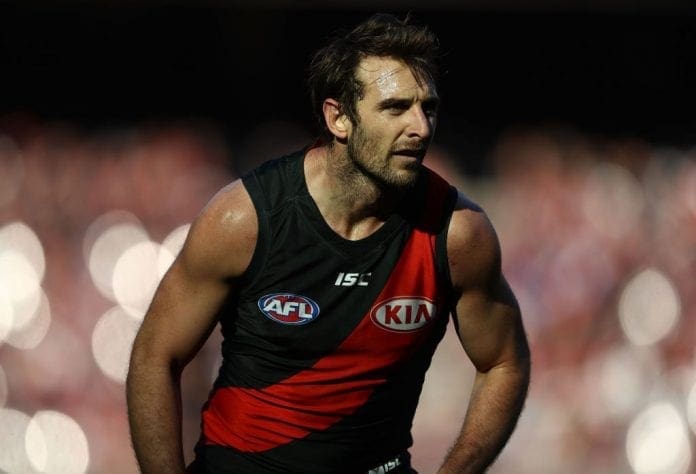 Former Essendon captain Jobe Watson has confirmed he will retire from AFL football at the end of the season.
The 32-year-old made the announcement at a press conference alongside coach John Worsfold on Wednesday afternoon.
Watson will play out the season and retire at the end of the year, after 217 games in the red and black.
"I have come here to announce this will be my last season with the football club. It is time to retire and move on," Watson said.
"I am really excited to play out the rest of the year with the group. This will be the last year. I am excited to play out the rest of the year. It is time to say thank you and goodbye.
"The last couple of weeks it is something I was thinking about a lot. I said to John on Monday, I know now this is going to be my last year. I want to enjoy it.
"I've had a wonderful time at the club. From a child who spent my life around the football club to fulfil a dream to play for the club and then to be a captain of the club."
Watson said he will be going back to New York, where he spent much of his year off last year, working as a barister.
"I will be heading back to New York. We were rated the fourth best brunch spot in Manhattan. I've got a couple of businesses over there. I will be spending a bit of time here and there."
The midfielder also revealed he retires not as in love with the game as when he started his career, due to the supplements saga, likening the feeling to a cheating partner.
"I guess it's like you're in a relationship and your partner cheats on you and you get back together and you probably don't love her the same way. That's how I feel about the game, I probably don't love it as much as I used to," he said.
"I think you do (forgive). Life is too short. You just don't feel the same. I think it's the hurt associated with it and when you get inflicted with that sort of pain, invariably the way you feel about something changes.
"The most difficult time was certainly after the WADA finding, having to go through that. The medal didn't matter to me, it wasn't important, it was the way in which I played."
Watson has averaged 24 disposals in 17 games so far in 2017.
The son of Bombers great, Tim, will retire after returning for one season after he was suspended for 12 months for his involvement in the Dons' supplements regime in 2012.
Watson captained the side for three seasons, is a three-time club best and fairest winner and two-time All-Australian.