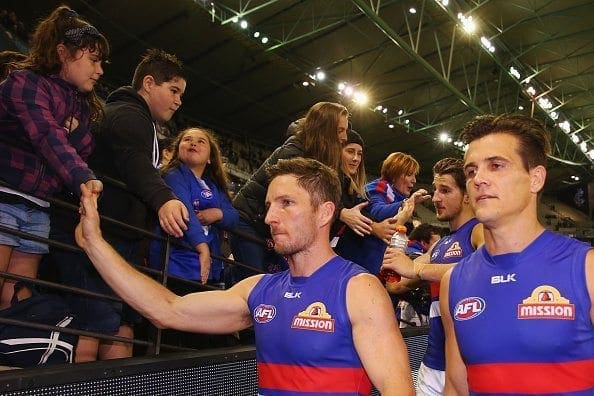 Western Bulldogs veteran Jed Adcock has announced that he will retire at the end of the 2016 season.
Adcock has played a total of 206 AFL games, including seven for the Bulldogs since crossing from the Lions at the end of last season.
"I want to thank the Club for giving me the opportunity to continue my career," Adcock said.
"Although it's only been one year, I've learned a lot both as a player and from a coaching standpoint."
"I'm ready to move on to the next phase of my life and career, which includes pursuing coaching at AFL level."
Bulldogs director of football Chris Grant said Adcock's time at the club, although brief, was influential.
"Jed has played really important roles for us in his short time at the Club, and his professionalism and leadership have been particularly noteworthy," Grant said.
"The time and guidance he has provided our younger players has been integral at both AFL and VFL level.
"We wish Jed all the best, and thank him for his contribution over the past 12 months."
Adcock spent 11 seasons at Brisbane after being selected with pick No.33 in the 2003 National Draft.
He was co-captain of the club with Jonathan brown in 2013 and was the sole captain in 2014.
At the end of 2015 he was told he would not be offered a new contract and he was picked up by the Western Bulldogs as a mature aged rookie in the 2015 Rookie Draft.