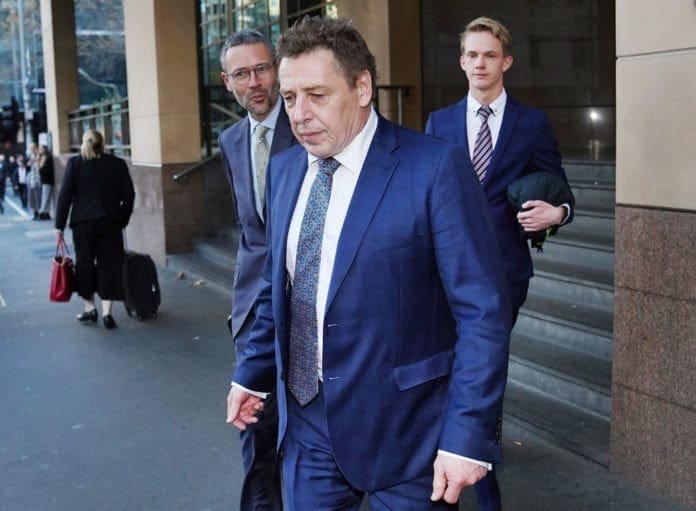 Mark 'Bomber' Thompson has confessed to smoking ice, admitting how the Essendon supplements saga saw him decide to venture into use of the drug.
Thompson fronted the Melbourne Magistrates' Court on Wednesday afternoon on a string of charges. The Geelong premiership coach is fighting three drug trafficking charges and four drug possession charges after a raid on his Port Melbourne home last year.
Police allege they found a metal lock box containing the drugs MDMA, LSD and Xanax, along with Thompson's DNA during the raid in January 2018.
Thompson was upfront with his history of drug use, but the 55-year-old was adamant that he never intended to sell any drugs.
"Ice, that's it really. I was smoking too much," Thompson told the court.
"I'm a drug taker, I'm sad that I am.
"But I never had any intention of selling any drugs.
Thompson also admitted to considering using LSD.
"I always wanted to take it but I didn't have the guts," he said.
Thompson cited the Essendon supplements saga - where Thompson was working as an assistant coach at the time of the scandal in 2012 - lead him down the path of drug use.
"Everything I believed in… was just in ruins," the 55-year-old said.
"It was a difficult time. I left the industry where I worked in a bad way.
"I just couldn't believe we could do that to a group of young men. I think about it every day… I'm still not over it."
The 1993 premiership coach revealed that ice use was his way of dealing with the fallout of what happened.
"I don't think I was addicted, it just masks the pain, I think less about the things that worry me," he said.
Thompson said scales found in his home during the raid were used to weigh the drugs he was buying, in order to "make sure you got what you paid for".
"I can't believe I'm saying this," Thompson said while shaking his head.
Thompson revealed how he had been smoking ice with Thomas Windsor, who he had struck a friendship with and suddenly allowed to live with him.
Thompson says he became reluctant about Windsor living with him.
"I knew he shouldn't be there, but he broke me down," Thompson said, describing Windsor as "a pretty scary bloke".
"He is a lot tougher than me … I didn't know how to get rid of him."
Winsdor was jailed over the raid incident, having pleaded guilty to drug trafficking offences.
Thompson was challenged over claims he let Windsor live in his Port Melbourne home with relatively no questions asked.
"There's a knock on the door, a bald, muscly tattoo man who you don't know is invited into your house," Sen Const. Roberts said.
Thompson replied: "It's weird, hey."
Thompson will learn his fate over drug trafficking charges in two weeks with Magistrate Duncan Reynolds to deliver his decision on 11th July.