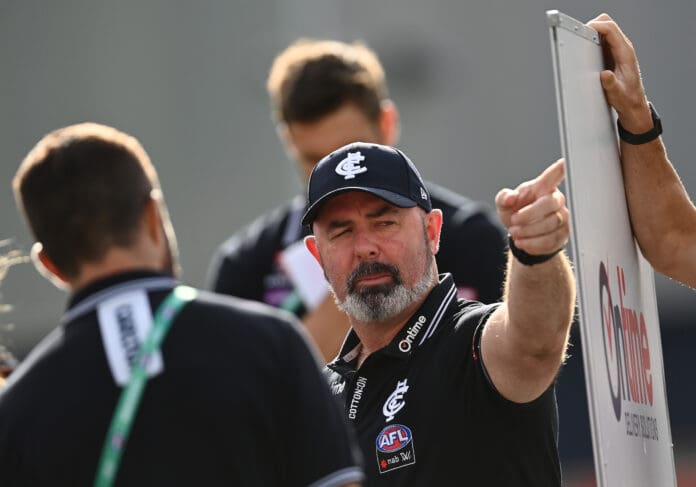 Carlton has opted to "part ways" with head coach Daniel Harford, announcing the need to hire a full-time AFLW leader as just one of five findings from the club's recent review of its women's program.
The Blues' board-initiated review commenced in December of last year with the aim of rectifying the club's flagging AFLW outfit, both on and off the field.
The review's findings were led and compiled by Errol Amerasekera of Bluestone Edge Consulting before being distributed to Carlton powerbrokers and management this week.
Having held the reins at Princes Park since 2019, Harford led Carlton across five seasons, failing to taste the ultimate success in each.
While unable to feature in finals across each of the past three seasons, the 45-year-old departs Ikon Park as the only coach to have led the Blues into a grand final.
The call comes after Harford inked a two-year extension to remain on Royal Parade in April of 2022.
As stated by Carlton on Tuesday evening, Harford and the club now "part ways" after the independent review stipulated that a full-time steward would allow the Blues to press for sustained success.
"A key recommendation of the review was a requirement for the Senior Coach role to be full-time. As a result, the Club is now able to confirm that the decision has been made to part ways with AFLW Senior Coach Daniel Harford, who is unable to service the role in a full-time capacity," Carlton President Luke Sayers wrote.
Since hanging up his boots in 2004 after 162 games as both a Hawk and a Blue, Harford has held an array of media roles, including his current posts with RSN Radio and Fox Footy.
Sayers went on to impart that in addition to Harford's exit, a further four ills would require rectifying, ills relating to "systems, culture, coaching structures and insufficient leadership to support and drive professionalism and elite behaviours."
Whilst staff were found to be of strong character, of integrity and passionate about football, there is a requirement for stronger leadership across key positions within the program, with a key requirement of this being for the Senior Coach position to be full-time.
At times confusion with the game plan and lack of alignment and consistency with its implementation.
Opportunity exists in the current AFLW environment for players to improve professional standards and elite behaviours, to build and maintain an effective, high-performance culture.
A strong need to foster an environment that supports the ability to provide and receive constructive feedback with a developmental focus.
A clear vision for the AFLW program is required, containing a definitive direction and goal for the program across the immediate, short and long term.
Though admitting the club had sufficient resources to press for success, as well as state-of-the-art facilities available, Sayers added that further work, on both sides of the boundary, would be required to evolve the club's AFLW wing.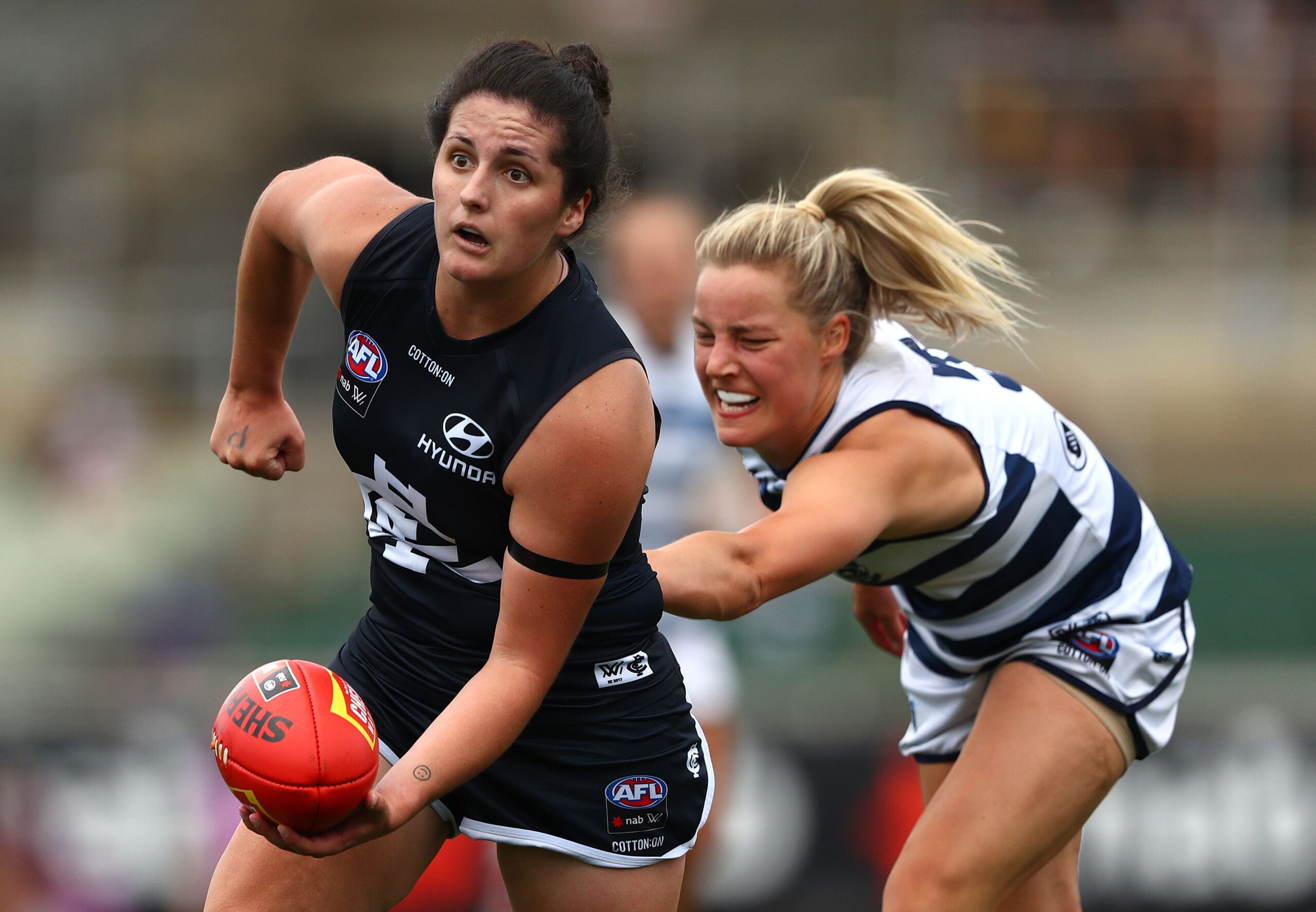 "Our Board and CEO Brian Cook will now work with the key leaders of our football department and management to deliver the key areas of improvement outlined above," Sayers wrote.
"It is the responsibility of everyone in our football department, players, coaches and staff, led by the Board, to make these necessary improvements to ensure the Carlton Football Club remains focused on achieving our ultimate, long-term goal – winning premierships.
"That is the challenge that lies ahead for us. The expectation and accountability within our AFLW program has risen, make no mistake about that. We are not going to wait to become better, we need to get better, and get better now.
"We will continue to work through the recommendations provided, with our priority being the recruitment of a new, full-time AFLW Senior Coach. Further details relating to this process will be communicated in due course."
Carlton finished season seven of the fully-expanded AFLW competition in 14th position, claiming two wins and two from 10 appearances.