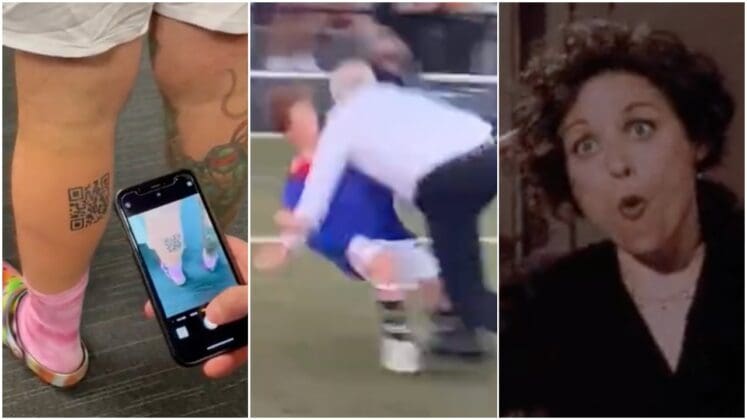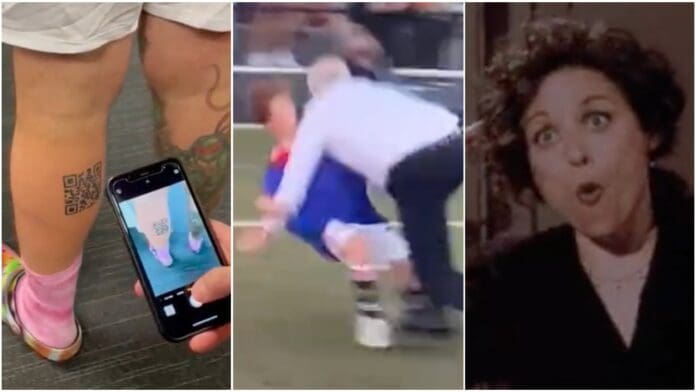 It's always nice to come to the end of the week, and look back on funny, heartwarming and interesting things that have happened in the AFL community that week.
Here are some of the best stories of this week, that we feel will brighten up your day and garner a few laughs.
Walla's retirement 
The AFL community was met with the sad news of Essendon's Anothony McDonald-Tipungwuti announcing his retirement from AFL.
This week, 'Walla' released a formal announcement explaining that "the club and my teammates have been extremely supportive throughout my whole career, but I feel really happy to be moving on to the next chapter of my life now. I'm ready for life beyond football".
Understandably, the Essendon community, and the AFL in general, were devastated at the news but wished McDonald-Tipungwuti all the best.
He was met with an outpour of love amongst his announcement, with Twitter filled with posts for Walla.
Always a Bomber. Always a star. Thanks Walla. https://t.co/5JloZiUSi3

— HȺmish Jones 3.0 🐧 (@hamishjones) May 20, 2022
Anthony McDonald-Tipungwuti you will be missed ❤️

(And this comes from a Hawks supporter so you know it's real)

— Darren Levin (@darren_levin) May 20, 2022
Anthony McDonald-Tipungwuti's career was a miracle. We were all blessed to have lived it.

— Daniel Cherny (@DanielCherny) May 20, 2022
The game is better for players like Anthony McDonald-Tipungwuti, and it will be poorer without him. What a star. https://t.co/NQfIzjdc6R

— Akash Fotedar (@akashfotedar5) May 20, 2022
Devastated, but a great player who is loved and respected by the entire AFL community. Gonna miss you @McTipungwuti43 😢 https://t.co/CdkTrGmG1w

— jess 💕 (@thatgirljess_) May 20, 2022
ScoMo's tackle 😂
This week, whilst visiting Tasmania, Scott Morrison was engaging in a friendly game of soccer with a local group of school kids. All seemed well and good until the Prime Minister clumsily tackled a young boy.
Whilst the kid took the tackle like a champion and no harm was caused, social media couldn't get enough of it.
And the memes followed.
Good tackle, well lucky not AFL, he would've got 50 metres penalty😂😂

— lindy. (@littlejackieboy) May 18, 2022
…has slammed the kid who was tackled by the Prime Minister "it's obvious the kid was ducking for a free kick and the AFL should let ScoMo off in what would have been a perfect tackle in my day. He's been getting ahead of himself."

- BY STAFF WRITERS pic.twitter.com/OPPcvLmK4U

— AFL great Kane Cornes* (*PARODY) (@afl_greatKane) May 18, 2022
These kids are soft. Can't believe they let him get away with that. No wonder Luke Parker went at them. Support your teammate. https://t.co/Fma2XJ4BMh

— Daniel Cherny (@DanielCherny) May 18, 2022
Carlton superfan gets Fev tat
Damon Mule, an avid Carlton Football Club supporter, has had a new tattoo done on his lower left calf. Well, the tattoo, which looks like a QR Code, actually is!
When the tattoo is scanned, it takes one to a YouTube video of Brendan Fevola's "Fev's Clinic".
Mule, who is a superfan of both Carlton and Fevola, made it to the news with his outrageous tattoo and blew up on Twitter when he posted the video.
🤣🤣 amazing https://t.co/mykRZI8uTJ

— Brendan Fevola (@BrendanFevola25) May 18, 2022
The AFL world reacts to the official Grand Final time verdict...
And it's in... the AFL have officially announced the Grand Final playing time, after it being hotly debated throughout social media. The league announced that the game will be played at its traditional time of 2:30pm.
Before the announcement, word had gotten around that the AFL was potentially changing the original game time of 2:30pm to a later slot, such as 4:30 pm which - infuriated fans.
Well turns out everything is fine, as the Grand Final is set to start at its original time and social media erupted in happiness for the decision.
https://t.co/H7g8F8t1PD pic.twitter.com/sebGtP5IYX

— Tess Armstrong (@tessarmstrong) May 20, 2022
Convinced the AFL floats the night grand final every year just so they can turn around and say they listened to the fans.

"Hey, we floated a terrible idea and didn't do it! Thank us!"

— Titus O'Reily (@TitusOReily) May 20, 2022
The year is 2072, and the AFL is still setting it up beautifully to win plaudits by floating a twilight grand final for the 60th straight non-pandemic year only to listen to the fans and keep it in the day.

— Daniel Cherny (@DanielCherny) May 20, 2022
Can't believe no party has run on a policy of enshrining the grand final start time in the constitution so that we never have to speculate, debate or talk about it ever again. They'd have my vote

— Josh (@databyjosh) May 20, 2022
Indigenous round 
This weekend is set to kick-off the Sir Doug Nicholls Round, which will occur for the next two weeks. The round garners a lot of attention and provides a place for representation for the First Nations people, as well as past and present First Nation players.
It is always an exciting time of the year, and a time to reflect as well.
Here is how the AFL community is feeling ahead of this year's Indigenous round.
We love to see all the clubs embracing the Indigenous round and their fans.
This weekend marks the start of the AFL indigenous round of footy back home. We celebrate contributions of past & present players to our game. My favourite round of footy during the regular football season. My team Adelaide with their specially designed jumper. #aboriginal pic.twitter.com/kpXXePAuld

— BigDaz (@Bigdazw) May 18, 2022
Love the jumper that Jess Nannup and Marlion Pickett designed for Indigenous round 🖤💛❤️ pic.twitter.com/x3A0N5CZFh

— Kaz Dawson (@dawson_kaz) May 17, 2022
Favourite round of the year! Love what Indigenous Round stands for and the fact that we hear from our Indigenous players in the AFL and AFLW. Can't wait to be there Saturday night like I have been each year for the last 4-5 years. https://t.co/pHm2p6TCSu

— Madeline Irwin (@maddiei_3) May 15, 2022
This is no ordinary round of football ❤️

Watch #YokayiFooty ahead of Sir Doug Nicholls Round tonight at 8:30pm AEST on @NITV or the AFL Live App. pic.twitter.com/DCbF3Gm0ka

— AFL (@AFL) May 18, 2022