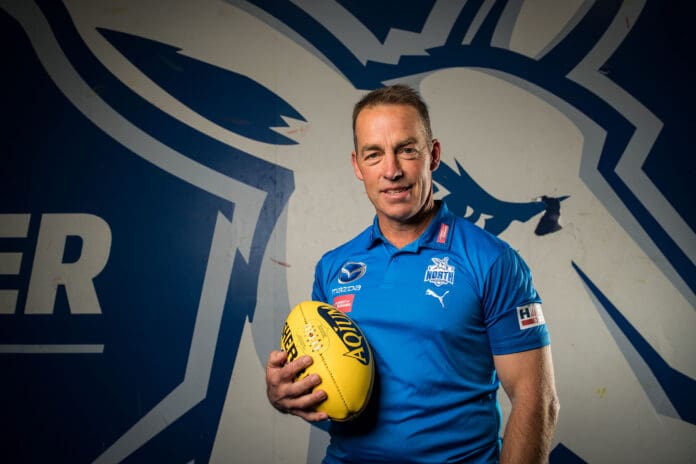 North Melbourne have announced that Alastair Clarkson will not begin his employment at the club pending the result of the investigation being conducted by the AFL into allegations made in a today in an ABC report.
The report details incidents during the 2013-2015 period of success for the Hawks that occurred at the expense of first nations players. Brisbane head coach Chris Fagan was also at Hawthorn during this time.
Fagan has since taken the step mutually with the Lions to stand down while the investigation is conducted.
READ MORE: Fagan steps down
Clarkson was set to take over at North Melbourne on November 1 but will now wait for the conclusion of the investigation.
In a statement released on Wednesday, North Melbourne confirmed that Clarkson's arrival would be delayed.
"The North Melbourne Football Club is aware of serious historical allegations made against individuals who worked at the Hawthorn Football Club, including incoming North Melbourne coach Alastair Clarkson," the statement read.
"The matters raised are now with the AFL's Integrity Unit and Alastair welcomes the opportunity to co-operate with any investigation relating to the claims.
SEE MORE: AFL boss announces new investigation
"Alastair was due to commence work with North Melbourne on November 1 however he will delay the start of his tenure to allow time to fully participate in the investigation. 
"Given the matters raised are confidential and the investigation is ongoing, the club will not provide any further comment at this time."
Following North's announcement, Clarkson released a statement, saying that he was shocked by the allegations made earlier today.
"The health, care and welfare of our players, staff and their families were always my highest priorities during my time at Hawthorn Football Club," the statement read.
"I was therefore shocked by the extremely serious allegations reported in the media earlier today.  I was not interviewed by the authors of the report commissioned by the Club, and nor have I been provided with a copy of the report.
"I was not afforded any due process and I refute any allegation of wrongdoing or misconduct and look forward to the opportunity to be heard as part of the AFL external investigation.
"I have today contacted the President of North Melbourne Football Club and we have mutually agreed that I will step back from my responsibilities at the Club so I can fully cooperate in the investigation.
"As the matters are now subject to an investigation, I will not make any further comment at this stage."