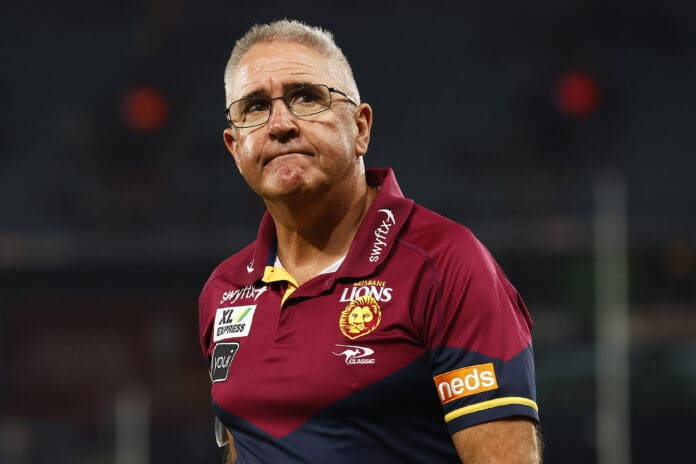 Brisbane head coach Chris Fagan will take a leave of absence from his post at the club following recent allegations embroiling the 61-year-old during his time at Hawthorn.
"The Brisbane Lions are aware Senior Coach Chris Fagan will work with the AFL on an investigation into allegations concerning historical events at the Hawthorn Football Club, where he was a former employee," the club related in a statement to the media.
"Chris supports and welcomes the investigation.
"He was not consulted during the Hawthorn sponsored review and looks forward to the opportunity to be heard as part of the AFL investigation.
"The Brisbane Lions and Chris have mutually agreed that he will take a leave of absence from the Club so he can fully cooperate in the investigation."
During his nine-season stint with the Hawks as both an assistant coach and general manager, Fagan - along with other staff members including then head coach Alastair Clarkson - was alleged to have played an active role in displacing First Nations players from their families, fraying their relationships, cruelling their mental health and/or hindering pregnancies, including requests for termination.
Each of these allegations were initially made by three anonymous former Hawks before being subsequently published by Russell Jackson for ABC Sports on Wednesday morning.
All three players are said to have been on Hawthorn's roster during the club's golden era of 2008-2015.
MORE ON HAWTHORN ALLEGATIONS
DETAILS: Heartbreaking allegations made against Hawthorn, Clarkson and Fagan
HODGE COMMENTS: Former Hawthorn skipper Luke Hodge speaks on Hawks racism allegations
McLACHLAN SPEAKS: Gillon McLachlan announces investigation into damning allegations made against Hawks
According to reports from Jon Ralph of The Herald Sun, Fagan was left "devastated" and "blindsided" following Jackson's report.
The Lions' own review comes in the wake of a statement from the AFLPA on Wednesday morning which stresses that a full, independent inquiry into the matter must be undertaken.
Outgoing AFL CEO Gillion McLachlan addressed the media on Wednesday morning, announcing the league's own investigation into the unfolding matter.