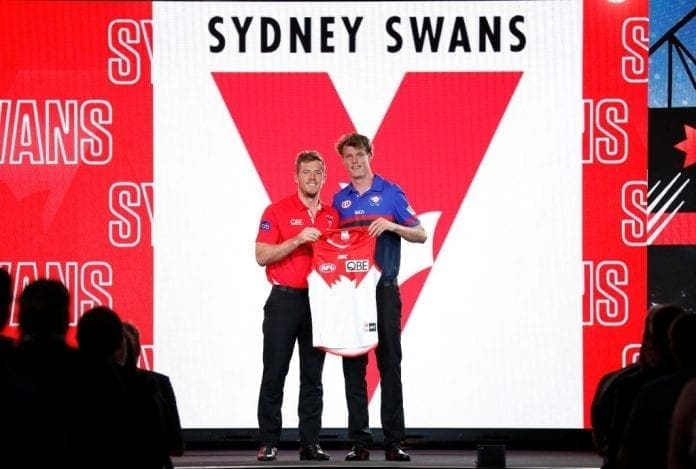 Sydney's shock draft operation which allowed them to secure academy player Nick Blakey for a bargain may not be allowed to happen again in the future.
The AFL's general counsel, Andrew Dillon, along with his team are headlining a review into how the debut of live pick trading worked and if such tactics should be permitted.
AFL chief executive Gillon McLachlan said on Tuesday they were looking in on the incident.
"I think the guys are having a look at that," McLachlan told AFL.com.au.
"It was clearly legal and that's what clever industrious clubs do, they look at the rule s and they take advantage of them if there's stuff possible.
"Whether that's available next year, Andrew Dillon and his team will review."
Sydney ended up trading a second-round selection to West Coast which allowed them not to use it on Blakey when the bid came at pick 10, where the Swans later traded back into the second round.
Multiple things are being considered for the 2019 draft, including moving day two into a prime time slot or even reducing it to one single day.
McLachlan said things are always made to be improved on.
"There's things we can improve on, there's opportunities to expand," McLachlan said.
"(It) may be better at night the second day; maybe you put them together."
McLachlan said the format will be looked at closely and played down the criticism of the telecast for the draft.
"I think we're a national game," McLachlan said.
"We haven't been to Melbourne for I think 10 years or something, so it was nice to bring it back here, and I think it may well be here again next year, but at the right time we'll take it on the road again.
"We will continue to take our game everywhere, and celebrate the fact that we're a national game.
"I saw some commentary about whether it was good or bad television.
"I was part of it, but I did watch bits of it on TV and I thought it was pretty interesting.
"It was significant progression from last year and an improvement and I think the team did a good job."