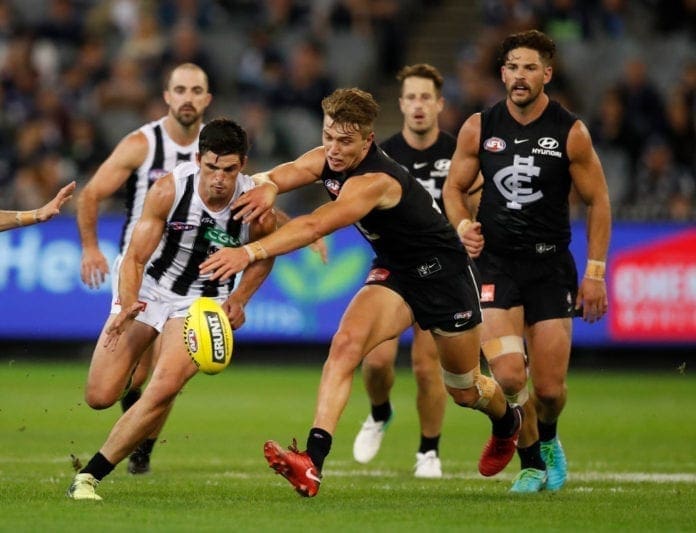 The AFL has released the final part of the 2020 fixture, featuring Rounds 14-18.
There will be another footy frenzy from Rounds 14-17, where matches will be played in 18 of 19 days.
Ten teams will have their byes during Rounds 14-17.
The matchups for Round 18 are set, with all dates, venues and times still to be decided.
Check out the full fixture below!
Round 14
Thursday, August 27

Hawthorn v Essendon, Adelaide Oval, 4.40pm AEST, 4.10pm ACST
Richmond v West Coast, Metricon Stadium, 7.10pm AEST

Friday, August 28
Western Bulldogs v Geelong, Metricon Stadium, 7.50pm AEST

Saturday, August 29
Port Adelaide v Sydney, Adelaide Oval, 1.45pm AEST, 1.15pm ACST
Fremantle v Greater Western Sydney, Optus Stadium, 4.35pm AEST, 2.35pm ACST
Melbourne v St Kilda, TIO Traeger Park, 7.40pm AEST, 7.10pm ACST

Sunday, August 30

Carlton v Collingwood, The Gabba, 3.35pm AEST
Gold Coast v North Melbourne, Metricon Stadium, 6.10pm AEST

Byes: Adelaide, Brisbane
Round 15
Tuesday, September 1

Hawthorn v Adelaide, Adelaide Oval, 5.40pm AEST, 5.10pm ACST
West Coast v Essendon, The Gabba, 8.10pm AEST

Wednesday, September 2

Richmond v Fremantle, Metricon Stadium, 7.10pm AEST

Thursday, September 3

Sydney v Melbourne,  Cazalys Stadium, 4.40pm AEST
Greater Western Sydney v Carlton,Metricon Stadium, 7.10pm AEST

Friday, September 4
Brisbane v Collingwood, The Gabba (SEVEN) 7.50pm AEST

Byes: Geelong, Gold Coast, North Melbourne, Port Adelaide, St Kilda, Western Bulldogs
Round 16
Saturday, September 5

North Melbourne v Port Adelaide, Metricon Stadium, 7.40pm AEST

Sunday, September 6

St Kilda v Hawthorn, Metricon Stadium, 1.05pm AEST
Geelong v Essendon, The Gabba, 3.35pm AEST
Western Bulldogs v West Coast, Metricon Stadium, 6.10pm AEST

Monday, September 7

Melbourne v Fremantle, Cazalys Stadium, 7.10pm AEST

Tuesday, September 8

Adelaide v Greater Western Sydney, Adelaide Oval, 5.40pm AEST, 5.10pm ACST
Carlton v Sydney, Metricon Stadium, 8.10pm AEST

Wednesday, September 9

Brisbane v Gold Coast, The Gabba, 7.10pm AEST

Byes: Collingwood, Richmond
Round 17
Thursday, September 10

St Kilda v West Coast, The Gabba, 7.10pm AEST

Friday, September 11

Geelong v Richmond, Metricon Stadium, 7.50pm AEST

Saturday, September 12
North Melbourne v Fremantle, Metricon Stadium, 1.45pm  AEST
Port Adelaide v Essendon, Adelaide Oval, 4.35pm AEST, 4.05pm ACST
Greater Western Sydney v Melbourne, The Gabba, 7.40pm AEST

Sunday, September 13
Carlton v Adelaide, Metricon Stadium, 1.05pm AEST
Hawthorn v Western Bulldogs, Adelaide Oval, 3.35pm AEST, 3.05pm ACST
Sydney v Brisbane, Cazalys Stadium, 6.10pm AEST

Monday, September 14

Collingwood v Gold Coast, The Gabba, 7.10pm AEST
Round 18 (all venues, times TBC)                  
Adelaide v Richmond
Brisbane v Carlton
Collingwood v Port Adelaide
Essendon v Melbourne
Fremantle v Western Bulldogs
Hawthorn v Gold Coast
North Melbourne v West Coast
St Kilda v Greater Western Sydney
Sydney v Geelong