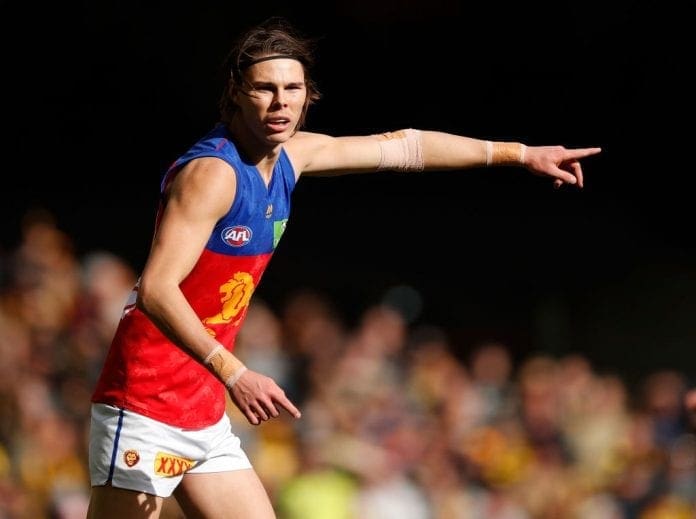 Brisbane forward Eric Hipwood has been referred directly to the AFL Tribunal by the Match Review Officer for an incident involving Bulldogs player Ryan Gardner, umpire Jacob Mollison and Hipwood during Thursday night's match at the Gabba.
During the third quarter of the Lions' 41-point win over the Dogs, Hipwood appears to push Gardner, leading to the Bulldogs player and official tumbling to the ground after a collision.
Hipwood was soon able to take advantage of the incident, taking an uncontested mark in his side's forward 50 and booting a goal from the subsequent set shot.
The MRO did not grade the incident, and Hipwood will not be able to accept an early plea.
The decision sees Hipwood in doubt for next week's match against Essendon at the Gabba and potentially further.
New footage of the incident appeared over the weekend, seeming to initially place Mollison in Hipwood's eye line, however Gardner appears to come across Hipwood's path.
New vision of the Eric Hipwood-umpire contact.

[via: hodgey015/IG] pic.twitter.com/dpuFT3Lj4j

— 7AFL (@7AFL) July 3, 2022
Under the AFL's laws of the game, Hipwood should have been penalised for the incident, with league rules stating "a field Umpire shall award a Free Kick against a Player who: intentionally or carelessly engages in conduct which affects, interferes with or prevents an Umpire from performing their duties."
There were no other decisions of note by the MRO from Thursday night's game.