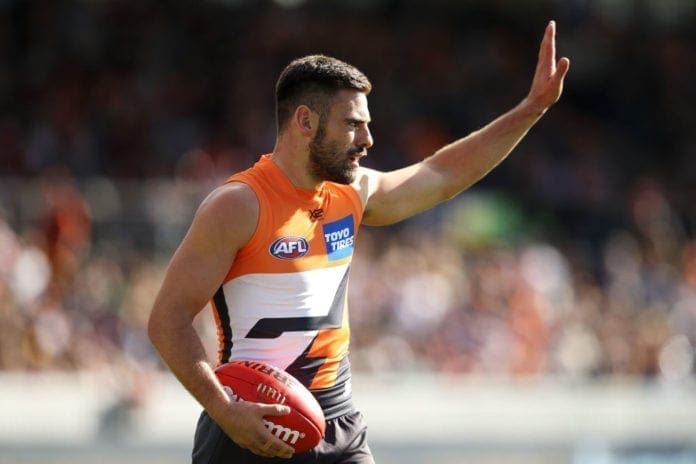 GWS senior coach Adam Kingsley has defended Stephen Coniglio amid claims from the umpiring department that the Giant had been unsportsmanlike throughout Saturday's loss to Carlton.
Coniglio was at the centre of a controversial call in the 10-point loss, when the 29-year-old was penalised for dissent, resulting in a late Carlton goal. The decision subsequently caused much outrage, prompting the AFL to release a statement defending the officials.
Speaking on Wednesday, Kingsley admitted that the talk around Coniglio's actions throughout the game were "rubbish"
"The (dissent) rule itself is not an issue. That decision … oh well, we move on," he said.
"We certainly know that the rhetoric has been around that it was a reaction to numerous events – well, I can tell you that is just completely rubbish.
"That's not the case at all, so anyone who wants to attack the decision from that angle is completely wrong.
Coniglio throws his arms out in protest at the lack of a holding the ball free kick. A Blues behind turns into a certain goal for dissent at the top of the square to Motlop. On face value an extraordinary dissent penalty given the circumstances midway through the last term. pic.twitter.com/X5mgl8b5UU

— Jon Ralph (@RalphyHeraldSun) April 1, 2023
"That's complete rubbish … when you look at Cogs, you're dealing with one of the most respectful people in the AFL."
While Kingsley sympathises with the difficulty of adjudicating an AFL match, the coach admitted that the rule was better applied in 2022, rather than what was seen in Round 3.
"We know it's a hard game to umpire already, so why are we making it even more difficult," he said.
"The rule where it was midway through last season to the finish of last season is where it needs to be.
"I felt like it was really well umpired in that time frame."
The first-year coach is currently sitting with a 1-2 record heading into the Round 4 clash against Essendon, but isn't ringing alarm bells.
After the Giants kicked 9.10 over the weekend, with Toby Greene producing a quiet performance, Kingsley still isn't rushing to bring in No.1 draft pick Aaron Cadman.
"I think he's less likely this week but again we haven't really sat down as a group and discussed that," Kingsley said.
"Hogan has been pretty good, [Jake] Riccardi was a lot better last week, [Harry] Himmelberg is having moments but is suffering a little bit from the ball use rather than him. The reality for Aaron is he's just got to keep plugging away and his time will come."