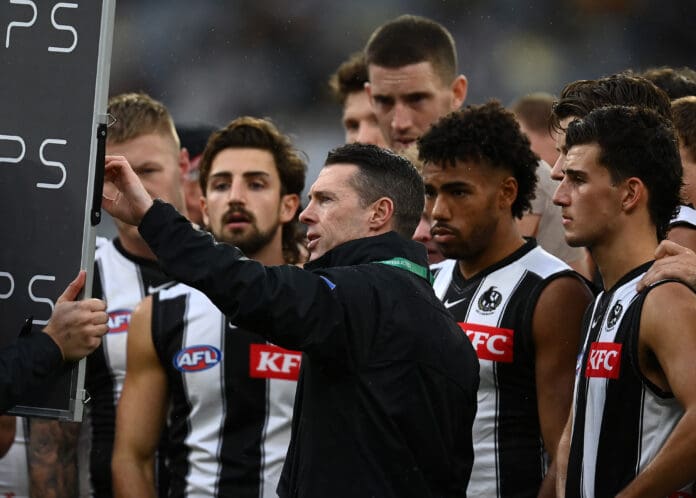 Collingwood coach Craig McRae has raised eyebrows in the wake of his side's heartbreaking six-point loss to Geelong in Saturday's qualifying final, stating a handful of his players were "acting like a loser" at the final siren.
A gruelling and topsy-turvy match that included over 150 tackles between the two sides concluded in dramatic fashion, with a late Max Holmes goal all that separated the Cats from their Victorian rivals.
The Magpies entered the match unfavoured, however led for a majority of the game in a telling performance of their premiership credentials.
But despite his players' best efforts, McRae was critical of his playing group post-game, expressing his dissatisfaction to see some laying on the MCG turf after the final siren.
"We want to act like winners. The siren goes and there's half a dozen guys laying on the ground," McRae said.
"For me, that's not a winner. That's acting like a loser. We lost a game, we're not losers.
"We're here to win this thing. We'll give it everything we've got."
Collateral in the loss fell in the form of Taylor Adams' worrying groin injury, an ailment the Magpies midfielder returned from for Saturday's qualifying final.
Adams admitted in the days leading up to the game he would be playing hampered to some degree, however his re-aggravated groin issue is sure to spell an end for his year.
McRae revealed Adams looks to have torn his groin "off the bone", a worrying initial diagnosis for the Collingwood star.
"It looks like he's torn the groin off the bone. That's the early diagnosis, his season is over," McRae said.
"I just grabbed him then; he's had his moment of emotion. We'll get around him and support him as best we can."
Saturday's loss means Collingwood will be needing to win their next three games to take out the premiership, with their first fixture confirmed for Saturday night against Fremantle at the MCG.