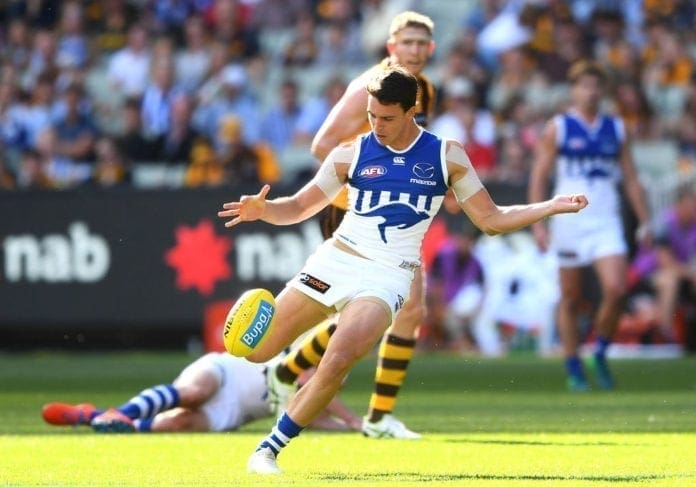 It's really starting to come together for Luke Davies-Uniacke. He is becoming proficient with his stoppage craft and has that rare ability to find space playing at different speeds.‍
There's the initial burst to gather the ball. Once gathered, he looks up and BAM, he's completely changed gears with his next two steps. He is gone. He blows by defenders with ease. Davies-Uniacke's step and acceleration to change gears is special.
The best way of describing 'LDU' is he's a fluid player. He's always under control with his movement yet seems to make quicker decisions than most. He is becoming more confident in driving with his legs out of stoppages, he practically gallops away from everyone in the clip below.
Against Port, he had a game-high seven clearances, including six centre clearances. He was a key factor in North generating damaging clearances through the front of stoppage.
Here, the quick hands in traffic and the vision to identify his second avenue in Stephenson as the better option creates a far better-attacking result for North.
I wrote about LDU last year and gave a number of observations that are important to come back to in 2022:
Firstly, whilst I was impressed with his development, I implored for more of his special moments to become regular occurrences. Whilst his numbers are down this year across the board, those moments are starting to transform into consistent, weekly habits.
The bodywork at stoppages to own the inside or outside of the contest, the quick hands to release a player into space, and the habit to always be on the move at stoppages. It's starting to show week in and week out.‍
Secondly, he is much more disciplined at applying himself without the ball. He wasn't capable nor wanting to provide this kind of defensive pressure last year.
The worry is his accumulation. His 20 disposal average needs to rise to 25+ because he makes good things happen with ball in hand.
Some may argue that he isn't that type of player, fitting the mould of a burst player who only needs 20 disposals to do maximum damage. Personally, I don't quite buy that.
The top, high impact midfielders of the last five years all hover closer to 25 than 20 disposals and are far more impactful from a goal-scoring sense. If LDU is going to become elite with a low disposal count, he would have to develop as a goal kicker, something he hasn't shown to date.
The other, more likely reason is the fact that LDU has played in a losing side since he was drafted. A side that is averaging 45 fewer disposals than the top team in the AFL this year with a losing margin of 58 points.
‍It goes without saying that North are a struggling side that are battling to find their offensive and defensive identity. It's not exactly an ideal environment for a young, developing midfielder.
‍LDU's been a shining light. He was easily North's best player on the weekend and is improving as an all-round midfielder. He's taken a backseat at times to the logjam of North's midfield mix of young talent and established midfielders.
Yet, Noble has to back LDU in with significant midfield minutes. He's too special of a talent at this age to not be getting the reps.