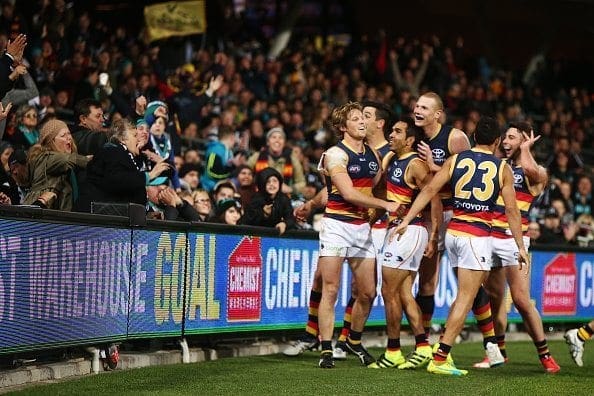 There are many wonderful aspects of the game we all love.
The Showdown is most definitely one of them.
It is without a doubt the best cross-town rivalry of the non-Victorian states and that was on show for all to see on Saturday night as Adelaide edged out Port Adelaide in front of a record 53,698 passionate fans.
But that passion for the smallest minority of fans on Saturday night blew up into a trio of separate incidents that no one in any walk of life, let alone our great game, wants to see.
Firstly, footage emerged from Saturday's game showing up to 15 supporters fighting among themselves immediately after the final siren had sounded.
The end result was a female being king hit from behind, with the vision going viral on social media.
The Herald Sun's Jon Ralph put it bluntly.
"If you can't walk into a game of football and think you're going to be safe, we have got to a very dark and dangerous place."
This incident is the latest in a long line of violent acts at games involving the two South Australian clubs.
Just last season, an Adelaide fan was evicted from Adelaide Oval after complaints of using bad language and allegations of punching a woman.
Every club has a minority of fans who come under the 'idiot' category that ruin the image for the majority of a club's supporter base.
Does the state of South Australia just have more of those than other states? Probably not.
But from afar, right now, it does seem that way.
So why do incidents like this keep happening?
As Mark Robinson put it on AFL 360, alcohol plus high tensions and emotions can sometimes get the better of people, but repeated incidents puts the onus on the AFL to take action.
One of the greatest aspects of our sport is being able to sit among large groups of people with varying affiliations to a football club and ride the highs and lows of your teams on field performance.
Does it come down to separating fan groups as is done in some sports across the world?
One would hope not but there's no doubting we're not far from breaking point.
What more needs to happen for the AFL to take action against fan violence?
AFL operations boss Simon Lethlean said on Tuesday that the league did not want to separate fans.
"You'd hope not. We should encourage our fans to behave as they should at an event like that, not look to segregate fans based on, we hope to say, isolated incidents," Lethlean told AFL Tonight.
Well, Simon, this isn't an isolated incident.
Secondly, racism.
It's undoubtedly the biggest fan problem in the AFL.
For the second time in as many Showdown's, there has been racist remarks directed at Adelaide gun forward, Eddie Betts. However, he wasn't the only player to cop abuse from fans on Saturday night.
Port Adelaide's Paddy Ryder was also racially vilified by a spectator during the match by a Crows supporter who appeared to run away before Adelaide Oval security could be alerted.
Simply, it's a coward's act. In every sense of the word.
Port Adelaide chief executive Keith Thomas said he was "sickened" by the incidents.
Former Melbourne Champion David Schwarz said enough chances "have been given" and that anyone found to have racially abused a player deserves a life ban from the sport.
Yesterday, the AFL Players' Indigenous Advisory Board, chaired by Shaun Burgoyne penned a strong letter condemning the actions of the alleged.
Whatever the consequence, it simply has to stop.
Not only is it not right to abuse anyone in any shape or form, it sets a terrible example for the younger viewers of the game.
While the issue of racism is an issue bigger than football, AFL boss Gill McLachlan was adamant in his statement on the issue.
"My message is to all football supporters to continue calling out bad behaviour, and for the pockets that are not on board, don't come to our games because we are welcoming of everyone," McLachlan said.
Again, this isn't an isolated incident.
Last season, Port Adelaide banned a member for throwing a banana at Betts during Showdown 41.
Now, he's been labelled an "ape" and told that he "should go back to the zoo where him and his family belong."
Racism is not just hurtful and damaging to the person or people on the receiving end but as well as all those around them.
As good as it is on field, off the field, the state of South Australian football is as bad as it has ever been.