Wednesday's Mid-Season Draft will again see AFL dreams become reality for more than a dozen promising mature-aged prospects, with two VFL clubs, Box Hill Hawks and Richmond, likely to see their pathways continue to provide talent to the elite level.
The Hawks' recruiting alignment with their VFL affiliates has been notable in recent seasons, with star midfielder Jai Newcombe and key defender James Blanck earning promotions in the brown and gold through the Mid-Season Draft across the past two counts.
Former Bulldog Fergus Greene would turn to Box Hill after departing Whitten Oval, transforming into an astute sharpshooter at VFL level to secure a list spot at Hawthorn last year through delisted free agency. Defensive-minded midfielder Lachie Bramble was also plucked from Middleborough Road ahead of the 2021 season after making the switch from Williamstown.
Senior coach Sam Mitchell led Box Hill during the 2021 season before stepping into the top role at Hawthorn, overlooking all four of the eventual AFL-listed prospects during his sole campaign as a VFL coach.
Mitchell, himself, also saw his own AFL career ignite after his Liston Medal-winning season with Box Hill in 2002.
While a pair of youngsters are only trialling with the Hawks ahead of the Mid-Season Draft, the club could see as many as three of their own extend the link between Box Hill City Oval and the AFL.
Highly touted Gippsland forward Ryan Maric will pull on the brown and gold for the second time in as many weeks on Sunday at Tullamarine as he looks to use a platform in the VFL to strengthen his chances of a Mid-Season Draft selection.
Maric booted 2.2 from his 15 possessions against Southport last weekend in his state league debut to do his prospects no harm, while incumbent Hawks wingman and fellow draft chance Ethan Stanley also continued to catch the eye.
Stanley joined the Hawks through the pre-season as a Frankston YCW product and has since trained under Mitchell with the Hawks' senior side at Waverley alongside Maric.
The pacey and long-kicking flank option was among the standouts in the Young Guns' second showcase game against Vic Country, kicking two goals and showing his ability and speed with the ball.
The duo will be joined by another Mid-Season Draft fancy when they face Essendon's VFL outfit, with Eastern Ranges over-age talent Clay Tucker named for Zane Littlejohn's side.
Stopping the tape at 204cm, Tucker is an athletic ruck option that clubs will see as a project player who can bolster their key-position depth charts. The teenager will be tested on Sunday when he faces the Bombers in his VFL debut at the Hangar.
All three Box Hill-listed youngsters have been tipped as the leading names for the Mid-Season Draft, with the Hawks' developmental pathways looking likely to continue through Wednesday's intake.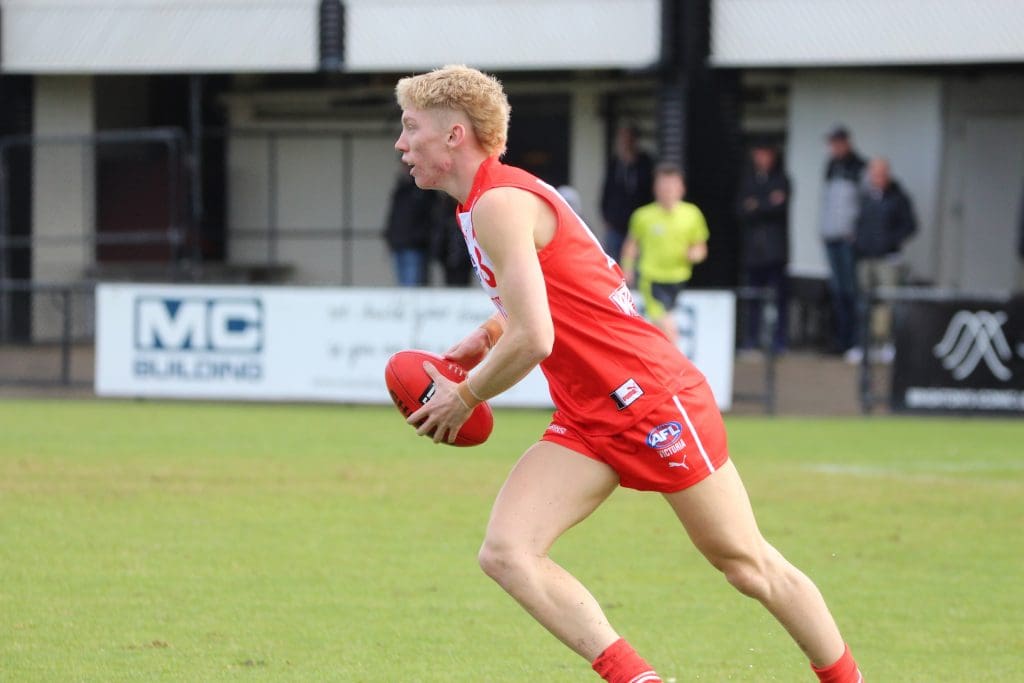 Much like the Hawks, Richmond's VFL program has provided AFL clubs with ready-made talent across the past several seasons, however, it's often been rival clubs that have swooped on the Tigers' finest reserve names.
Perhaps behind only the aforementioned Newcombe as one of the best out of the 2021 Mid-Season Draft, Bombers wingman Sam Durham has been a fruitful recruit for Essendon since being plucked from Punt Road two years ago.
Prying Durham from under Richmond's nose was made sweeter last Saturday night when the Seymour junior kicked the match-winning goal during Dreamtime at the 'G with just seconds left in the affair.
The rising Bomber has played 36 games in the red and black prior to Saturday night's matchup with West Coast to be one of the best bargains out of the Mid-Season Draft since its inception.
Durham wasn't Essendon's only recruit from Richmond's VFL outfit, with mature-aged talent Garrett McDonagh taken with the club's third selection through the 2021 National Draft.
While McDonagh was unable to break into the Bombers' senior side, and has since returned to the Tigers, he only added to the list of names that have landed top-flight contracts following stints with Richmond's reserves.
Much like Maric and Tucker with Box Hill, a third Bomber in Massimo D'Ambrosio was utilised in six matches with the Tigers halfway through last year, adding to an impressive run with the Western Jets and the Young Guns to start 2022 in a flash.
Essendon would call on D'Ambrosio with the third pick in last year's June intake, with the exciting half-back having an immediate impact in the red sash through the back half of last year.
Richmond would snap Essendon's run of claiming their own VFL prospects last year in handing key defender Tylar Young an AFL deal, a move that came several years after  Academy graduate Derek Eggmolese-Smith earned a list spot after an impressive spell under former VFL coach Craig McRae.
Young joined the Tigers ahead of last season from the Frankston Dolphins, a club that has seen Kye Turner (Melbourne), Brodie McLaughlin (Gold Coast), Liam Reidy (Fremantle) and Mitch Cox (Brisbane) all land in the AFL across the past 18 months.
More VFL Tigers could be in line for promotions next week, with pair Luke Teal and James Trezise on the radar of AFL clubs as the Mid-Season Draft nears.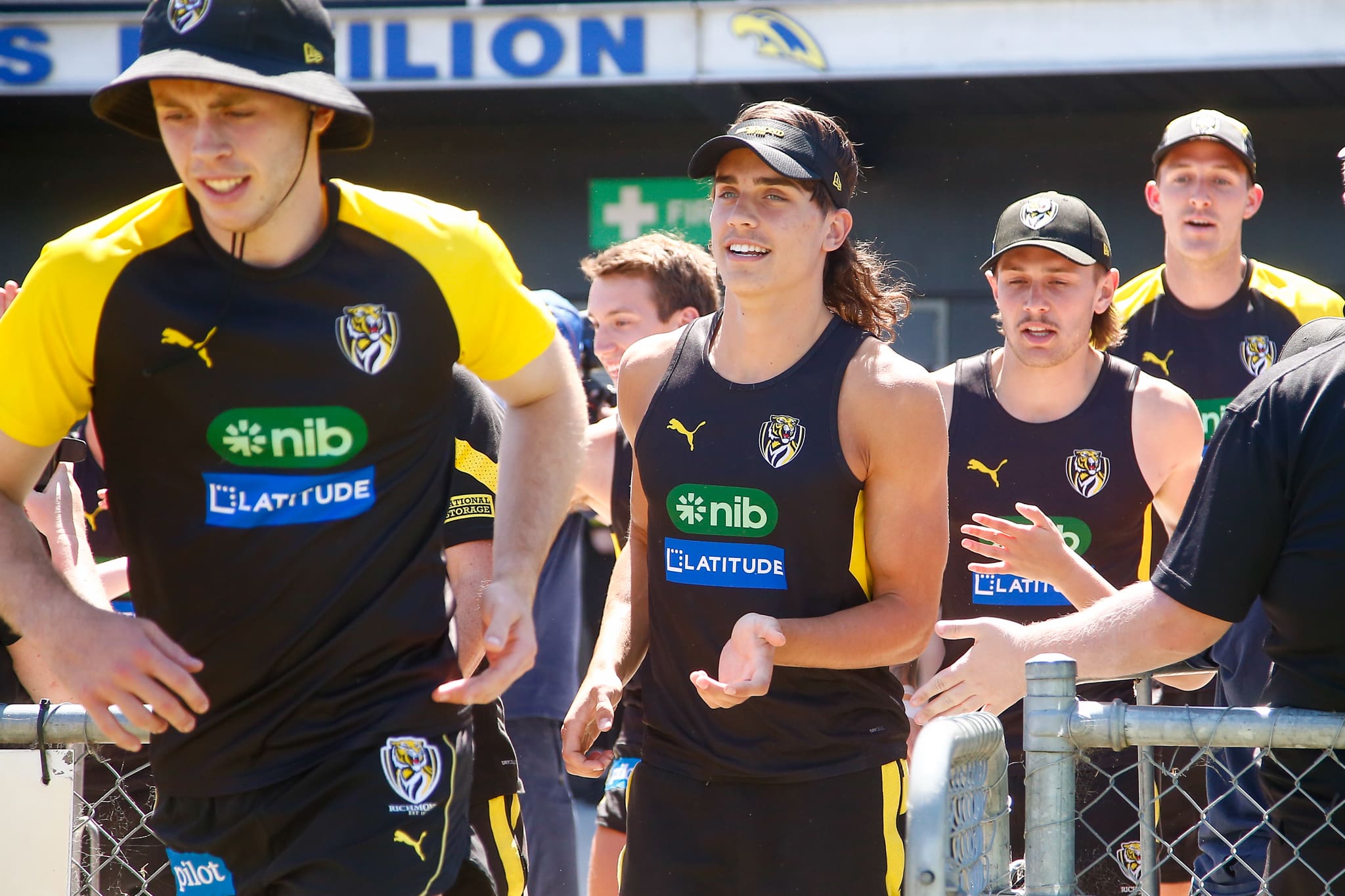 Teal trained under Damien Hardwick through the summer as a potential Supplemental Selection Period, having been overlooked for last year's National Draft following a campaign of promise with the Oakleigh Chargers and Vic Metro.
Trezise looms as a strong chance to find himself on a senior list next week, having been one of 11 prospects to be invited for medical testing for the benefit of AFL clubs. The forward-midfield utility has been a shining light for Richmond's VFL campaign this year, with his maiden season in yellow and black culminating with a 29-disposal outing against Geelong earlier this month.
The Tigers could consider either Teal or Trezise as they weigh up as many as two selections for the draft, with Jason Castagna's retirement and Kaleb Smith's long-term setback opening up list spots.
Hawthorn is in a similar position after placing ruckman Max Lynch on their inactive list, doubling their number of vacancies after opting against adding to their list through the SSP in February.
The Hawks are likely to have Maric in their sights as they look to aid Mitch Lewis in their forward 50, while Stanley firms as an enticing selection that could fall to their second pick.
The Mid-Season Draft order will be formed in reverse ladder order following this weekend's action, with clubs to confirm their number of open list spots by Tuesday, a day before the draft.