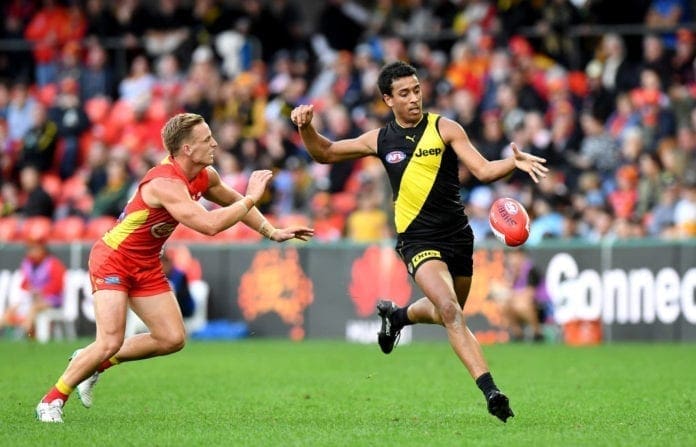 Delisted Tigers defender Derek Eggmolesse-Smith has returned to Punt Road via the Supplementary Selection Period.
The 22-year-old was cut from Richmond's senior list at the end of last season and was invited back to train with the club in hope of landing a spot on the Tigers' list for 2021.
Eggmolesse-Smith will now join his former teammates as a Rookie, stating his excitement for the year ahead.
"My main focus has been endurance; all the coaches know I have got my speed and pace, but just building that fitness base and getting stronger in the gym has helped me heaps," he said, per the club website.
"Having a spot on the list for 2021 is very special, especially (after) last year and going through a lot with the hub and COVID and knowing that I was out of contract.
"Richmond gave me a chance to work hard and get another contract, and I am hoping that this year will be better than the one before."
Eggmolesse-Smith made his debut in the yellow and black in 2019 and played eight matches under Damien Hardwick before being delisted in November last year.
Tigers' general manager of football talent Blair Hartley lauded Eggmolesse-Smith's workrate since returning to Punt Road.
"Derek has worked extremely hard over this off-season and made some improvements to his overall game," Hartley said.
"What he has been able to achieve in a short amount of time is a credit to him, and we are looking forward to seeing what he can do for us this year and beyond."
Eggmolesse-Smith takes the clubs final available list spot, with Rhyan Mansell taking the only other free spot for 2021.