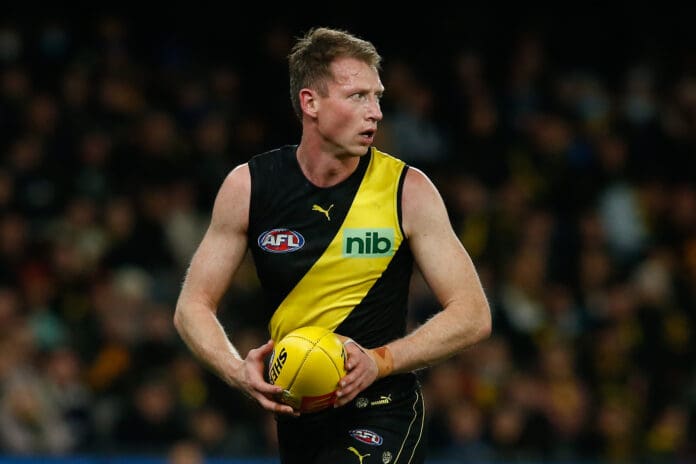 Richmond are doubting a return for co-captain Dylan Grimes during the rest of the regular season following his latest hamstring injury sustained in Sunday's win over Brisbane.
Grimes was subbed out of the thrilling victory due to the niggle, which could spell the end of the veteran defender's season.
With three rounds left in the home and away schedule, coupled with Richmond's uncertain finals credentials, Grimes could be sidelined until September and potentially miss the remainder of the season.
Following scans on the setback, The Tigers confirmed there is some complexity around the defender's hamstring strain.
"Dylan suffered a hamstring strain in the third quarter of the game on the weekend, which is really disappointing and frustrating for him and us," Richmond listed in a medical update on Tuesday afternoon.
"We're in a situation at the moment when we're getting some further investigation. He had some scans yesterday and it's a high hamstring strain up around the upper tendon and the upper hamstring, an area where he's had an issue in the past, 10 years ago he had some surgery on that same area.
"At this stage it's probably looking doubtful that he's going to play in the last three home and away games of the season. So, we're going to need to have a look at what lies beyond that. We'll gather some information over the next couple of days and we'll give everyone an update."
Grimes missed three games early into this season due to a similar injury, with the club now nervously awaiting the results of the scans on his hamstring.
Meanwhile, superstar Dustin Martin could on the sidelines for fortnight as the Tigers assess his progress and durability this week.
Martin hasn't played since his side's Round 16 win over West Coast early last month after suffering a hamstring injury of his own, with the Brownlow Medal winner having suffered a setback in his recuperation.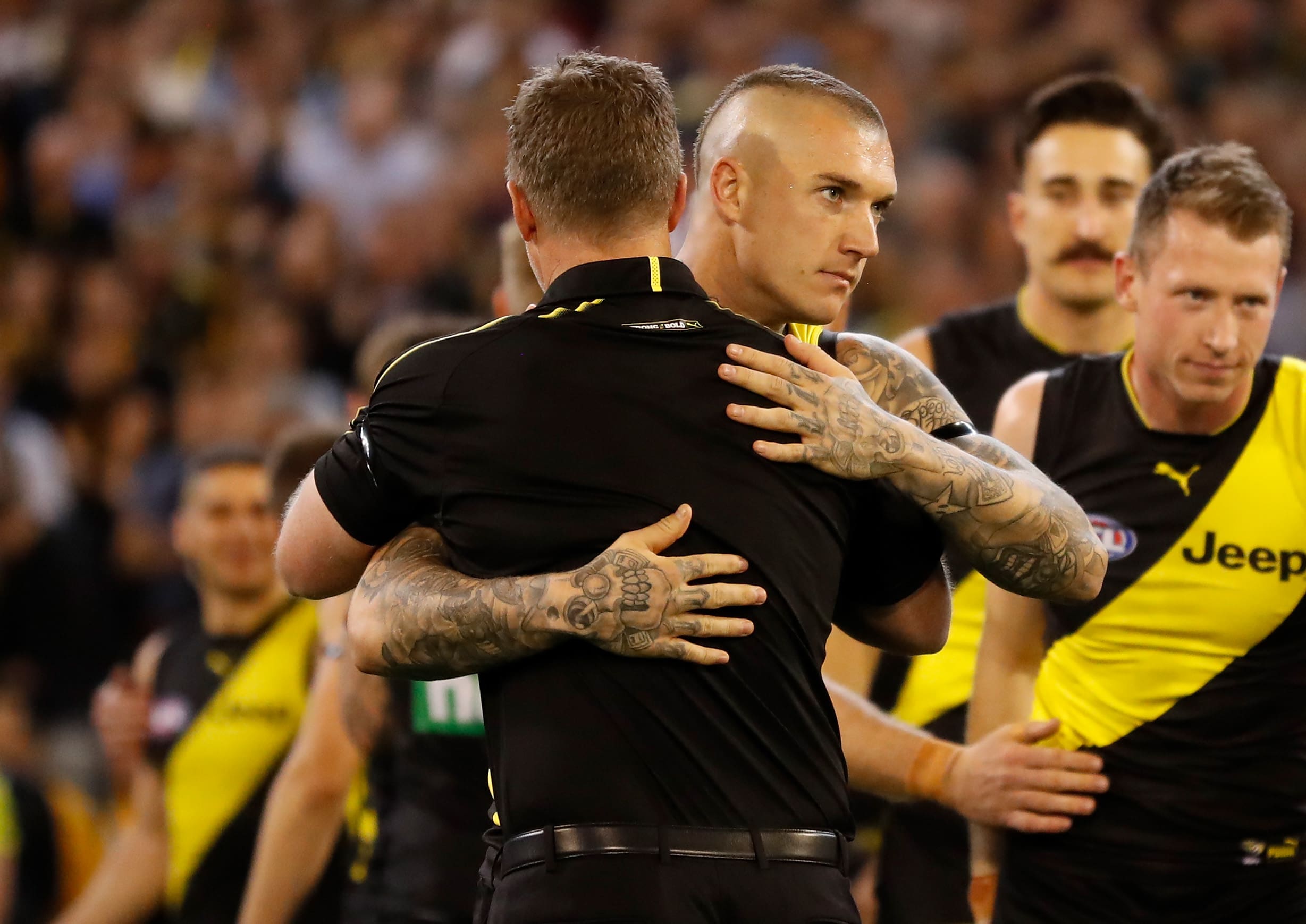 "Dustin is progressing through a rehab phase still. We're in a bit of a holding pattern with this one, he's getting plenty of running volume into himself, but we're still finding it a little challenging to progress his speed," Richmond revealed.
"Given the location of the injury, it means we have to build some more strength work in the gym and build his running base out here on the field. So, we're not progressing his speed significantly this week.
"In terms of return to play, it's still very unclear. We're hopeful (Round 23) is a possibility, but as time rolls on, if we're not able to progress significantly in the next week or so, that starts to become a little less clear. We're doing everything we can and Dustin's working really hard, but we're working with an injury that can be quite tricky and one that has challenged us quite a bit this year with some players.
"But, we're looking at everything we're doing and everything that we can do and we'll push forward."
First-year defender Josh Gibcus firms as a likely inclusion to replace Grimes, while Richmond recorded no other ailments in their seven-point win over the Lions.
Richmond will venture to South Australia to face Port Adelaide on Saturday night, before must-win clashes against Hawthorn and Essendon to conclude their home and away season.