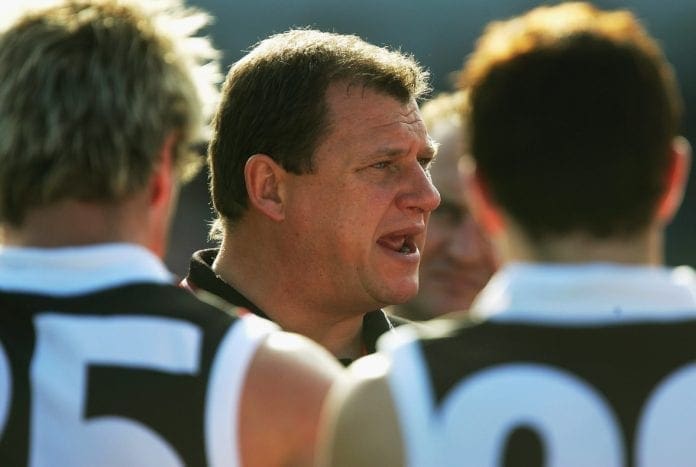 Former St Kilda coach Grant Thomas says he would "100%" consider being on the Saints' selection panel for its next senior coach.
Speaking to Macquarie Sports Radio, the 61-year-old spoke of his love for his old club - where he honed his craft as both a player and coach - while commenting on his openness to the idea if the offer came.
"I'm a devoted Saints person," Thomas said.
"And the reason I went there 20 years ago was to earn respect and provide us with sustained success.
"If someone asks me for help, I help. That's just what I do.
"But it's probably unlikely given I say what I think and that seems to upset people.
"I'm always happy to have a chat."
Thomas coached St Kilda from 2001 to 2006, in a coaching span that saw two preliminary finals among his 123 games in charge.
He received the backing of Saints champion Nick Riewoldt, who Thomas coached during his tenure at the helm.
"He's got a really good lens on what constitutes a strong culture, what constitutes strong leadership," Riewoldt told SEN.
"He has St Kilda at heart. You know, you could never question his desire for St Kilda to be a great football club. He's super passionate about it.
"So I think the motivation level is high, the expertise is really, really strong."
The former captain said he was also open to the idea of being part of the process, should he be asked.
"Potentially," Riewoldt said.
"That will play out, if indeed I am asked at all."
The Saints will begin the hunt for their next senior coach, with interim coach Brett Ratten among the names being floated for the permanent role.
Brad Scott is considered by many as the front runner for the job at Moorabbin, with many linking the role to his good mate Simon Lethlean, who is the Saints footy boss.
Riewoldt said it was "disappointing" that people could see Lethlean putting his personal relationships above his professional duties.
"I don't think the fact there's a friendship precludes either of them from sitting on the panel or for applying or getting the job," he said.