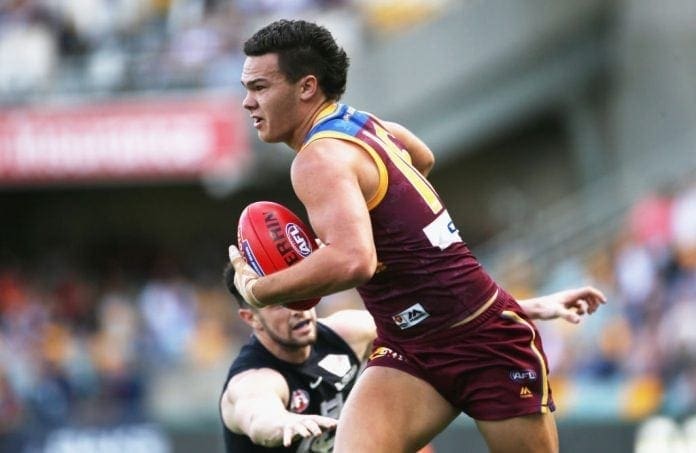 Cameron Rayner's form has been something to note in the early stages of 2022 after suffering a brutal ACL injury last year.
Brutal feels like the correct description for what Rayner endured, not only due to the severity and length of the injury but because of Rayner's 2021 pre-season form.
He had trimmed down and was noticeably fitter aerobically. He was set to play genuine midfield minutes and was showing signs of becoming the next powerful, goal-kicking midfielder of the AFL. It wasn't meant to be in 2021.
‍Yet, that pre-season snippet has carried into 2022, especially in Rayner's last month. So what's so exciting about Cam Rayner?
Firstly, Rayner has played every game in 2022 so far, a big tick for a big-bodied midfielder coming back from a knee reconstruction.
Chris Fagan has shown a willingness to play Rayner a healthy balance of forward and midfield minutes. It was a necessary change-up given Rayner spent the first three years of his AFL career predominantly as a forward. There was a reason for that.
Rayner came into the AFL top-heavy and struggled early with the overall pace and fitness required. He began as a mid-sized forward - strong above his head and nimble enough at ground level to kick consistent goals, averaging one a game in his first few years. The main issue that people had with Rayner was how little of the ball he was actually winning (less than 10 disposal average in 2019 & 2020).‍
Things have changed. Rayner has slimmed down and is noticeably covering the ground better. His last three weeks have been impressive, as his disposal average has risen to 20+ and he's amassed 15 clearances, practically double his career averages.
Against Fremantle, Rayner was so damaging around the ball that Fagan had no choice but to keep him in there. He was dominant early, winning quality clearances and setting up favourable field position for Brisbane's forwards.
This was especially important given Lachie Neale and Jarryd Lyons, Brisbane's two best midfielders, had slow starts.
Rayner offers something completely different to Brisbane's other midfielders and to be honest, most midfielders in the AFL. He has that rare blend of strength with agility to either go through or weave around opponents.
This allows Rayner to be creative with his stoppage exits, resulting in more beneficial forward 50 opportunities for Brisbane because he holds up so well in tackles. He's shown he has impressive lateral vision around congestion, something that wasn't present in his previous years.
When you think of the powerful midfielders of the AFL, like a Christian Petracca or Dustin Martin, Rayner is THAT powerful midfielder.
He doesn't have the consistency, touch or aerobic ability of those superstars, but he does have the athleticism, goal sense and size. He breaks tackles all the time.
Rayner does have a tendency to be too cute with the ball at times. Here, he had to go long to Hipwood one out. I'm not quite sure what he saw to pull the kick late.‍
Not only has Rayner proved capable as an inside midfielder who boasts special traits, but he continues to be dangerous when he pushes forward. Players who can generate consistent shots on goal are incredibly valuable in the AFL.
Rayner's had four games this year (33% of 2022) with three plus shots on goal and he ranks 12th in the AFL for goal assists. This isn't surprising when you consider his versatility. Rayner's a forward who can impact both in the air and at ground level. He has sticky hands and plays above his height.
All of this brings us to an interesting debate and my personal opinion on the matter of how the AFL's best young talent is developed.
‍I believe Rayner has a massive advantage over other young players attempting to make the leap into the elite bracket.
‍Hear me out, this is why…
‍Unlike most other high draft picks, Rayner has come into the AFL as a forward who has had to learn to play midfield, rather than the other way around. This is far more important to a player's potential ceiling - to learn how to play and be impactful as a forward. This differs from the usual pathway of high draft picks, who go straight into a midfield role and are able to perform at a baseline of output straight away. This is done with a sacrifice that those players have little opportunity or experience to learn the skills required to be an effective forward.
‍Similar to Petracca and Martin, Rayner played a significant portion of his TAC football as a forward. He is acclimatised to the position from years of playing it at an underage level.‍
More importantly, he's shown an adept ability since day one to kick goals or set them up consistently. In most instances, the best midfielders in the AFL kick goals consistently.‍
Of course, there are cases that don't (Clayton Oliver), but they are almost always an elite contributor in score involvements and have a blend of high clearance + metres gained influence on games. Rayner is halfway there because of his positional versatility to 'rest' as a forward with multiple avenues to kick scores.
Let's consider another number one draft pick, Sam Walsh. Clearly, Walsh is far ahead of Rayner in regards to their influence on games. Walsh is quickly becoming one of the best inside midfielders in the AFL. Yet, he is a pure midfielder.
He has little experience as a forward - outside of Voss playing him in spurts as a high half-forward.‍
Walsh doesn't have the flexibility to play as a deep forward goal-kicking threat, especially when tagged. This doesn't mean he won't be one of the best players in the AFL. Quite the contrary. But it does limit his upside.
That's why I'm bullish on Rayner's long-term outlook if he can continue to develop as a midfielder. This sequence from a few weeks ago is mind-boggling from a player who is just starting to get midfield reps.
Lastly and most importantly, Rayner is the ceiling raiser that Brisbane desperately need as a grand final contender who continues to fall short. Yes, their midfield is arguably their biggest strength. But there are weaknesses that have proved to matter most in the finals.
They lack size. Specifically, larger, big-bodied midfielders. Neale is one of the best players in the AFL, but he's small in stature. Hugh McCluggage, one of their more skilled, is more outside and has a light frame.
Using the 2021 final series as a test case, Brisbane struggled against the bigger midfields of Melbourne and the Bulldogs, losing the contested possession count and general field position battle in both contests.‍
Size matters. It's important in finals because the game slows down. There's a reason Fagan has persisted in playing Rayner inside and has moved Dayne Zorko and Zac Bailey out of centre bounces more frequently in recent weeks.
They need Rayner to take the leap. He is their X-factor. He provides something different. And it's going to matter in September. Keep a close eye on him in the second half of 2022.