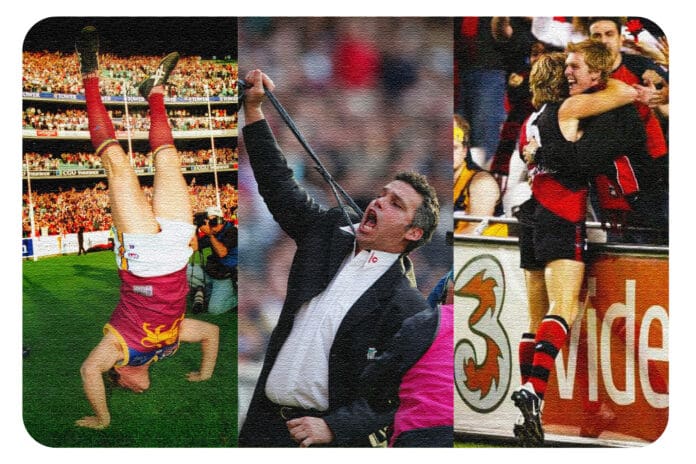 As spectators, the only thing we love more than a goal is someone that loves kicking a goal. Back in the 80's and 90's there were plenty of characters in the game who provided plenty of humorous moments.
It is a part of the game that has evolved over time but has seemingly been weeded out of today's game.
An aspect that has seemingly died off is the pure elation of a player celebrating their own work. It is rare in the more modern era, but is an aspect of the game that every fan loves.
SEE ALSO: Zero Hanger MVP votes from Round 11
Tom Papley is a player that rarely shies away from admiring his own work, giving fans a classic celebration each week it seems.
Love watching Papley celebrate

— Adam Tomlinson (@adamtomlinson20) May 30, 2021
We love knowing that the game means as much to the players as much as it means to us in the stands. This is why we have listed below some of the all time greatest celebrations ever seen in the AFL:
Justin Longmuir
There is no better feeling in footy than kicking a goal after the siren to win the game. Current Fremantle coach Justin Longmuir has lived every kid's dream after doing so in a game against the Saints in 2005.
And he celebrated in the best possible fashion; by jumping into the stands. A celebration that took full advantage of pre-Covid crowds, Longmuir's pure elation after a game-winning goal is arguably one of the best celebrations seen in the AFL.
James Hird
Similarly to Longmuir, James Hird also took the approach of fan involvement for his memorable celebration. In one of his all-time performances on the field, Hird led the Bombers to a huge win.
33 disposals, eight clearances and two goals to that point, he topped it off with the match winner and an iconic celebration to match.
Jason Akermanis
Jason Akermanis never shied away from admiring his own brilliance throughout his AFL career. For many fans, what he was able to accomplish in front of goals was out of this world incredible. And even a couple he couldn't believe himself.
Plenty of worthy celebrations from 'Aker' collectively make this list, including his iconic handstand and the gobsmacked look he gave the crowd after kicking two Goal of the Year contenders in a minute from the same pocket.
Adam Goodes
One of the most brilliant celebrations of recent memory was Adam Goodes' war dance celebration after a goal during Sir Doug Nichols round in 2015.
A celebration that celebrated his proud indigenous culture unfortunately had negative repercussions for Goodes, receiving unwarranted excessive booing for the remainder of his football career.
What is now considered a turning point in Australia's acceptance of Indigenous culture, Goodes has used the incident and his story to elevate his culture as well as educate others. This was highlighted in the documentary films "The Australian Dream" and "The Final Quarter".
Dermott Brereton
One of the toughest in the game, Dermott Brereton was one of football's best personalities.
A player who loved to rub it into the opposition, whether it be with his ferocious attack on the footy or his ferocious attack on the opponent, Brereton is also well remembered for this post-goal strut that perfectly summed up him as a player.
Mark Williams
After being called "chokers" by critics after a number of unsuccessful finals campaigns from the top of the ladder, emotion spilt over for Mark "Chocco" Williams after Port Adelaide finally won the premiership in 2004.
Walking down the race and onto the field, Williams grabbed his tie and choked himself toward the crowd in celebration, a direct response to the critics that had plagued his side for the past number of years.
An unrivalled display of passion showed how much the moment to him, that ultimately cost a bidder $38,000 as the tie was auctioned off later that night.
Shane Crawford
One of the standout moments after any grand final of recent memory has to be Shane Crawford taking the mic after Hawthorn's 2008 Premiership Victory.
After 304 games for the club, Crawford finally reached the ultimate goal in what turned out to be his final AFL game. When presented with his premiership medal, he let his emotions run through him for one of the best Grand Final moments of this millennium.
Now that's what I'm talking about.
Warren Tredrea
Two of his most memorable celebrations came against the same side in North Melbourne two years apart. In 2005, Tredrea kicked a brilliant goal and got on the phone to let everyone know about it.
Then two years later in a preliminary final, he rubbed salt in the wounds of the Kangaroos, taking a bow to the audience whilst up by 71 points halfway through the third quarter. He copped a verbal whack from Robert Walls in the commentary box for his efforts but was one of his most iconic celebrations of his career.
Drew Petrie
An "Old School" celebration that would have made Will Ferrell proud, Drew Petrie whipping out the "Frank the Tank" has to be one of the funniest match winning celebrations of recent memory.
Puffing the chest and rolling around, it was a helpful reminder for BT and the commentary team to refresh their 2000's comedy knowledge after mistakenly referring to it as "Robocop".
Allen Jakovich
Both Allen and Glen Jakovich were quite the characters. And with Allen playing forward and brother Glen playing in the backline, their paths often crossed once on the field in opposing sides.
One instance where the two met was after Allen celebrated a set shot goal by planting a kiss on Glen. A moment mum would be proud of.
Matthew Cottrell
A more recent entry on the list is Matt Cottrell's celebration after kicking the match-winner against the Swans last season.
Cottrell was pumped after winning the game off his boot, flexing on the opposition showing off the pipes. It unfortunately wasn't enough however to keep him in the side as he was dropped from the best 22 the week after.
Nathan Thompson
One of the rare instances a snake was seen on the footy field, Nathan Thompson whipped out the "double cobra" after kicking the match winner in a comeback victory for the Kangaroos against the Pies in 2005.
Many suburban players have tried, only Thompson has had the moment and the guns to pull it off.
SEE ALSO: AFL greats show no love for Dogs star in All-Australian midfield ensemble
Although the following haven't had their own one off iconic celebration, their regular celebrations can be argued as equally iconic.
Jonathan Brown
Jonathon Brown often found himself on the goal kickers list. Usually one to let his football do the talking, his iconic point was often the indicator of whether or not he nailed a tough set shot. A fitting celebration for an iconic figure of the game.
Brendon Fevola 
Nothing was better then when Brendon Fevola was in his best form. Kicking crafty improvised goals or steady set shots, his famous celebration of wagging his finger to the crowd was a sign that he was up and about.
Tom Papley
It's hard not to love every time Tom Papley puffs out the chest and goes absolutely berserk after kicking a great goal. A pioneer in bringing player passion back into the game.
The wind up finger point is a go-to move of his, none better than after his game winning goal earlier this year against the Cats (as seen above). However, the best seen so far has to be off the field, where Papley and teammates go ballistic riding their winning horse home.
So many emotions, how good is horse ownership⁉️

This is one of the best celebrations you'll see. Well done to the @sydneyswans boys... 🦢 @TomPapley @mcevoymitchell @AFL pic.twitter.com/IQZZASEqC4

— Racing.com (@Racing) February 4, 2021
Charlie Cameron 
One of the most exciting players in the competition when he's at his best, Charlie Cameron is famous for his crafty goals and the way he celebrates them.
His motorbike celebration is a staple to his game, bringing cheers to the crowds at the Gabba every week.
Xavier Duursma 
Early into his career, Xavier Duursma already has himself a trademark celebration. Bringing more of an American sports theme to the AFL, Xavier Duursma lets the "bow and arrow" fly when he and his team are up and about.
Which of these AFL celebrations was your favourite? Are there any celebrations that weren't on the list? Let us know in the comments!