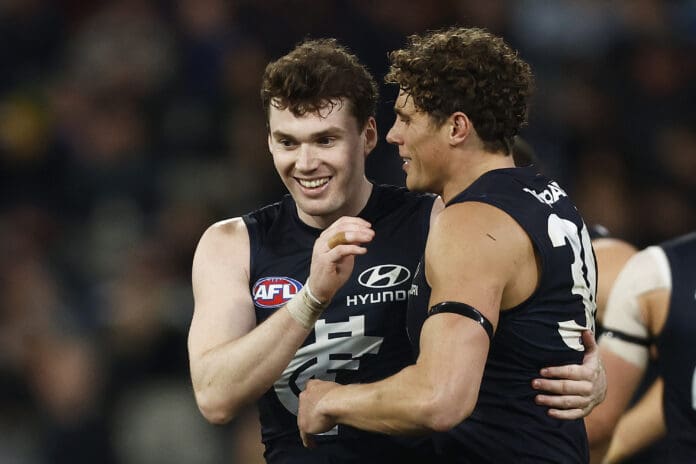 Heading into the finals series, not many would have expected it to be first vs seventh and second vs fifth. It will see the two best teams of the year, Collingwood and Brisbane, line up against the in-form teams of September in Carlton and GWS, who sent top-four teams Melbourne and Port Adelaide out in straight sets respectively. It's a massive achievement for two teams who sat in 14th and 15th at the end of Round 15.
Whilst a lot has been said about GWS and Carlton's stunning form, there is no doubt it'll be a tough game for both teams away from home against the best teams in the competition. Will GWS be able to stick it to Collingwood for four quarters in front of all their supporters? Can Carlton beat Brisbane at their Gabba fortress? Or, will Collingwood and Brisbane progress to the grand final, 20 years on from when they met in the 2003 grand final?
It's going to be a massive weekend with grand final spots on the line and these are the players we've chosen to focus on.
First Preliminary Final: Collingwood vs GWS
Collingwood: Brayden Maynard
The big question all week has been who will line up on Toby Greene. Will it be Isaac Quaynor, Brayden Maynard, or another one of the Collingwood defenders?
Maynard has played 142 minutes of game time on Toby Greene since 2020 to limit him to only one goal, the best result out of any teammate, and looms as the most likely to get the job on Greene in what would no doubt be a fiery clash.
Maynard has been a consistent performer against GWS, having 15 disposals, four marks and four tackles earlier this year. His 2022 performance against the Giants was one of his most impressive for the season with 22 disposals and nine marks to be one of the best on ground, all whilst keeping Greene to one goal.
After facing tribunal scrutiny last week after his hit which left Angus Brayshaw with a concussion, there is no doubt that the media attention Maynard has received has been a distraction to his prelim final preparation. However, coach Craig McRae expects that Maynard will still bring his fiery style of play in what will be a crucial matchup to who wins the game.
GWS: Kieren Briggs
The last time Collingwood and GWS played way back in Round 9, GWS suffered a 65-point defeat and were left looking for answers as to who would take up the number one ruck role. For Collingwood, Mason Cox dominated in the ruck in the absence of Darcy Cameron with 24 hitouts, 19 disposals, nine marks, and two goals to be the highest-rated player on the ground. Briggs was missing from the side that day and now looms as a vital player coming into Friday night's prelim, faced with the task of quelling both Darcy Cameron and Mason Cox's impact in the ruck.
There were initial concerns surrounding Briggs' fitness coming into the game after sustaining a shoulder injury against Port Adelaide in last weekend's semi-final. However, GWS have confirmed that Briggs is set to be named in their side to take on Collingwood.
Briggs has averaged 15.7 disposals, 6.7 clearances, and 8.7 hitouts to advantage per game to make the number one ruck role his own. Having been on the Giants' list since 2019, Briggs had only played nine games prior to this season. However, he has played every game since Round 10 this year to play a crucial role in the Giants' rise up the ladder.
Second Preliminary Final: Brisbane Lions vs Carlton
Brisbane: Josh Dunkley
Josh Dunkley's best game of the year came against Carlton in Round 8 with 33 disposals, 11 marks, 13 tackles and six clearances to score 172 fantasy points and announce himself as a genuine star for the Brisbane Lions.
On that same night, Dunkley also kept Patrick Cripps to just 17 disposals to comfortably win the midfield battle, although Cripps was going through somewhat of a form slump at that point in time. Carlton midfield coach Tim Clarke believes the crucial matchup will be repeated "at some stage" on Saturday, saying that "Crippa may even come and ask for that match-up."
Dunkley has performed consistently well against Carlton across his career and Saturday should be no exception. Whilst Dunkley's performance against Port Adelaide in week one was strong, it was below his usual standards, finishing the game with 21 disposals, five marks and seven tackles. Expect Dunkley to bounce back with a big performance at the Gabba on Saturday evening given what is at stake this weekend.
Carlton: Blake Acres
Blake Acres' first season at Carlton has arguably been his best season to date at AFL level, but his new status as Carlton's finals hero has seen him reach new heights. Not only has Acres kicked both of Carlton's match-winning goals, but he has had highly impressive performances in both matches.
Against Sydney, Acres had 26 disposals, five clearances, four marks and his crucial match-winner to be ranked as one of the best Carlton players on the ground. He backed it up again the following week against Melbourne with 17 disposals, three marks, three tackles and two goals (including another match-winner).
Acres' performance against Brisbane back in Round 8 was one of his best for the season, finishing the game with 29 disposals, eight marks, and five clearances to be one of the highest-rated players on the ground, despite the Blues' 26-point loss.
Over his career, Acres has had a mixed bag of performances against Brisbane, yet he looms as a crucial factor if the Blues are to beat Brisbane at the Gabba again and progress to their first grand final appearance since 1999.