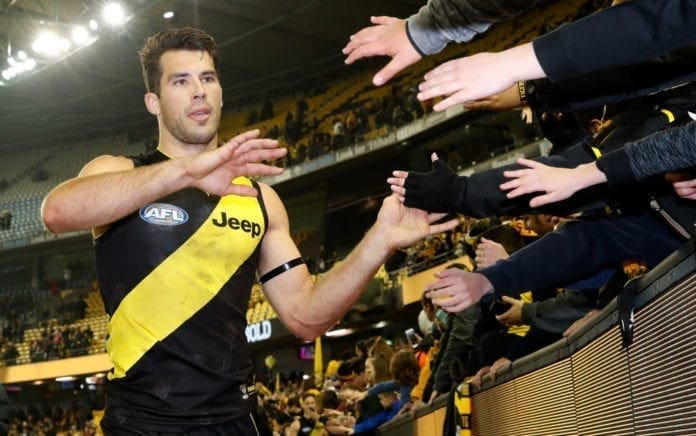 Demons great Garry Lyon has shed light on an a trade rumour surrounding retired Tigers star Alex Rance.
Lyon heard whispers early during the off-season of the five-time All-Australian making the move to Essendon.
Speaking on SEN Breakfast, Lyon is unsure of the legitimacy of the talk, stating it never gained any real traction.
"It came across my desk within two days post Grand Final," Lyon said.
"I checked this out and I made a couple of calls and I didn't get anything back which is normally sort of code for 'this is on'.
"Alex Rance to Essendon was what I heard very early in the piece.
"I got all excited. I thought, 'boy, I'm on to something here'.
"That would have been the biggest trade of the whole trade period.
"I followed up, I chased it up as hard as I could, but it went cold so I didn't go with it.
"I kept hearing it and I rang a couple of people and normally they get back to me, but nothing.
"I did a bit of homework and it just went cold. I don't know if it was ever a possibility but it was suggested to me that it was on, but not to be."
Former Essendon skipper Tim Watson said the link makes sense given former Tigers assistant Ben Rutten is now the Bombers' senior coach.
"I guess the reason you probably heard that and thought that there might be some legitimacy to it was the fact that Ben Rutten was his coach at Richmond for a period of time."
Tigers talent manager Blair Hartley told SEN's Dwayne's World last week that he believed Rance would return to Richmond if he came out of retirement.
"We miss him but he's content with his decision and we've just got to support him in that, as much as we'd love to have him," Hartley said.
"I'm very confident of that (he'd play for Richmond if he came back).
"Look, he's not going to come back. He's made that pretty clear to us.
"He's comfortable with his position and we've just to support him with that given the service he's given to us over number of years."
Rance shocked the footy world when he hung up the boots at the end of 2019 to focus on his family and religion.
He played 200 games for Richmond and is a member of the club's 2017 premiership side.