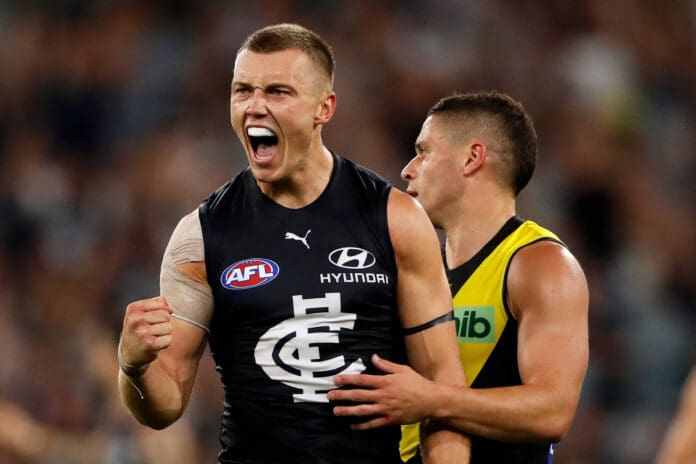 With the Brownlow Medal upon us, we've cast our eye over some of the best performances of the year in an attempt to identify the likely outings that will warrant three votes from the umpires.
Thanks to data from the Zero Hanger 2022 MVP Award, we've been able to narrow down the 91 matches from particular players that are the most likely to land maximum votes come Brownlow night.
Players who were unanimously awarded five MVP votes from all four judges from each round were listed as likely three-vote getters from the season.
Tied winner Patrick Cripps managed four 20-vote matches, including a scintillating start to the year, having been was unanimously judged best-afield in the opening two rounds of the season.
SEE ALSO:
Here is the full list of likely three-vote performances from the 2022 season...
Round 1
Patrick Cripps (CARL) - 30 Disposals, 5 Marks, 8 Clearances, 3 Goals
Christian Petracca (MELB) - 38 Disposals, 8 Marks, 9 Clearances, 2 Goals
Luke Parker (SYD) - 21 Disposals, 5 Marks, 5 Tackles, 5 Goals
Round 2
Patrick Cripps (CARL) - 35 Disposals, 5 Tackles, 11 Clearances, 2 Goals
Christian Petracca (MELB) - 40 Disposals, 6 Marks, 6 Clearances, 8 Score Involvements
Lachie Neale (BRIS) - 41 Disposals, 6 Marks, 12 Clearances, 2 Goals
Jayden Short (RICH) - 33 Disposals, 10 Marks, 29 Kicks, 88% Disposal Efficiency
Nick Larkey (NM) - 6 Goals, 16 Disposals, 7 Marks, 9 Score Involvements
Round 3
Lachie Schultz (FREO) - 23 Disposals, 8 Marks, 2 Goals, 3 Goal Assists
Round 4
Jeremy McGovern (WCE) - 22 Disposals, 8 Marks, 91% Disposal Efficiency, 11 Intercept Possessions
Darcy Parish (ESS) - 38 Disposals, 3 Marks, 3 Tackles, 8 Clearances,
Max Gawn (MELB) - 33 Hitouts, 25 Disposals, 12 Marks, 6 Clearances, 1 Goal
Will Brodie (FREO) - 37 Disposals, 4 Marks, 5 Tackles, 6 Clearances
Round 5
Taylor Walker (ADEL) - 5 Goals, 16 Disposals, 4 Marks, 10 Score Involvements
Bailey Smith (WB) - 43 Disposals, 7 Marks, 4 Tackles, 9 Score Involvements
Matt Taberner (FREO) - 7 Goals, 11 Disposals, 6 Marks, 1 Goal Assist
Jack Higgins (STK) - 5 Goals, 16 Disposals, 7 Marks, 10 Score Involvements
Round 6
Callum Mills (SYD) - 37 Disposals, 11 Marks, 5 tackles, 6 Clearances, 1 Goal
Jeremy Cameron (GEEL) - 7 Goals, 16 Disposals, 9 Marks
Zac Bailey (BRIS) - 6 Goals, 17 Disposals, 3 Marks, 100% Scoring Accuracy
Round 7
Patrick Cripps (CARL) - 35 Disposals, 4 Marks, 4 Tackles, 10 Clearances, 1 Goal
Max Gawn (MELB) - 29 Disposals, 6 Marks, 9 Clearances, 2 Goals
Lachie Neale (BRIS) - 37 Disposals, 9 Tackles, 11 Clearances, 1 Goal
Josh Dunkley (WB) - 29 Disposals, 6 Marks, 6 Tackles, 1 Goal
Round 8
Tom Lynch (RICH) - 6 Goals, 25 Disposals, 11 Marks, 14 Score Involvements
Peter Wright (ESS) - 6 Goals, 16 Disposals, 8 Marks, 2 Intercept Possesions
Travis Boak (PORT) - 30 Disposals, 6 Tackles, 6 Clearances, 1 Goal
Sean Darcy (FREO) - 42 Hitouts, 17 Disposals, 7 Marks, 4 Clearances, 1 Goal
Round 9
Christian Petracca (MELB) - 28 Disposals, 6 Marks, 8 Tackles, 2 Goals
Ollie Wines (PORT) - 32 Disposals, 5 Marks, 4 Tackles, 9 Clearances, 2 Goals
Callum Mills (SYD) - 29 Disposals, 7 Marks, 13 Tackles, 7 Clearances
Sam Walsh (CARL) - 31 Disposals, 5 Marks, 4 Clearances, 2 Goals
Adam Treloar (WB) - 35 Disposals, 3 Marks, 3 Tackles, 8 Clearances, 3 Goals
Round 10
Dion Prestia (RICH) - 36 Disposals, 5 Marks, 6 Clearances, 8 Score Involvements
Clayton Oliver (MELB) - 45 Disposals, 5 Marks, 6 Tackles, 11 Clearances
Charlie Curnow (CARL) - 6 Goals, 11 Disposals, 6 Marks, 10 Score Involvements
Stephen Coniglio (GWS) - 36 Disposals, 6 Marks, 4 Tackles, 7 Clearances, 92% Disposal Efficiency
Marcus Bontempelli (WB) - 24 Disposals, 8 Marks, 5 Tackles, 7 Clearances, 3 Goals
Round 11
Tom Stewart (GEEL) - 40 Disposals, 34 Kicks, 16 Marks, 17 Intercept Possessions
Lachie Neale (BRIS) - 39 Disposals, 5 Marks, 6 Tackles, 9 Clearances, 2 Goals
Brandon Ellis (GC) - 24 Disposals, 8 Marks, 6 Tackles, 2 Goals
Tim English (WB) - 28 Hitouts, 25 Disposals, 4 Marks, 1 Goal
Round 12
Jeremy Cameron (GEEL) - 6 Goals, 18 Disposals, 7 Marks, 11 Score Involvements
Andrew Brayshaw (FREO) - 39 Disposals, 4 Marks, 6 Tackles, 9 Clearances
Max Gawn (MELB) - 30 Hitouts, 28 Disposals, 9 Marks, 5 Clearances, 3 Goals
Round 13
Hugh McCluggage (BRIS) - 33 Disposals, 5 Marks, 7 Clearances, 1 Goal
Round 14
Toby Greene (GWS) - 7 Goals, 21 Disposals, 6 Marks, 14 Score Involvements
Cameron Guthrie (GEEL) - 25 Disposals, 6 Marks, 13 Tackles, 4 Clearances
Ollie Wines (PORT) - 34 Disposals, 5 Marks, 2 Tackles, 10 Clearances
Round 15
Sam Walsh (CARL) - 40 Disposals, 6 Marks, 7 Clearances, 6 Score Involvements
Round 16
Christian Petracca (MELB) - 24 Disposals, 5 Marks, 5 Clearances, 3 Goals
Zach Merrett (ESS) - 24 Disposals, 6 Marks, 6 Tackles, 3 Goals
Nick Daicos (COLL) - 37 Disposals, 84% Disposal Efficiency, 3 Clearances
Jack Sinclair (STK) - 37 Disposals, 11 Marks, 89% Disposal Efficiency
Round 17
Andrew Brayshaw (FREO) - 36 Disposals, 6 Marks, 10 tackles, 1 Clearance, 1 Goal
Cameron Guthrie (GEEL) - 28 Disposals, 5 Marks, 7 Tackles, 2 Goals
Shai Bolton (RICH) - 29 Disposals, 3 Marks, 8 Clearances, 3 Goals
Luke Davies-Uniacke (NM) - 33 Disposals, 5 Marks, 11 Tackles, 12 Clearances
Connor Rozee (PORT) - 24 Disposals, 6 Marks, 5 Tackles, 4 Goals
Round 18
Chad Warner (SYD) - 35 Disposals, 6 Marks, 7 Clearances, 1 Goal
Nick Daicos (COLL) - 40 Disposals, 3 Marks, 5 Tackles, 3 Goals
Hugh McCluggage (BRIS) - 29 Disposals, 8 Marks, 3 Clearances, 4 Goals
Marcus Bontempelli (WB) - 34 Disposals, 11 Marks, 4 Clearances, 2 Goals
Kysaiah Pickett (MELB) - 6 Goals, 14 Disposals, 8 Score Involvements
Cameron Zurhaar (NM) - 6 Goals, 12 Disposals, 3 Marks, 9 Score Involvements
Round 19
Marcus Bontempelli (WB) - 26 Disposals, 4 Marks, 9 Tackles, 11 Clearances, 1 Goal
Zach Merrett (ESS) - 38 Disposals, 4 Marks, 9 Clearances, 2 Goal Assists
Touk Miller (GC) - 34 Disposals, 2 Marks, 7 Tackles, 4 Clearances, 10 Score Involvements
Jack Steele (STK) - 40 Disposals, 10 Marks, 8 Tackles, 10 Clearances
Hayden Young (FREO) - 31 Disposals, 14 Marks, 84% Disposal Efficiency, 5 Inside 50s
Round 20
Zach Merrett (ESS) - 38 Disposals, 6 Marks, 10 Tackles, 8 Clearances, 1 Goal
Shai Bolton (RICH) - 24 Disposals, 7 Marks, 4 Clearances, 2 Goals
Jack Viney (MELB) - 32 Disposals, 4 Marks, 5 Tackles, 4 Clearances, 9 Score Involvements
Rowan Marshall (STK) - 35 Hitouts, 30 Disposals, 9 Marks, 7 Tackles, 7 Clearances
Round 21
Lachie Neale (BRIS) - 32 Disposals, 5 Marks, 9 Clearances, 1 Goal
Jack Gunston (HAW) - 5 Goals, 14 Disposals, 8 Marks, 9 Score Involvements
Luke Ryan (FREO) - 32 Disposals, 15 Marks, 4 Tackles, 7 Intercept Possessions
Nick Larkey (NM) - 7 Goals, 11 Disposals, 3 Marks
Josh J. Kennedy (WCE) - 8 Goals, 15 Disposals, 8 Marks, 11 Score Involvements
Round 22
Luke Davies-Uniacke (NM) - 37 Disposals, 5 Marks, 11 Clearances, 1 Goal
Zak Butters (PORT) - 25 Disposals, 5 Marks, 6 Clearances, 3 Goals
Callum Mills (SYD) - 29 Disposals, 9 Marks, 7 Tackles, 6 Clearances
Tom Lynch (RICH) - 8 Goals, 18 Disposals, 12 Marks
Sean Darcy (FREO) - 56 Hitouts, 16 Disposals, 5 Marks, 6 Tackles, 1 Goal
Cameron Rayner (BRIS) - 4 Goals, 18 Disposals, 4 Marks, 1 Clearance
Jeremy Cameron (GEEL) - 3 Goals, 21 Disposals, 8 Marks, 3 Tackles
Round 23
Caleb Serong (FREO) - 32 Disposals, 11 Clearances, 8 Score Involvements, 1 Goal
Mark Blicavs (GEEL) - 16 Hitouts, 25 Disposals, 5 Marks, 4 Tackles, 3 Clearances
Patrick Cripps (CARL) - 35 Disposals, 5 Marks, 12 Clearances, 27 Contested Possessions
Connor Rozee (PORT) - 34 Disposals, 4 Marks, 8 Tackles, 5 Clearances, 1 Goal
Clayton Oliver (MELB) - 30 Disposals, 5 Tackles, 13 Clearances, 20 Contested Possessions