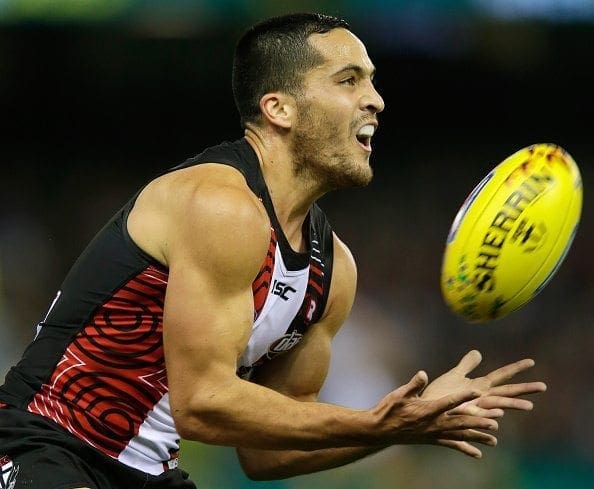 St Kilda has made a further list change, delisting defender Shave Savage.
The 29-year old took to Twitter on Sunday night to reveal he hasn't been offered a new contract by the club for 2021.
"I've had a few days to process it and it hit me a little harder than I thought but unfortunately I was notified I won't be offered a contract next year," Savage said.
"Whilst I'm disappointed I'd like to thank the Saints for the opportunity that was given to me over the last 7 years and (to) be able to share most of that journey with my kids is something I'll always cherish.
"A lot of people to thank but none more than my wife Sarah who has been through thick and thin with me I love you and thank you for your support!
"What does the future hold? I'm not sure but I'm excited for whatever comes next!"
— Shane Savage (@ShaneSavage05) November 22, 2020
Saints Head of List Management James Gallagher said Savage's departure was due to the reduction of list sizes.
"Shane was a much-loved member of our club and we're very sorry to see him go," Gallagher said.
"Unfortunately with the reduction in list sizes and the positional make-up of our current list, we've made the very difficult call not to offer Shane another contract next year.
"His dedication and professionalism has been an asset to this club and we hope this isn't the end of his footy career.
Savage has played 165 AFL games for Hawthorn and St Kilda since making his debut in 2009.
He was traded to the Saints at the end of 2013 along with Pick 17 for ruckman Ben McEvoy.
And a third AFL club could loom for Savage, with Fox Sports' David Zita reporting last week that the GWS Giants were interested in picking him up as a delisted free agent.
Savage fell out of favour of the Saints' best 22 in 2020, making just two senior appearances.
He joins Jonathon Marsh, Ed Phillips, Matty Parker, Doulton Langlands, Ryan Abbott, Jack Bell, Jack Mayo, Logan Austin and retiree Nathan Brown in departing the club.