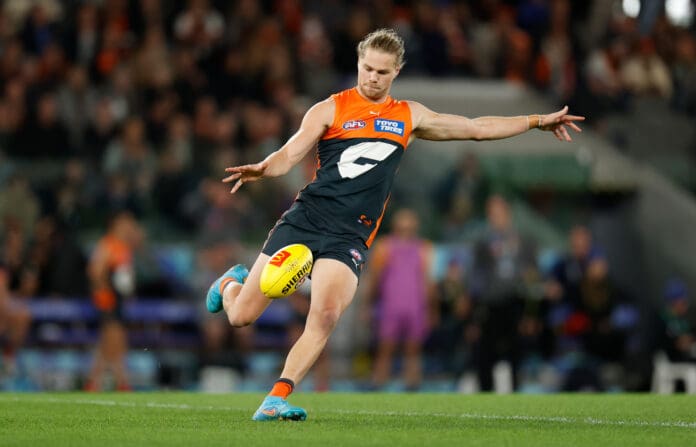 GWS interim coach Mark McVeigh is already seeing the benefits of riskily moving magnets to start his caretaker tenure at the Giants.
Across three matches behind the steering wheel of the New South Wales club, McVeigh has shifted several players into new roles which have begun to pay dividends, namely spearhead Harry Himmelberg's switch to defence.
Having developed as a key defender before switching to attack across the early years of his career with GWS, Himmelberg hasn't looked out of touch in a return to the defensive third, with Sunday's win over North Melbourne seeing the Canberra native record career-best figures across a number of metrics.
The 26-year-old amassed 37 disposals, 14 marks, 11 intercepts, 6 intercept marks and 697 metres gained from a disposal efficiency of 94.6%.
The dominant outing was far and away Himmelberg's best in his 117-game career in orange and charcoal, with plenty of plaudits pointed in McVeigh's direction.
While the Giants' interim coach has seemingly pulled a rabbit out of a hat, McVeigh said moving Himmelberg to his backline was a decision that was met with no hesitancy.
"Harry was an easy one for me because Harry came to us as a back," McVeigh told RSN. 
"I actually coached him as a kid at New South Wales level as a centre half back. So I sort of knew he had the capabilities.
H. HIMMELBERG
Defender GWS

2022 SEASON AVG

18
Disposals

6
Marks

77.2
Disposal %
"He played a little bit down back early doors at the Giants, especially at NEAFL level and then obviously senior level.
"I was really keen to move him. I knew he could defend but the main reason why was his ability. We needed to move the ball a little better out of our back half.
"I thought he would suit that nicely. He's had a good couple of games there."
Himmelberg's return to defence is among the vast tactical shifts under McVeigh's watch, with the former Bomber steering the ship for the remainder of the season following Leon Cameron's resignation last month.
McVeigh has also borne fruit in the form of young defender James Peatling and utility Harry Perryman, who have played significant roles in the Giants' 2-1 record under McVeigh.
Since switching forward, Peatling has booted nine goals in three matches - quickly emerging as an attacking threat deep inside 50 for the Giants.
Perryman has earned a greater reliance in midfield across the past month, having attended a majority of centre bounces after going without a centre start since Round 1.
The pair of changes, coupled with Himmelberg's switch, have been a resounding highlight for McVeigh's reign.
"James Peatling comes into the team looking a different player," McVeigh added.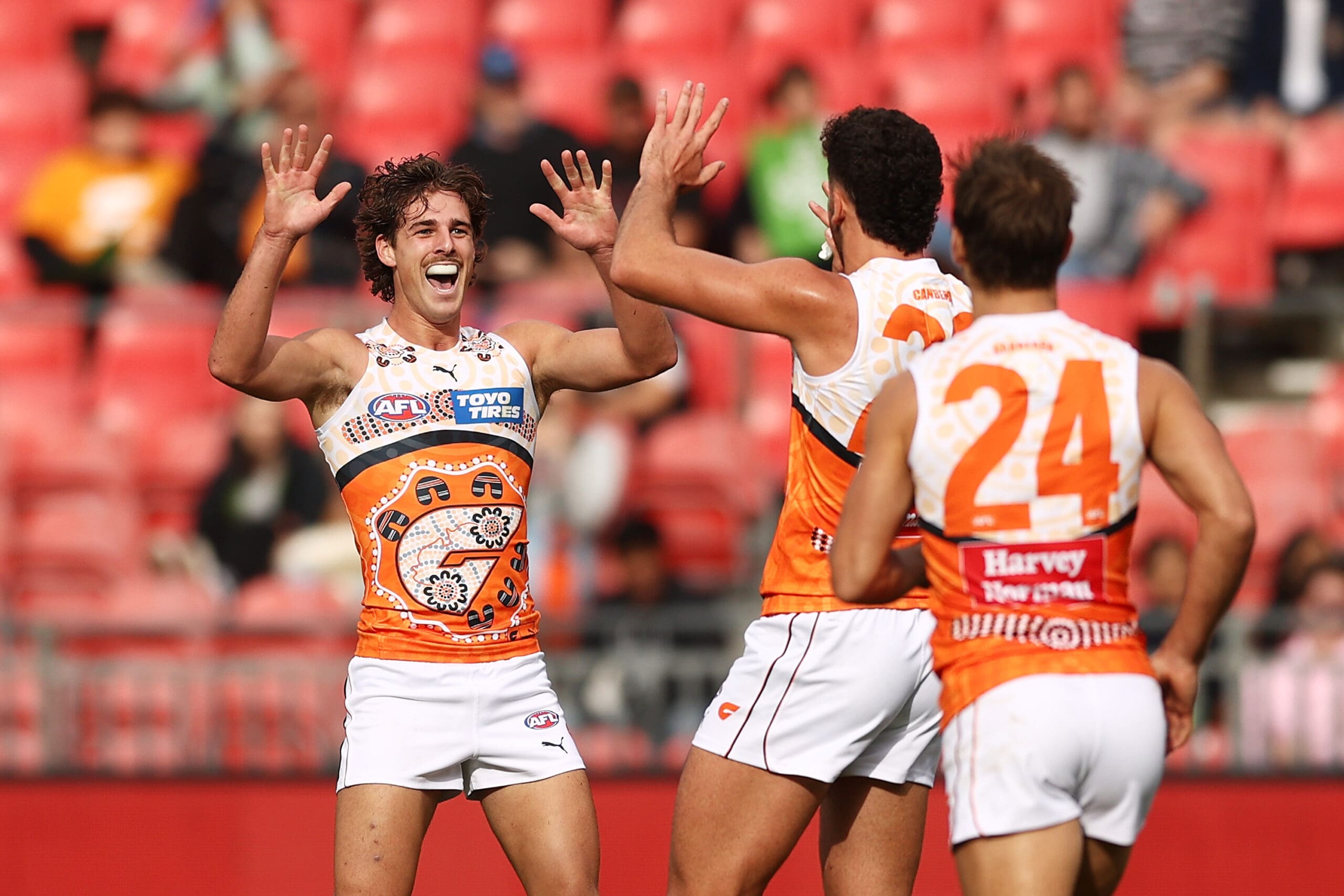 "[He] has got some really good speed, really good goal sense and again with the coaches, we decided that we needed that. He's come in and done a great job.
"The third one is Harry Perryman... going from a half-back, wing to an onballer.
"He's probably our cleanest player by hand, makes really good decisions. [He's] a hard tough player.
"He's just come into the midfield and added a really nice balance. He's not the fastest player, but he makes those half chances into full chances because he never fumbles."
While admitting to the "big gamble" of moving players how he saw fit, McVeigh said the decisions have been of benefit to the entire squad as opposed to an individual level.
McVeigh isn't ruling out further reshuffling either, with his players set to assess their progress after a month under his watch.
"Every coach has the way they want to play and obviously where they want to play their players," McVeigh said. "Sometimes it's a big gamble to move some players.
"Harry Himmelberg was our best goalkicker prior to this, he's a really good forward.
"But what it's allowed us is to having Jake Riccardi, Jesse Hogan and Zach Sproule step up. They're three key talls for us.
"That's really allowed us to move Harry back... there was a spot there, so it worked really well in the end.
"I had ideas going through my head already that I wanted to do and I think we needed to look different.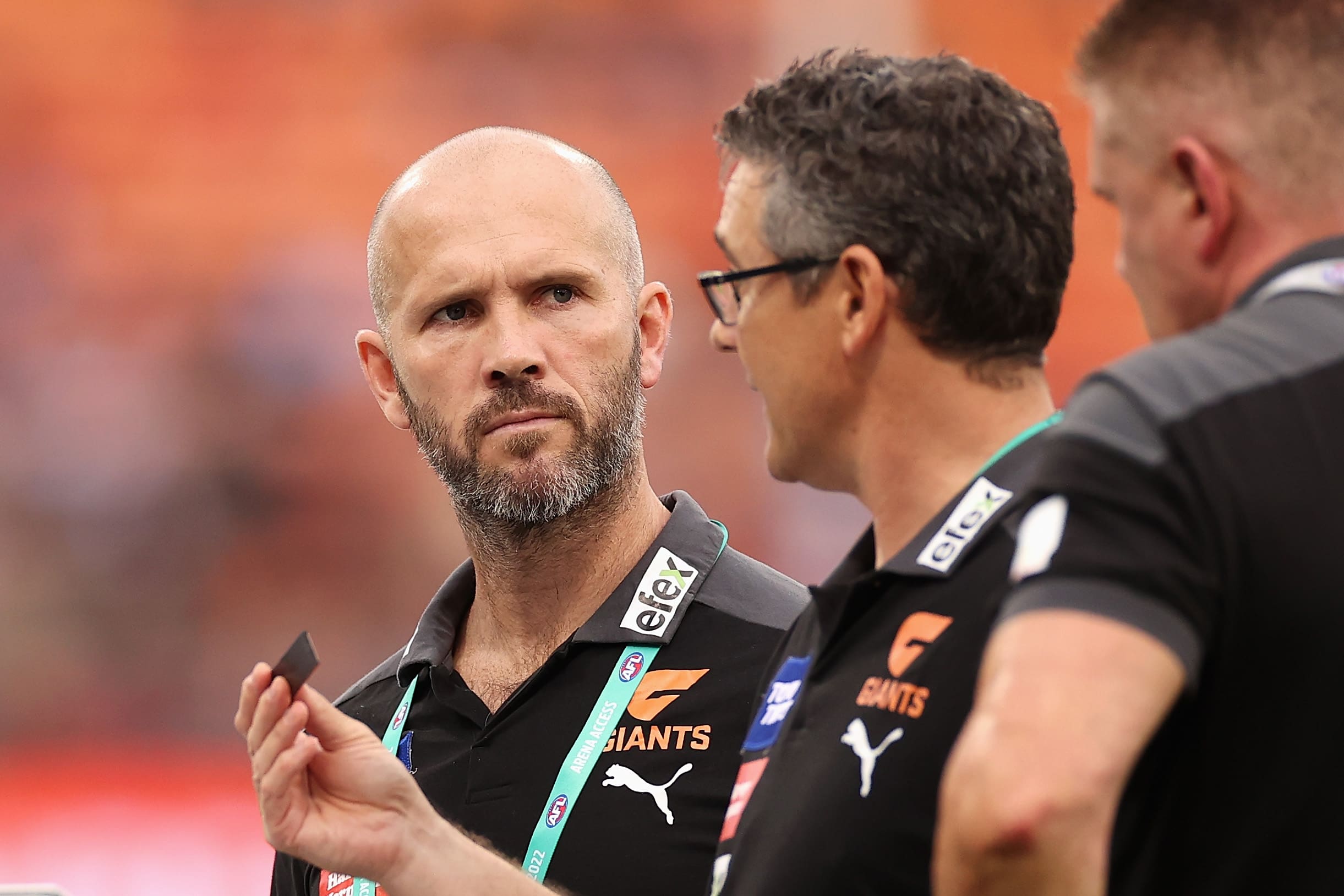 "I'm just trying to probably get our best players in their best positions and let them settle there for a month and see how we go."
Having been handed caretaker duties until the cessation of the season, McVeigh is using his new power as a stepping stone to become a senior coach in the league.
Whether that be in Sydney's west or otherwise, the 41-year-old is enjoying the challenge as an interim, continuing to bounce ideas off his assistants.
"I'm really enjoying it. It's been it's been fantastic,"
"Being able to set up your week i've really enjoyed as well, and trying to execute that come game day has been something that I'm really passionate about.
"Making sure our players have got all the right information to execute on the weekend is a real challenge.
"Gameday I've got great support. James (Hird) and Solly (Dean Solomon) have come in to give us support and challenge us, which is great. That's what we need.
"We've got to get our club to a point where whatever happens at the end of the year, we're in a really good spot to attack next year.
"I've always wanted to be a senior coach.
"The club's trusted me to steer them, they challenged me to change some things, which we've been able to do.
"In the end really I need to make sure that we are winning. We are still a very good site. We still have strong capabilities to beat some of the best teams in the competition.
"I've been very very lucky with the support I've been given in the short time in the job."
After wins against the AFL's two bottom-placed clubs in West Coast and North Melbourne, the McVeigh and the Giants will be looking to get a better read of where they sit this season when they host rivals the Western Bulldogs next weekend.
The encounter will commence an intriguing stretch in the midriff of this season, with clashes against Collingwood, Hawthorn and Port Adelaide to follow.