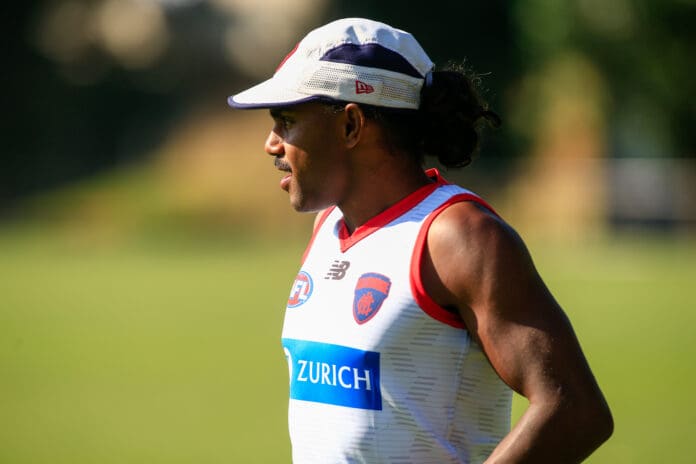 Simon Goodwin has urged his Melbourne Demons not to bump, following Kysaiah Pickett's dangerous clash with Bulldog Bailey Smith.
Pickett received a two-game suspension for his flying bump dealt on Saturday night, which was deemed to be high contact, high impact, and careless conduct.
Goodwin has made his stance clear on the subject, even admitting to telling his playing group about his new precedent.
"I love the pressure that he puts on, I love the intensity that he plays with. But, I did speak to our playing group, and Kozzy was involved in that, about the bump," Goodwin said.
'There's no element in the game where we should be bumping, and that's the message that I have been giving to our playing group. It just puts you in a position you don't want to be in."
It's not the first time the action has been a hot topic for Goodwin, who has been advocating against its use in previous seasons.
"We've spoken for a couple of years now about the bump. For a few years now the AFL has been pretty clear that if you choose to bump, there could be a situation that you don't want to find yourself in as a player," he said.
"So we'll try to limit that risk where we can — we want our players to tackle... we want them to play tough, but we don't want them to bump in any situation that they don't need to be bumping in.
"Kozzy knows that, Kozzy knows he's probably got it wrong. Thankfully Bailey Smith was in a good place after the game and wasn't concussed."
When asked about the place of the bump in the modern game, the Melbourne coach spoke honestly.
"Our game is about tackling, there's no need to bump. I think it is dead, yeah," said Goodwin.
"But, sometimes we have a game where we play on instinct, and sometimes you make (split-second) decisions that you regret later on.
"I understand that it's not going to be out of the game, but we continue to educate our players, learn from examples... and try to get it out of our game."
The Demons will be without Pickett as they face the Brisbane Lions and Sydney Swans in tough fixtures across the next fortnight.