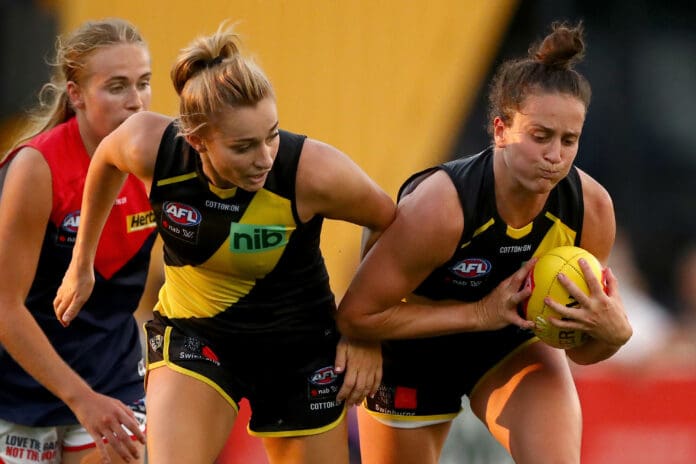 Tigers defender Harriet Cordner is the latest AFLW player to have their season cut short by an ACL injury, having suffered the setback during her side's Round 3 defeat to Fremantle.
The 29-year-old was helped off the ground during the second quarter of Saturday's match at Punt Road in what was anticipated as another season-ending knee injury in the league, with Cordner having since confirmed the suspicions on Monday.
Having been a shining light in the Tigers' promising start to the 2022 season, Corder's absence will leave a large void in Ryan Ferguson's rearguard.
Despite the heartbreak, the key defender was in high spirits as she confirmed the diagnosis via Instagram.
"Another one bites the dust," Corder wrote.
"Not quite what I had planned this week. Absolutely devastated to have torn my ACL and not to be taking the field again this season, but I'm bloody proud of this group and where we are heading.
"Can't wait to watch them fight like Tigers in the coming weeks.
"Thank you to everyone who has reached out, and to all the legends I have around me."
Cordner joined the Tigers ahead of last season from Melbourne and would gain a spot in the AFLW's All-Australian squad at the end of her first season in yellow and black.
The veteran defender had begun this season in a similar fashion, having held a leading role within Ferguson's stingy defensive third.
"Harriet has been exceptional since the day she walked into our football club, both as a pillar in defence and as a person around the place, so we are really feeling for her at the moment," Richmond Head of Women's Football, Kate Sheahan said, via the club website.
"We will all wrap our arms around 'H,' and she has the full support of the entire football club for her recovery and rehabilitation.
"Harriet is a work-horse with huge professionalism in the way she prepares herself to play and perform. We know that she will attack her rehabilitation first-class and that she will continue to shine as a leader within our program while on the sidelines for the rest of the season."
Richmond fell to Fremantle to the tune of 30 points, with the loss seeing the Tigers collect their first loss of the season while the Dockers remain undefeated.