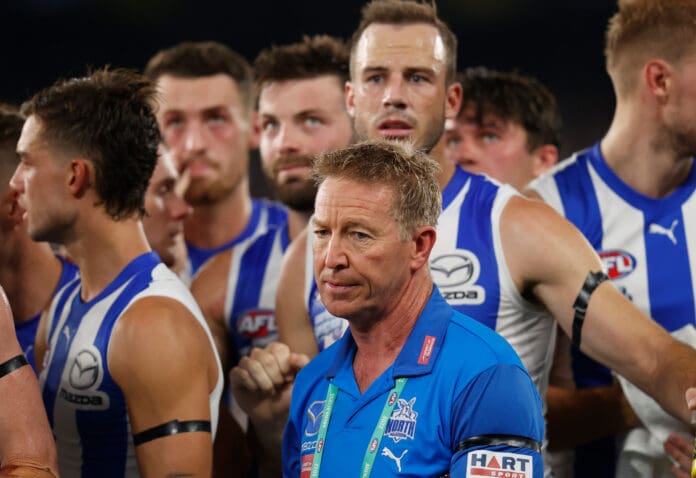 Former Kangaroos coach David Noble has conceded he should have conducted "a bit more research" into the environment at North Melbourne before accepting the head coaching job at Arden Street.
Noble, who was relieved of his duties last July after a meagre 38 games in charge of the team, has since adopted the CEO position at Dick Johnson Racing.
The 56-year-old, donning the red colours of Shell V-Power, appeared on Fox Footy's AFL 360 on Tuesday night and briefly discussed the circumstances surrounding his unceremonious Roos exit, as well as any regrets he might have had from his time at North Melbourne.
"I think there [are] a few things I didn't get as right as I would've liked," stated Noble on Tuesday.
"I pride myself on doing a lot of research, I probably should've done a bit more research into the environment I was walking into.
"I think we tried to move into more defence in the second year and maybe we should've just stuck with the offence.
"I think there [are] lots of things you could pull apart as you go through it. I think there [are] lots of things that all parties could've learned from that experience."
Noble's North Melbourne fate was ultimately sealed following an internal review of the club, with a report containing the review's findings subsequently compiled.
Noble claimed he was never afforded the opportunity to view that report's contents.
"I think you do (take responsibility for failures within the club). The buck stops with the coach," Noble continued.
"I was very clear there was a lot of responsibility for me as a senior coach, that's where it sits. I would've liked to have seen what was in the report, to be honest with you, but I've never seen it.
"That's hard to assess where you may've let yourself down or let a group down to not know where that may've fallen apart."
Following Noble's departure in 2022, North Melbourne has since hired ex-Hawthorn premiership coach Alastair Clarkson to take the reins, as well as undergone other administrative changes, most notably in the form of Ben Amarfio's resignation last September.
The Kangaroos have commenced their 2023 campaign in promising fashion under Clarkson, starting 2-0 after stirring wins against the West Coast Eagles and Fremantle.
The Roos will battle Clarkson's former employer, Hawthorn, this Saturday afternoon.