'Holding the ball' is the most contentious rule in the AFL, and by a fair margin.
Every week there is controversy surrounding the implementation and interpretation of the rule, with some umpires paying free kicks for it where others did not.
There have been many solutions suggested to the rule, some better than others, but each with a different twist.
Perhaps the most interesting of these is the proposed 'team prior opportunity' rule.
I think we need an answer on whether they're errors by umpires (which is ok) or a directive from above to keep the ball moving at all costs regardless of incorrect disposal or otherwise. I don't get what's wrong with paying more free kicks if they're there? #TeamPriorOpp

— David King (@davidking34) May 16, 2021
The rule plays out as follows; when a player is in possession of the ball with prior opportunity and disposes of it to a teammate who is then tackled, the team is pinged with holding the ball as opposed to a specific player.
For example, if Patrick Cripps wins the ball out of the centre and has more than ample time to search for a handball target, and does so by handballing it off Sam Walsh who is then instantly tackled, then Carlton will have a holding the ball infringement paid against them.
This in turn, rewards the tackler and eliminates players handballing it to a teammate who is about to be tackled, knowing that they cannot be penalised as they had no prior opportunity.
The backlash towards holding the ball has skyrocketed after St Kilda racked up a whopping 87 tackles on Friday night against the Cats, yet only receiving three 'holding the ball' free kicks.
Brett Ratten expressed his frustration post-game about the interpretation of the holding the ball rule. pic.twitter.com/Xgb9DVI9ki

— Triple M Footy (@triplemfooty) May 15, 2021
So off the back of this, we went around the Zero Hanger office and put the question to our team: Should the AFL bring in a 'team holding the ball' rule?
Ben Cotton: To be completely honest, I don't know. I really have no idea what the solution is with the holding the ball and maybe the backlash towards the rule has become a bit of an overreaction.
On one hand, you have players not getting rewarded for tackling, which is no doubt an issue. But on the other hand, if you remember back to last year when players were getting pinged for holding the ball left, right and centre, the game was near unwatchable. Maybe team holding the ball is the answer? To potentially make a very hard game adjudicate slightly easier.
What I will say is I feel very sorry for umpires with how much they have on their plate, so anything that makes their jobs easier, I'm all for.
Mitch Keating: I think we just need to go back to the basics. Seemed to be fine to a degree and 'most' fans were satisfied with it before the league decided to crackdown mid last year.
Incorrect disposal, dropping the ball, prior opportunity. Umpires should look for two of the bases in each tackle and if it fits then pay the free kick. I think the 'team holding the ball' calls would only add further confusion and would probably hinder accurate ball movement. It'll be impossible to satisfy everyone, but this would only move in the opposite direction.
SEE ALSO: 'It was getting pretty close at that stage': Former Bulldog opens up on loss of love for football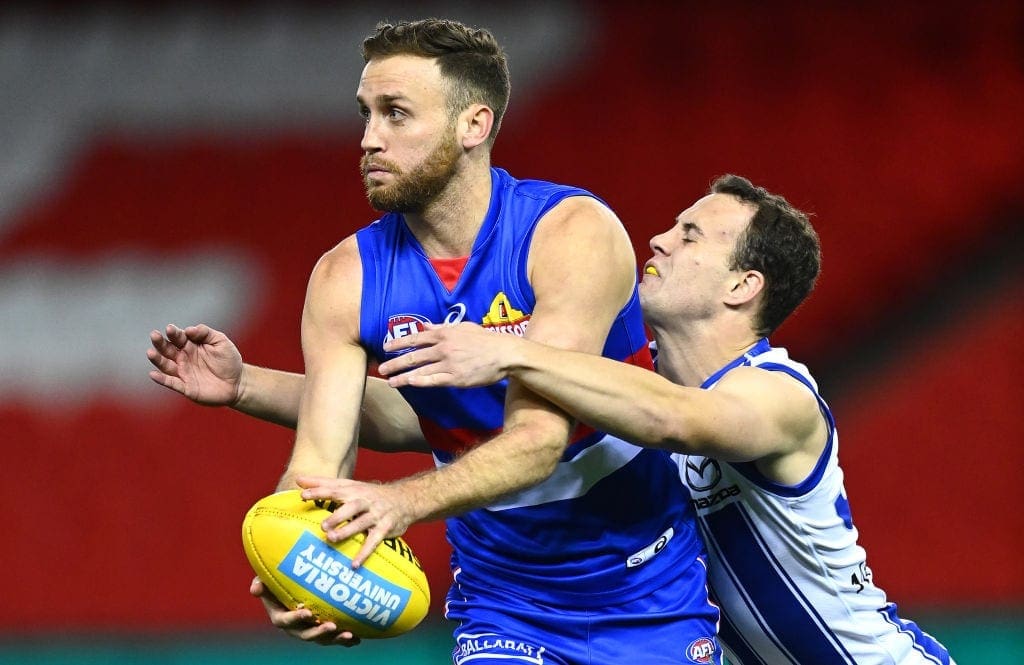 Benjamin Millard: It seems as if teams go into a game not knowing what is going to be paid and what isn't in terms of holding the ball. I think the AFL has tried to coach umpires and get them to be on the same page, but it is so obvious that it just isn't working.
However by the same token, having a rule like 'team prior opportunity' might not help circumstances, as it could still be interpreted differently according to each umpire. The reality is that the game has so many rules which have massive grey areas, such as deliberate out of bounds, and it might just take some tinkering with 'holding the ball' to get it just right.
Edmond Lemmo: The rule definitely needs a complete change, with a clear instruction on how the rule is officiated. In recent weeks, I feel that the interpretation of holding the ball is now so far removed from what it has been in the past.
For an umpire to consider so many variables in such a short amount of time, inconsistencies between umpires and their interpretation of the rule is always going to result in a heated debate.
We need to have a clear-cut instruction on how the rule is adjudicated, inconsistencies will always arise, however if we could make the margin for error much less than it is now, it would be a major improvement.
Jake Benoiton: Team holding the ball makes zero sense, if you're being pressured you need to be allowed to dispose of it and if that's to a teammate which leads to a stoppage that's ok.
There's more of an issue with how players are disposing of the ball as opposed to punishing those who do so legally, the umpires already have it hard enough without another interpretation that is surrounded in grey area.
Niesha Happell: Yes, the AFL should implement a team holding the ball rule. This will help simplify the rules and leave less room for umpires' individual interpretation and helping to keep the adjudication of rules more consistent.
Bringing in this rule will also encourage players to kick and take more territory rather than giving off a hospital hand-pass.
Aidan O'Carroll: In my opinion, I don't think there should be a 'team holding the ball rule' as I feel like it would cause confusion amongst teams, as some teammates will get pinned for having prior opportunity, and others won't get pinned for the same thing.
I reckon to simplify everything, I believe that if you don't dispose of the ball properly [throwing, dropping etc.] regardless of prior opportunity, you should get pinned for holding the ball. I know it's harsh but it's apart of the rules. If you don't dispose of it properly then you'll be penalised. It would make for a clearer understanding amongst all teams I reckon.