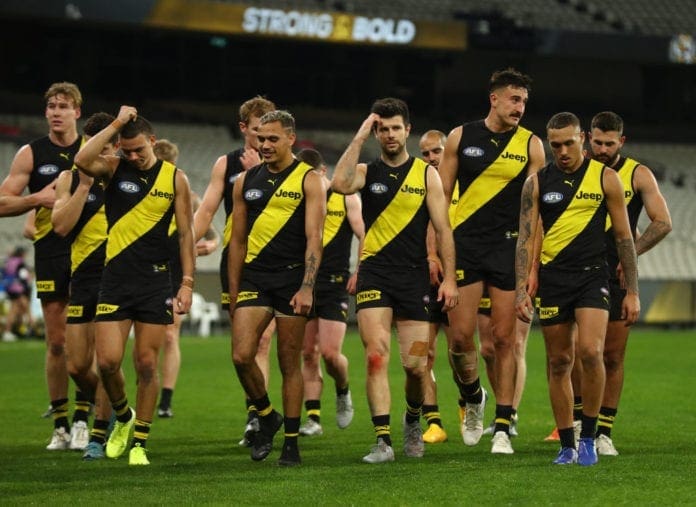 With it becoming more of a possibility Richmond will be forced into an interstate hub due to Victoria's COVID-19 concerns, captain Trent Cotchin says it's a possibility that some of their players will stay home.
Cotchin spoke to the media on Tuesday and said some of his teammates were a "genuine chance" of not leaving Victoria.
"There's going to be a number of different individual cases or scenarios – we've got guys with pending babies and other challenges that we'll just have to manage accordingly," Cotchin said.
"The most important thing is [that] our partners feel supported."
This news comes during a form slump for the club and a last minute fixture change on Monday which will see them face Melbourne this week instead of traveling to the Gold Coast to face West Coast.
"Our club got in contact with us as early as 6am yesterday morning, which is effectively when they found out," he said.
Cotchin has pointed to the lack of crowds and a reliance on self-motivation as possible reasons for the Tigers slump.
"It's a whole range of different things, learning to accept that the environment is different," Cotchin said.
"In reality to a lot of different clubs, we aren't quite used to having no noise in the stadium ... You have to create your own energy."
Despite their slump, Cotchin is confident that the Tigers will regain their form against Melbourne this Sunday.
"Last week's game, albeit St Kilda came and played really well, ... was an improvement on the week before," Cotchin said.
"And these things do take a week or two to come into full effect."