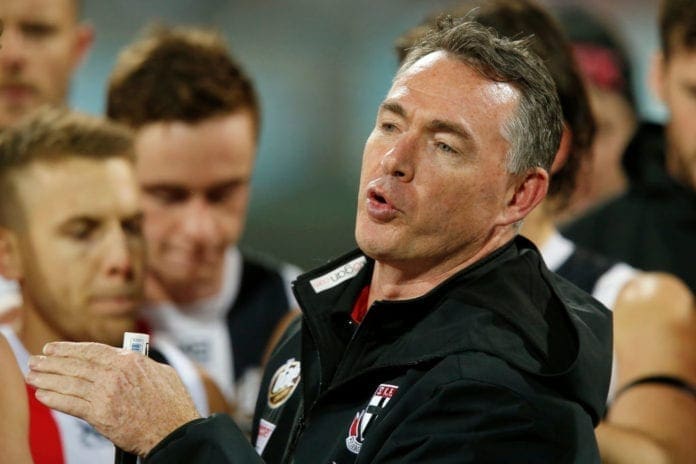 St Kilda coach Alan Richardson has taken a swipe at the umpires for their display during the Saints' 27-point loss to Geelong on Saturday night.
The Saints were penalised on 26 occasions and only received 14 free kicks themselves, with Richardson suggesting it was the decisions that were not paid which upset him the most.
"What did we lose free kicks by? A lot I think. I didn't think the umps had a great night," Richardson told reporters after the game.
"It was as much about the non-calls as it was the calls.
"I don't get too caught up with the umpiring, because they make blues and we make blues, but I thought it was pretty inconsistent tonight."
It follows on from the Saints' loss in Tasmania last weekend, where North Melbourne won the free kick count 25-16.
"We had an umpire come to training with us because we gave away seven free kicks in front of goal and it cost us seven goals last week," Richardson said.
"The umpiring department was outstanding there and sent an umpire out to do our match (simulation) and spend some time with the backs because that was their issue.
"So we'll follow up (next week) … we'll just make sure we're coaching the right way."