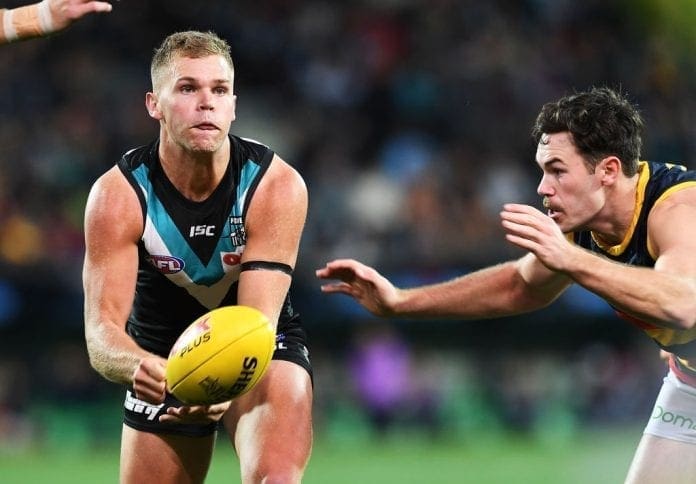 Port Adelaide duo Peter Ladhams and Dan Houston have been suspended by the AFL for breaching the league's COVID-19 protocols, as first reported by The Age's Daniel Cherny.
Ladhams has received a three-match ban and Houston has received a two-match ban after they invited several guests to Ladhams' home following the club's round 10 win over the Bulldogs on August 3.
Additionally, Port Adelaide received a $50,000 sanction, with 25,000 suspended - which will come out of the club's football department soft cap for next year.
Ladhams housemate and former teammate-turned Crow Billy Frampton was cleared of any wrongdoing under the league's investigation.
Both Ladhams and Houston were not present at Port Adelaide's Wednesday training session as the AFL inquire about the breach.
Both players were extremely remorseful in statements released via the club website.
Ladhams: "I'm very embarrassed to put the club and my teammates in this position. There was no excuse for my complacency and I fully accept the sanction handed down by the AFL.
"The club has gone out of their way to brief us on all processes related to the AFL return to play protocols. I now have to work my backside off to win back the respect of my teammates."
Houston: "Our entire club has worked so hard this season with all the challenges that have come our way and I feel like I have let the boys down with this breach.
"I take responsibility for my own actions so I fully accept the sanctions handed down by the AFL. I am disappointed but I will learn from my error in judgement."
Pete Ladhams and Dan Houston have been suspended for breaches of the AFL's return to play protocols. #weareportadelaidehttps://t.co/k1dMuGuEea

— Port Adelaide FC (@PAFC) August 20, 2020
Port Adelaide face Hawthorn this Saturday at Adelaide Oval at 4.35pm AEST.