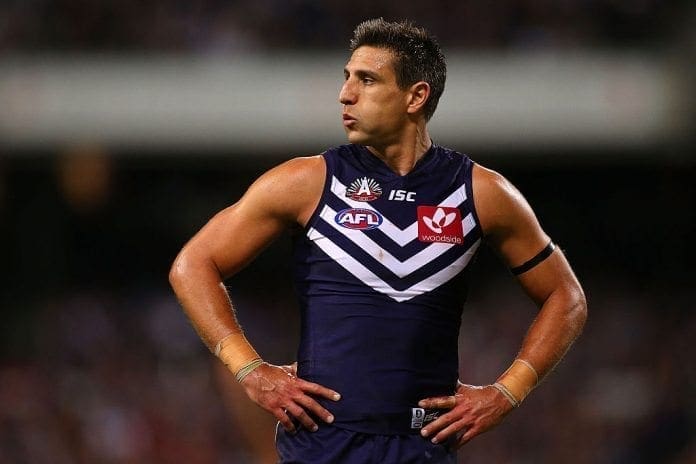 Former Fremantle captain Matthew Pavlich has opened up about the trouble he had enjoying the lead up to the 2013 grand final.
The champion Docker forward led his side to their first ever grand final in 2013 against Hawthorn, although Fremantle were unable to come away with the premiership, losing to the Hawks by 15 points.
Pavlich said he struggled to enjoy the build up to the grand final, saying it took him until he arrived in Melbourne to fully appreciate the fanfare.
"What I might have done differently is embrace the week a lot better,' he told Fox Footy's Open Mike on Monday night.
"It was such a big moment for the football club but I just really wanted our routine to be the same. I wanted things to be normal but I was fighting a losing battle. (There were) 10,000 people down at training on Tuesday morning.
"I remember Ross saying to me - we were waiting, we'd finished our team meeting and were about to come out and do our training session. I was standing with Ross and I said it would just be nice if we had no-one else out there except for ourselves.
"He said relax and enjoy it. I was fighting that battle the whole week for some reason."
The 700-goal forward played 353 games for the Dockers over his 17-year career in Perth, although that didn't stop other clubs from trying to recruit the Fremantle captain.
In 2007 - after Pavlich won the fourth of his six best and fairest medals - he was on the radar of both Carlton and Collingwood in Victoria, with the Blues offering Pavlich $200,000 more per year than the Dockers could pay.
"It was certainly, to my management company, a bona fide offer," he said of Carlton's offer.
"While I looked at it, and there was a strong lure to come to Melbourne and play at a big AFL team, I was a newly appointed captain and I felt I'd built some pretty strong relationships at Freo. I didn't look that closely at that offer, but it was significant."