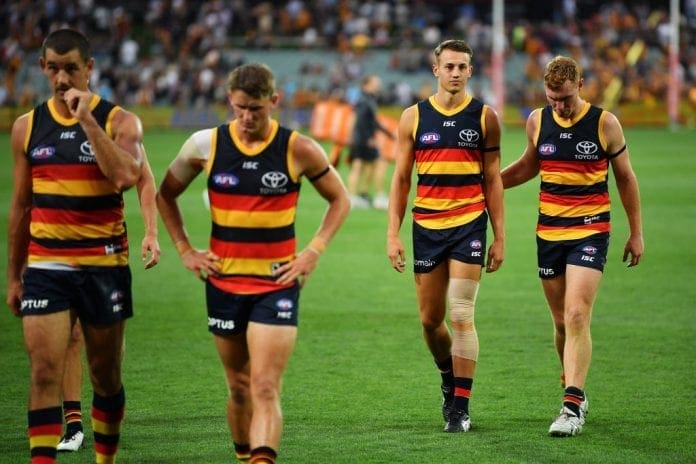 Since basically the end of the 2018 AFL premiership, there has been talk that the Adelaide Crows were ready to return to the top four.
This looked to be the case after a strong JLT series, which included decisive wins against both Port Adelaide and Greater Western Sydney. However, in the first game the close to full strength Crows line up played for premiership points in 2019, they were systematically dismantled and made to look second rate by a Hawthorn outfit missing a number of their key players.
The 32-point margin flattered the Crows as Hawthorn's inaccuracy in front of goal kept them with in striking distance during the one-sided first half. The Hawks were able to break away after the main break kicking 3.7 to 0.2 in the premiership quarter, creating a buffer the Crows could not close.
The obvious flaw in Adelaide's play was a lack of cohesion between a midfield unit, whose delivery inside fifty was inefficient and a forward line, who seemed to lack structure and were determined to play behind their direct opponent.
This resulted in a number of intercept marks to Hawthorn defenders such as Jarman Impey, James Sicily and David Mirra.
Hawthorn's defence was aided by the Crows' lack of intent to move the ball forward quickly from half back, as players looked for short 15-metre kicks sideways or backwards before inevitably bombing the ball long down the line, where Ben McEvoy was often set up.
This was epitomised by both teams use of the new kick in rules. James Sicily took the majority of the Hawks' kick-ins and looked to take advantage of the new rule by running his full measure and using his booming kick to his team's advantage.
This resulted in a number of plays were the Hawks were able to transition from defensive to attacking 50 in 2-3 possessions. In comparison, Crow's players looked unsure kicking out after a behind and barely played on from inside the square.
Brodie Smith would be the perfect player to take advantage of the new rule based on his speed and monstrous kick but even he refused to play on and often tried to hit the short 15-metre kick into the pocket.
The Crows led a number of key statistics including disposals (440-367), contested possessions (172-154) and clearances (40-29) but were let down by their poor disposal and lack of creativeness moving forward.
This resulted in a number of shallow entries that were not brought to ground by the bigger targets up forward and therefore, made it difficult for the smaller forwards such as Lachlan Murphy and Eddie Betts to apply pressure to keep it in the area.
Hawthorn was able to rebound too easily, which allowed them to have a number of one-on-one contests deep in their forward fifty. Hawthorn also always seemed to have numbers around the ball when it mattered with a number of three on one contests in favour of the Hawks, particularly when the Crows were going forward.
This indicates they had extras behind the ball and were happy to lose the majority of clearances and then rebound from half back.
The Crows showed glimpses of their 2017 self in the second half of the last quarter after the interchange monitor placed a lightning bolt on the interchange board.
This assumedly meant for the players to move the ball as fast as possible and play on as much as they can. This created a number of plays were they moved the ball well and created a number of goal-scoring opportunities but Brodie Smith, Taylor Walker and Wayne Milera were unable to capitalise missing kick-able chances.
The Crows need to look to play like this more often and take more chances rather than hesitating and allowing the opposition to set up their zone behind the ball in order to give their forwards more chances in one-on-one situations.
An ACL injury sustained by Tom Doedee did not help the Crows' chances, as Wayne Milera (184cm) was often forced to match up on Connor Nash (197cm), leaving them undersized down back.
Doedee will leave a huge hole in the Adelaide line up, as there is no obvious replacement for the budding defender, who finished second in the Rising Star last year.
It is likely that Kyle Hartigan or Andy Otten will get first crack in a key defensive post, leaving Alex Keath to fill Doedee's role as the interceptor. Keath was arguably the Crows best player in round one amassing 20 disposals and six marks but will be required to step up again to fill the hole left by one of the best young defenders in the league.
If the Crows look to get really creative, is high draft pick Darcy Fogarty a chance to come in and play a role down back?
An ankle injury to club stalwart Richard Douglas leaves another hole in the team but Hugh Greenwood is an obvious replacement if Douglas is set for a stint on the sidelines.
Greenwood has now played two SANFL trial games since returning from an injury interrupted pre season. In his most recent game against Port Adelaide, he was one of the Crows' best kicking two goals. If selected, he will provide a target up forward and follow up at ground level with his well documented tackling pressure.
So, was 2017 or 2018 the aberration for the Crows? I still think they will be a top eight side but can they challenge the top teams deep into September?
A lot of things need to improve and a lot of players need to step up. It's worth keeping in mind that it's only been one round, a very small sample size so it's hard to tell.
West Coast and Collingwood, the eventual Grand Finalists both lost in round one in 2018 highlighting the unpredictability of an AFL season. Remember, it's a marathon, not a sprint.