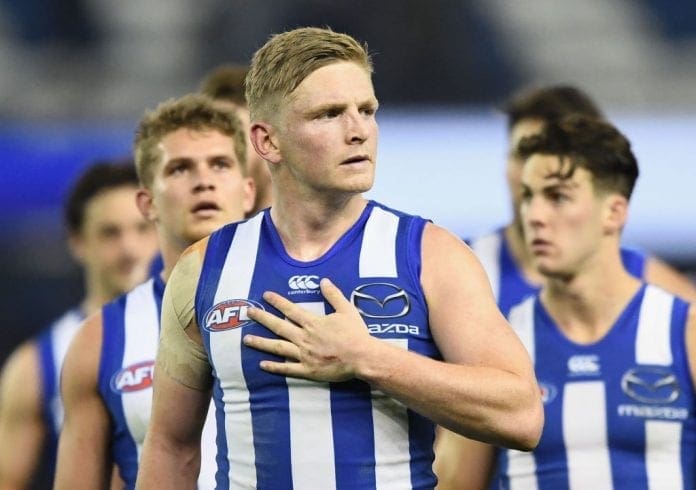 Former Richmond and Western Bulldogs coach Terry Wallace believes North Melbourne will win the wooden spoon in 2018.
The Kangaroos finished 15th in 2017 with six wins, only one win above Brisbane, who won the wooden spoon.
Wallace holds grave concerns for their immediate future as a result of their undeveloped list.
"They have got the least talented list at the moment in the competition, bar none," Wallace told SEN's The Run Home.
"I don't like to be absolutely pessimistic, but when you're having a look at this squad, I've got to give credit to their coaching staff last year, because for what they're putting on the park and what performances they put in, they were far more competitive than what I thought they could possibly be.
"It is going to be a real battle and a real struggle. I know the way they go about it is very professional, so they'll want to fight the fight, but I think this is one fight they cannot really get a hold of."
North recruited mature age players such as Nick Dal Santo, Jarrad Waite and Shaun Higgins during their 2014-2015 preliminary final appearances in a bold play to contend for a premiership, a move Terry Wallace believes has resulted in their now-struggling list.
"They did what Port Adelaide have done this year," Wallace said.
"When they made those two preliminary finals, they stacked up with older blokes. They tried to have a go, it didn't work and they're paying the consequences for having a whole heap of old blokes there at the one time. It hurts your football club.
"It's just a long build to get yourself back up there."
Wallace was critical of the Kangaroos' decision to hold onto ruckman Todd Goldstein during the trade period, and also described the recruitment of Jed Anderson in 2015 "a complete bust" after playing only the 15 games in his two seasons at Arden St.
Wallace was positive on their young talent however, noting that they had a great opportunity to develop in 2018 and drive the club forward.
"Now is the opportunity for those second and third year players to stand up," he said.
"If North are going to make any grade, there has to be this group of 20 to 22-year-olds that actually drive them forward.
"There's too many questions about those guys. (Mason) Wood looks good but is inconsistent. (Taylor) Garner can do touches of brilliance, but it's not consistent. The kids down back showed some signs but can they rise another level?"
Looking ahead to the draft, Wallace is confident North Melbourne will select Jayden Stephenson with pick four, who he believes will be a star for the next decade.
"Love him as a bloke and love him as a footballer (with his) outside run and carry," Wallace said.
"Think wingman/high half-forward. He kicked five goals in one of the state games off the wing. His last five games in the TAC Cup he had over 30 possessions in all five games.
"As a run and dasher, he will be a very good pickup."
After failing to land high-profile players in Dustin Martin and Josh Kelly on big-money offers, North had an inactive trade and free agency period, priming themselves for another season of developing their young list under Brad Scott.