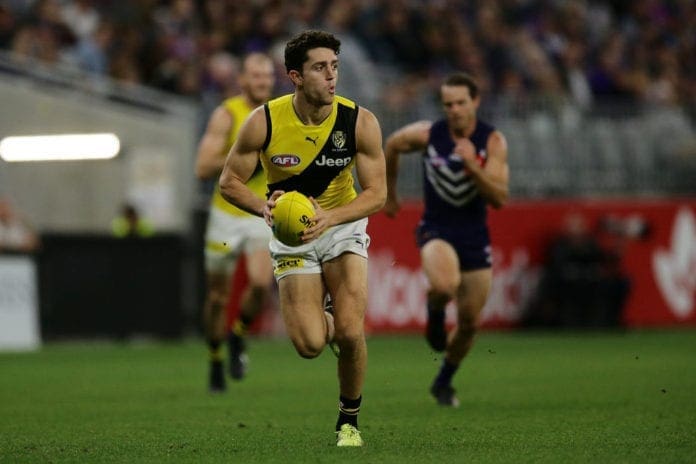 Richmond have locked away two players on the eve of Sir Doug Nicholls round, with exciting duo Noah Balta and Jason Castagna signing new two-year deals to remain at Punt Road until the end of 2021.
Castagna, who has kicked 61 goals from 60 appearances with the Tigers, was an important part of Richmond's 2017 premiership run and has offered plenty of entertainment since he was selected in the 2015 Rookie Draft.
The most important aspect of Castagna's style is his forward pressure, with the head of Richmond's 'mosquito fleet' setting the benchmark for pressure forwards across the league.
19-year-old sensation Noah Balta has provided plenty of glimpses of what's to come since playing his first senior game Round 1 this season.
Drafted from the Calder Cannons, Balta is a second-year player who is still learning to reach his full potential in the terms of which position he is most-suited to on-field.
Coming in at 195cm and 100kg, he is a player who Damian Hardwick has trialled at several positions, using his strength, athleticism and speed to create opportunities for the Tigers' attack.
"We're very pleased for us, and also for Jason and Noah that they've re-signed with the club," Richmond General Manager - Football, Neil Balme said.
"They're both very skilful, hardworking and determined players, which makes them exciting to watch, and very valued by their teammates.
"As young players, they're still developing their game, and we look forward to seeing them learn and grow in the next few seasons with the Tigers."