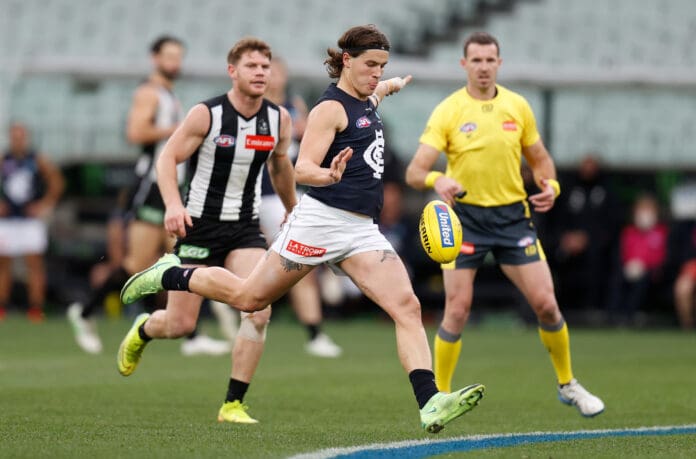 Carlton defender Liam Stocker has opened up on his battle with anxiety and the impact on his AFL career in a new video released by Beyond Blue.
Stocker, who made his debut for the Blues in 2019, first opened up about his story in an emotional interview with Carlton media in 2021 after the young Blue publicly departed the Carlton hub during the 2020 season.
The 22-year-old detailed his experience with anxiety growing up, explaining that he first started feeling its effects when he was a child.
"I didn't know my first panic attack was a panic attack" Stocker said.
"I just felt helpless that my mind was taking control of the rest of my body.
"I struggled to understand that people like me could have things like this go on because I'd had the picture perfect life so far."
Stocker was taken by the Blues with Pick 19 in the 2018 draft after an impressive junior campaign with the Sandringham Dragons. The young Blue made his debut in Round 7 the following year, playing five games that season.
"I still remember really intensely how proud I was when I got drafted" Stocker said.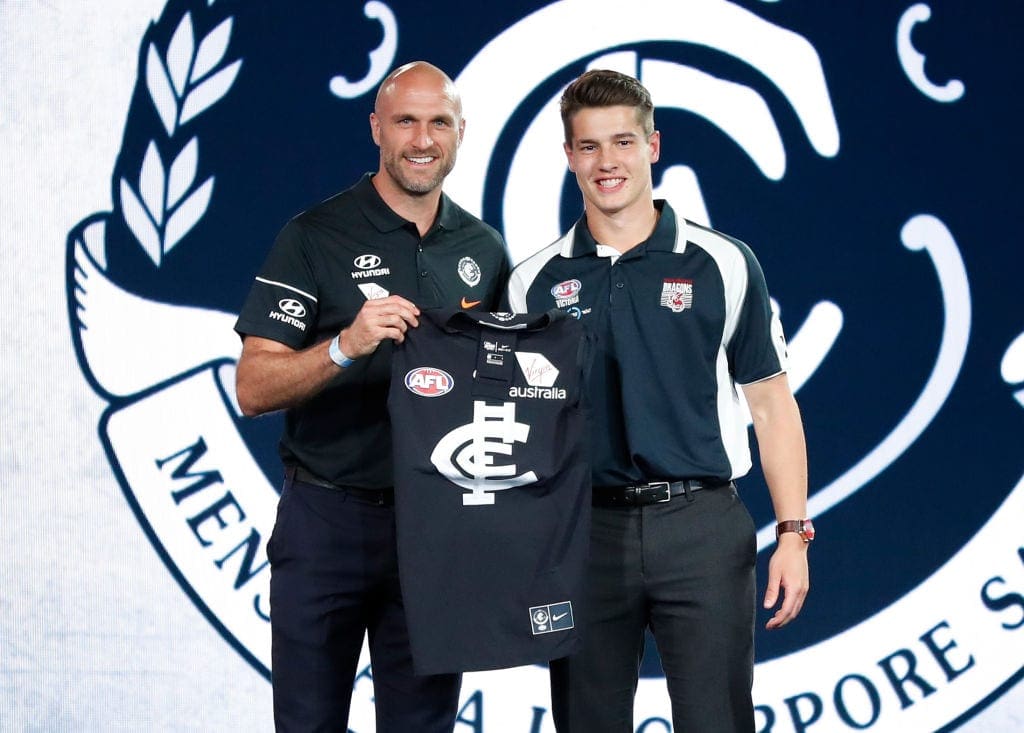 "I think the thing I remember the most is how quickly my emotions changed.
"All my exposure to AFL football has been that they live a perfect life, there are no worries. Frankly, it definitely wasn't the case. You're struggling with this aggressive anxiety disorder but you're still in front of a packed MCG, how does that even break even?
"But there's an aspect of being able to hide behind the identity that I have out there and that's probably why it was a safe haven for me when I was playing AFL football and why I struggle so much when I'm not.
"How hard that is to conceptualise, that in front of 80,000 people, you're not under pressure but at home on your own you are."
Stocker touched on the impact of the 2020 season, when all Victorian clubs were forced to relocate to Queensland following a nationwide COVID outbreak. Stocker didn't appear at senior level at any point in 2020, choosing to return back to Victoria ahead of Round 8.
"I found out the day before that we were flying up to Queensland for 25 days" Stocker said.
"Pretty much the second I got up there I realised that something was really off. You know, thoughts of self-harm were well past the point of being worrying.
"I sort of started unpacking why I was even in the industry. I hadn't enjoyed any of my first two years and it got to the point where football wasn't necessarily detrimental to me but football could no longer save me.
"My plan was to retire and forget about football. I thought that me escaping football was me escaping my mental health problems.
"When it finally became obvious to other people how much I was battling the amount of time they put into me to fix things was the best thing that ever happened to me."
Stocker went on to have a career-best 2021 season and is moving closer to senior selection after overcoming an ankle injury to sideline him for the beginning of the 2022 season. The 22-year-old's most recent outing in the VFL saw him pick up 35 disposals in just his second game back.